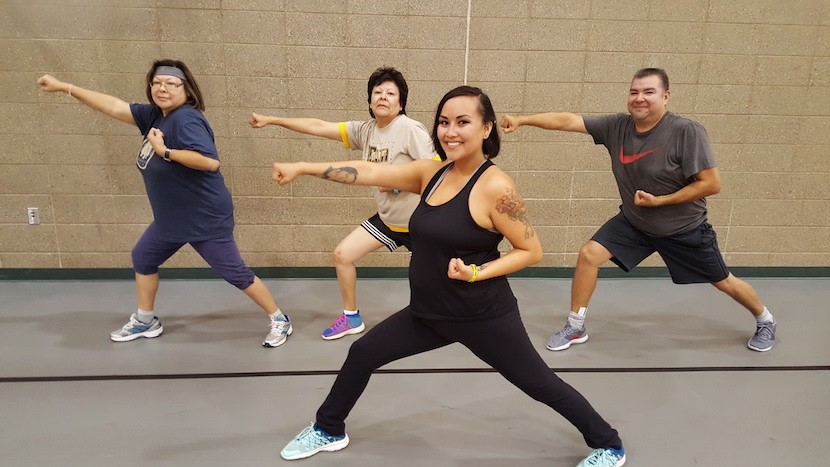 by Adrienne Benjamin Mille Lacs Band Member
Charmaine Shivers' love for Zumba (pronounced Zoom-Bah) started when she moved from Arizona to Minnesota and took her first Zumba class with family in 2012. She's been hooked ever since. "I couldn't believe just how freeing it was," Charmaine said. "Then I got a Zumba DVD set for Christmas and just like that it snowballed, and I was doing Zumba more than twice a week with friends." Her family surprised her soon after and paid for her Zumba certification class as a surprise birthday present.
"In April 2016 I completed my Zumba certification course, and I've been teaching Zumba ever since."
So...what is Zumba?
Zumba is a cardio fitness class. Basically, you come to class, dance your butt off, and then go home. Zumba is an hour of exhilarating, high energy, Latin and multicultural inspired dancing, with rhythms from around the world. In class we are crouching, we are jumping, we are sweating and we are still smiling, and it's exercise in disguise. It's like going out dancing with your friends only it's 6 o'clock on a Tuesday, and you have to go back home to make dinner for your family. The Zumba craze is in over 180 countries, 200,000 locations and is practiced by 15 million people around the world.
What are the benefits of Zumba?
There are so many! There's the obvious benefits: it strengthens your heart and lungs. Zumba is a full body cardio workout that builds endurance and coordination in ways many other fitness classes can't. It promotes weight loss, stronger muscles, bone strength, endurance, circulation and flexibility. Zumba has a high caloric burn — 500 to 800 an hour depending on intensity. The best part about it is the student controls the intensity.
And there are the not so obvious benefits: Social interaction — Zumba is a healthy group activity, and it's a great stress relief. You gain confidence and a sense of achievement. You get to explore your creative side, it boosts your memory, it's your "me" time, it boosts your mood and you can step out of your comfort zone.
What is required of you to do Zumba?
Commitment! That's the only thing required. Rain or shine, snow or ice. One Zumba class is FUN, but for someone who doesn't already or never has had an exercise regime, it can be challenging to find the time you need for yourself. Stick with it! It's fun!
The District II Legislative Department was looking for a healthy community initiative to sponsor, and they thought Charmaine and her Zumba moves would be a great class offering for the District II communities. It has since taken off, and Charmaine has a committed following both in Chiminising and Minisinaakwaang.
District II class-goer Aanii Aubid said, "Zumba makes me happy, healthy, confident and strong. Plus, it gives me a nice butt!"
Her classes are currently held on Mondays at 5:30 p.m. at the East Lake Community Center, and on Tuesdays at 6:15 p.m. at the Chiminising Community Center in Isle. All ages and abilities are welcome to this free class.
Pictured behind instructor Charmaine Shivers are Chiminising siblings Jackie Moltaji, Julie Benjamin, and Johnathan L. Benjamin. Julie and Jackie are both elders who go to Zumba!