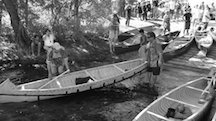 By Mille Lacs Band of Ojibwe, July 28, 2015
from the Great Lakes Indian Fish and Wildlife Commission
Mikwendaagoziwag Memorial Ceremonies Wednesday July 29, 2015
GLIFWC's annual ceremonies at Sandy Lake are set to take place once again in recognition and remembrance of Ojibwe ancestors who perished at Sandy Lake or during the bitter cold trek home. Their endurance and determination to return to their homelands kept the treaty rights intact and eventually led to the appropriation of homeland reservations for many of GLIFWC's member tribes.
You are welcome to join in all our part of the morning's events:
9:00 a.m. Morning ceremony at the Savanna Portage State Park Boat landing on the east side of Sandy Lake. After the morning ceremony, paddle canoes or kayaks across the lake to the Sandy Lake Recreation Area. (Bring your own canoe if you have one; a few extra may be available.)
Approximately 11:30 am – Arrival at Mikwendaagoziwag Memorial for a Ceremony and feast.
Directions:

Savanna State Park Boat Landing: Minnesota State Highway 65 North from McGregor for about 6 miles; turn right on County 14 for about another 5-6 miles to the Park/Boat Landing (Note: don't go all the way into the main part of the state park, which is about 10 miles from Highway 65).
Army Corps of Engineers Sandy Lake Recreation Area: Minnesota State Highway 65 North from McGregor for about 11 miles; turn right at the Recreation Area South Entrance sign.
For More Information: Please contact GLIFWC offices at (715) 682-6619 and ask for Rose Wilmer, Emily Nelis, Sue Lemieux, or Gerald DePerry.