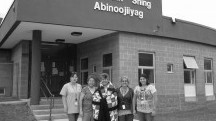 By Mille Lacs Band of Ojibwe, June 17, 2015
by Brielle Bredsten, June 12, 2015
The Nay Ah Shing Tribal School of Onamia said farewell to Silvia Norberg, the principal of Abinoojiiyag School (kindergarten through fifth grade), last week as she began her new journey into retirement.
After 20 years at the Nay Ah Shing Tribal School in Onamia, Silvia Norberg said she will miss her coworkers, as well as the students. Pictured from left to right: Linda Steves, Ojibwe Language teacher; Bonita Nayquonabe , Ojibwe Language teacher; Silvia Norberg, Elementary Principal; Jodel Meyer, Ojibwe Language Coordinator; and Amanda Nickaboine, Ojibwe Language Teacher.
The school was developed in 1975 with a mission to provide educational services for the reservation children of three districts about the Ojibwe language, culture, tradition, history and skill sets of living in a mixed culture. Norberg has been with the tribal school since 1995 but started preparing for a career in education at a young age.