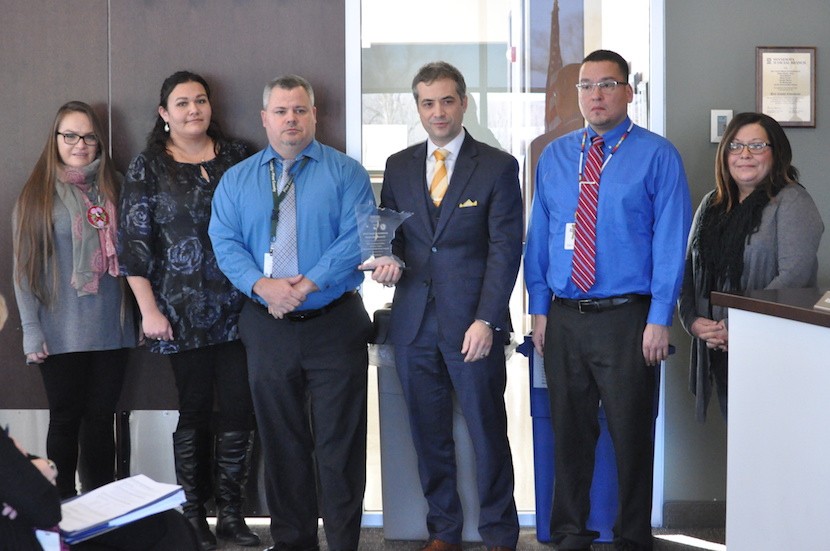 The Pine County Board of Commissioners welcomed Mille Lacs Band employees to their board meeting December 19 to recognize their work on the C5 Restorative Justice Program, which received a Local Government Innovation Award from the University of Minnesota.
Pine County Attorney Reese Frederickson and Probation Director Terry Fawcett thanked Ramona Bird, Michael Fahey, and Brittany Wind of the Grants Department and Katie Draper of the Government Affairs Department for their work on the project.
Grants Director Ramona Bird said, "The Grants team works hard every day on behalf of the Mille Lacs Band of Ojibwe. Mike and Brittany are two young Band members who genuinely care about their home. It has truly been an honor to work alongside them, and it was great to see them recognized by the Pine County Board."
Frederickson spoke to the Board about the award and the program. "What this says is that one of the
major universities in the world is recognizing
Pine County as an innovator, and we're especially being recognized because of our collaboration with the Mille Lacs Band," he said.
On December 7, the Band and County accepted the award at a ceremony sponsored by the Hubert H. Humphrey School of Public Affairs at the University of Minnesota, and the Bush Foundation. Ramona and Katie represented the Band at the ceremony.
"Tonight was a moment I will always cherish," Pine County Attorney Frederickson said after the event. "It was a true honor to accept this award alongside county colleagues and our friends and counterparts from the Mille Lacs Band. We're looking forward to future collaborations and innovations."
The event program described the C5 initiative as follows: "Pine County and the Band co-developed the C5 Juvenile Restorative Justice Program to produce meaningful change in juveniles facing criminal charges using the proven concept of restorative justice. C5 is focused on community, collaboration, culture, change, and choices. Since its inception in 2015, it boasts a 100 percent success rate of its graduates and has reduced the number of Native American children on county probation and in out-of-home placement while instilling tribal cultural values."
The C5 Program was featured during the Association of Minnesota Counties' Annual Convention held recently in St. Cloud. Pine County received a lot of positive feedback after the session and many questions about how the C5 model could be adapted in other counties.
Receiving recognition from the Pine County Board on December 19 were Ramona Bird, Brittany Wind, Terry Fawcett, Reese Frederickson, Michael Fahey, and Katie Draper.