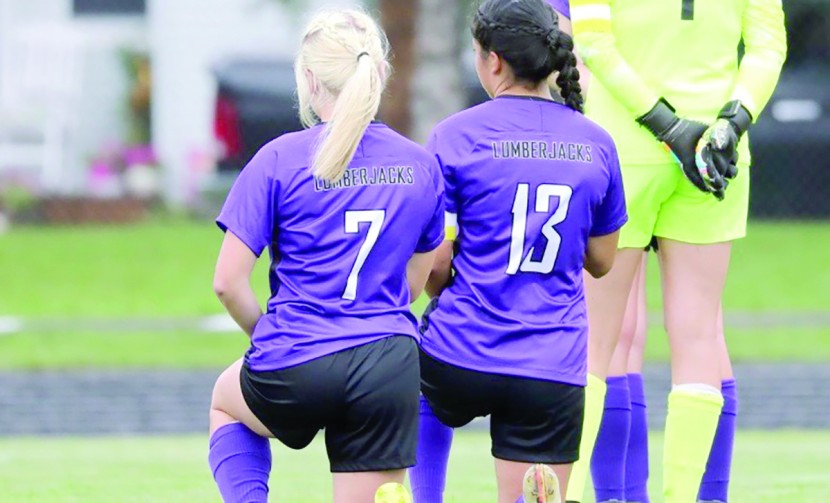 During the national anthem prior to her varsity season opener for the Cloquet Lumberjacks soccer team, Band member Waasecamigookwe (Mireye Moose) decided to kneel in solidarity with those who seek justice and equality. She has continued to take a knee for all of her season games and will continue to do so throughout the season.
"I knelt because it is a peaceful way to show support and bring light to the social injustices and inequalities that People of Color have faced," said Waasecamigookwe. "We as humans should want justice and equality for all people. But historically and with recent events, that is not the case. Those that choose to sit in silence are seen as continuing to support inequality and injustice, which is not something I want to be a part of. It's important that people use their voice to show support and protest peacefully to invoke change."
Waasecamigookwe, who proudly sports the #13 jersey as a right center defender for the Lumberjacks, is a senior at Cloquet High School. She has proven to be a leader on and off the field. As a two-sport athlete, she has received several awards for soccer, including Rookie of the Year, Coaches' Choice (dependability), Defensive Player of the Year, and All-Conference Honorable Mention.
Waasecamigookwe also is currently ranked in the 2nd percentile of her class, with a cumulative GPA of 4.111, and is currently in National Honor Society, Link Crew, Student Council, and Senior Executive Board. She plans to attend college to either study medicine or forensic science but hasn't officially committed to a specific institution.
Waasecamigookwe currently resides in District II (East Lake). Her parents are Samuel and Laura Moose. Her grandparents on her father's side are Archie and Brenda Moose.
As an enrolled member of the Mille Lacs Band of Ojibwe, Moose has taken a strong stance that kneeling has empowered her because she is standing up for what she believes in. "My respect for the flag and those who have served should not be questioned," she said. "Kneeling during the National Anthem is not intended to disrespect military personnel but instead to honor the sacrifice they made so that we could have the freedom of speech, the freedom to protest and defend those that have been oppressed. Lastly, it's important to acknowledge that the act of kneeling brought forth the opportunity to communicate in an open and free manner, which is the first step to moving towards change."
Although she has received a lot of support from her teammates, including two who have knelt beside her in solidarity during the anthem, the responses from others have been mixed. She has felt both pushback and support, especially on social media.
You can show Waasecamigookwe support by attending her upcoming in-season games on October 6 at 4:45 p.m. in Proctor, or October 8 at 7 p.m. in Esko.
Photo: Waasecamigookwe Mireye Moose, number 13, takes a knee to show her support for People of Color. Photo by Dave Harwig / Pine Journal.