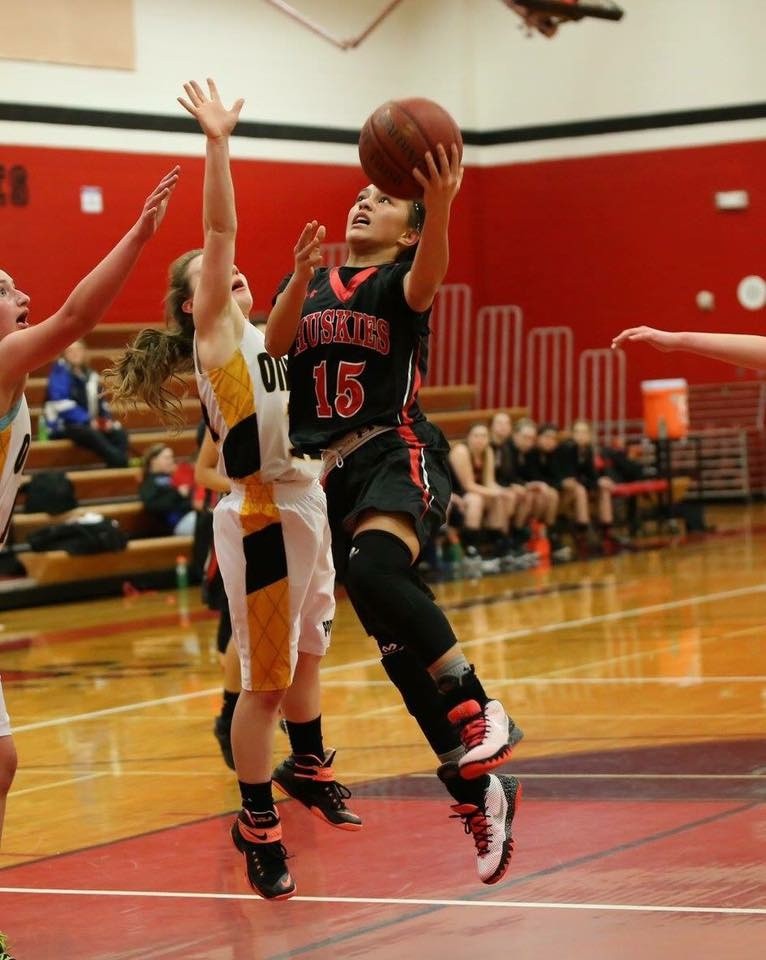 Amikogaabawiikwe Adrienne Benjamin Mille Lacs Band Member 
Taya Sam-Sablan has been playing basketball her entire life. Since she was a little girl, her mother Rachel Sam and grandmother Tracy Sam have been coaching and supporting her to excel in the sport. She has played all through the ranks, playing varsity since her 8th grade year, and earned herself a full-time starting position in 9th grade. Taya has also consistently played Amateur Athletic Union (AAU) basketball during the offseason, sharpening her skills and showing her unending commitment to the game.
When asked what made basketball so important to Taya throughout her life, she offered, "Basketball was always something that I could go to when I was upset or mad. The sport itself is like a medicine to help me cope or heal regardless of what is going on." 
Looking forward to her senior season, Taya knew that she would likely hit her 1,000th point early in the season. To reach 1,000 points is a high school basketball player's crowning achievement, a rite of passage, and a milestone of greatness. It is seldom accomplished, and Taya was only 75 points shy of this goal when she was hurt during a game. She was taken from the game by ambulance and after further medical evaluation, it became clear that Taya's senior season would be cut short by an ACL tear in her knee. 
About her high school career-ending injury, Taya said, "It didn't fully hit me that I was done playing right when it happened, but after getting the phone call confirming that my ACL was torn, it hit me really hard. I always had imagined what the feeling would be like to score 1,000 points." 
She recently had surgery on her torn ACL, and the doctors believe that Taya will make a full recovery within a year and could be ready to play college basketball if she so chooses. About her future basketball prospects, Taya said, "At this point, I haven't really thought about it, but when the time comes and I'm fully healed, we'll see what happens."
Taya received an outpouring of support from her coaches and teammates after the event, and she still travels with her team, although she does not play. Taya was also recently featured in the prep sports section of the Mille Lacs Messenger with her story. She has been a fan favorite in Isle throughout her high school career, and the community has even felt the hurt that Taya and her family felt knowing she would not complete her final season as an Isle Huskie. 
Even through the upset of her injury, Taya has bright hopes and happy memories. "It makes me look back at my career at Isle and feel honored and happy rather than upset. This injury is motivating me to get better and come back stronger."
When asked about her future school plans, Taya said, "I do plan on attending college, but am undecided about where I will attend and what my major will be, although I do envision myself in the medical field." 
Whatever Taya decides to do with her future, she has already shown that she is a relentless warrior, on and off the court. She has embraced the setbacks of her biggest dream and found a positive attitude amidst the disappointment. The determination that she has shown over the years will propel her forward in whatever she chooses. She has truly been a gem to watch over the years in the Isle High School gym. Good luck, Taya, and thank you for sharing your wonderful story. You make your community proud!
Photo: Taya Sam-Sablan — daughter of Rachel Sam and granddaughter of Tracy Sam — is a third-generation Isle High School athlete.