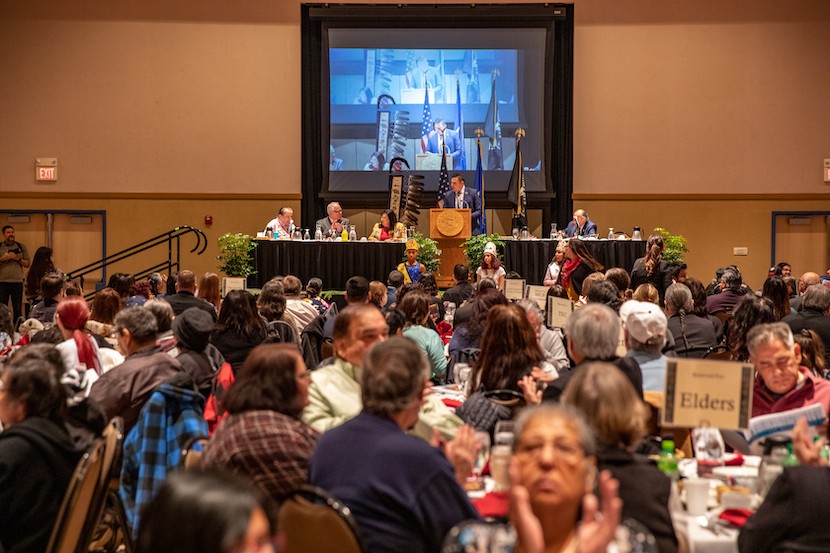 MILLE LACS RESERVATION, Minn. – Being good ancestors and protecting tribal homelands was the central message of Melanie Benjamin, Chief Executive of the Mille Lacs Band of Ojibwe, in her annual address to Band members today. A crowd of more than 1,200 Band members and local and state dignitaries, including Governor Tim Walz and Minnesota House Speaker Melissa Hortman, gathered to hear remarks from Benjamin at the 2020 State of the Band Address at Grand Casino Mille Lacs.
Benjamin told Band members that to be good ancestors, the Non-Removable Mille Lacs Band of Ojibwe "will fight the battles we must, for justice, for our rights and for protection of our homeland."
"We hear the drum, and with each loud beat we know that we will not be moved, we will not be defeated and we will never surrender our Reservation," said Benjamin.
Lawsuit Against Mille Lacs County
At the 2015 State of the Band Address, Benjamin announced that for the first time in decades, crime had decreased on the Mille Lacs Reservation. Then suddenly, in July of 2016, Mille Lacs County revoked its law enforcement agreement with the Band, and claimed tribal police had almost no authority.
"It seemed our neighborhoods changed almost overnight. We began a period of the highest rate of violence, drug related crime and death we have ever known in our modern history."
"Elders were threatened, and many children will forever carry the scars of violence and death. That year, Mille Lacs County had the highest crime rate of all 87 counties in Minnesota," said Benjamin. "Our Reservation became known as a police- free zone by criminals from all over, who had no fear of tribal police, and moved into some of our homes."
Benjamin said that when asked about the county's motives for ending the agreement, "We found that out right away, when the county refused to reinstate the agreement unless we agreed to act as if our reservation created by the Treaty of 1855 no longer existed."
"We begged previous state officials for help. Promises were made, and broken, and except for offering mediation, no help came. We finally accepted that we were on our own. We did the only thing left we could do. In 2018, we filed suit against Mille Lacs County in federal court."
She credited assistance from the Secretary of Interior with getting through at period, and recent federal indictments during a period when the county refused to allow tribal police to enforce state law.
"In May, the U.S. Attorney announced a major federal indictment. Eight people were arrested and charged with ten counts of conspiracy to distribute heroin on the Mille Lacs Indian Reservation. They are facing federal prison. Last week, another person was indicted and is going to federal prison. Those particular drug dealers are now gone from our reservation. And we will not stop until we get rid of every drug dealer, no matter who they are."
Mille Lacs Band Member Named Tribal Liaison for MN DNR
Benjamin also shared big news about the Band's Commissioner of Natural Resources, Bradley Harrington Jr.
"In a major development for Minnesota tribes, and especially for the Mille Lacs Band of Ojibwe, it is my honor to announce to you, that Bradley Harrington Junior has just accepted the offer to serve as the new Tribal Liaison for the Minnesota Department of Natural Resources. He will soon begin advising the State DNR."
As DNR tribal liaison, he'll work closely with Ojibwe and Dakota communities on natural resources and tribal issues, forging stronger relations between the agency and Minnesota's 11 Native American tribes. He also will provide strategic advice to agency leadership and serve as a resource to staff coordinating with tribal governments. Harrington will work in the DNR Commissioner's Office.
In a press release, DNR Commissioner Sarah Strommen said, "I've known Brad for a number of years and I'm thrilled he has agreed to join the DNR. Brad brings to us a unique set of experiences and expertise in natural resources management, as well as a deep understanding of Minnesota tribal issues."
Other 2019 Highlights
Food Sovereignty
• The Band has developed a tribal farm, named "Lenny's Orchard" in honor of the late Leonard Sam. It began
producing fresh fruits and vegetables last summer, and is being expanded. Best of all, Band youth are helping out and have become completely hooked on gardening. They are learning how to grow and harvest food, like tribal ancestors did. The Band has also acquired a fully functioning ranch in Morrison county, where Band Members will learn about cultural growing techniques.
• Experts predict that there may be only 60 years left of good soil for growing food. To prepare for this, the Band started an Aquaponics program which combines raising fish with growing plants in water, allowing the Band to grow food year-round, without wasting even one drop of water.
"Our Food Sovereignty program will create exciting new jobs for Band Members. I am directing the Commissioner of Natural Resources to continue growing this program."
Natural Resources
"Our fisheries program is thriving. This year, our little hatchery produced over 1 million walleye fry, which were stocked into our ponds. 21,000 fingerlings were stocked into four area lakes. One of these lakes will be a fishing pond which only elders and youth will be allowed to use for outdoor fun together.
Climate Change
Benjamin said that in the Department of Natural Resources, planning for the impact of climate change has been a focus. Warming temperatures are changing everything. Birds are returning sooner, and deer are breeding sooner – sometimes before they have enough to eat. One hundred years ago, 90 percent of trees around Mille Lacs were maple. Today, only 30 percent are maple, because they are moving north.
Benjamin said that "climate migration" is already happening in America, with more Americans choosing to relocate to higher, cooler lands with more water resources. "It's different for us. As Anishinabe, we have no place to migrate to. Our lives are here, on our homelands in each District. Our burial sites cannot be moved. Our Treaty Rights to hunt, fish and gather are not portable. We need to prepare for the future. The good news is, we have already begun."
About the State of the Band
Mille Lacs Band statute requires the Chief Executive to "present to the Band Assembly an annual State of the Band Address on the second Tuesday of January of each calendar year" [4MLBSA 6(i)]. The first State of the Band Address was delivered in 1983, making the Band the first Minnesota tribe to provide a formal update in this way.
About the Mille Lacs Band
Mille Lacs Reservation is located in east central Minnesota and is the perpetual home of the Mille Lacs Band of Ojibwe (www.millelacsband.com). More than 2,300 of the Band's 4,700 members live within reservation boundaries. The Band supports its members with a variety of services for economic, social and cultural advancement, including health services, early childhood and youth centers and economic development planning.
A full text version of the 2020 State of the Band speech can be found here: 2020 State of the Band Address