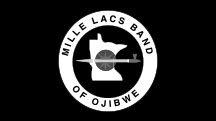 By Brett Larson, June 3, 2015
Several Minnesota Indian bands are upset about what they say is a lack of consultation over a proposed controversial oil pipeline across northern Minnesota.
This week, the Mille Lacs and White Earth Ojibwe bands are holding their own public hearings on plans for the Sandpiper line, a $2.6 billion pipeline that would pump North Dakota crude 300 miles across Minnesota to its terminal in Superior, Wis., and eventually to refineries around the Great Lakes.
The tribal hearings are happening as the Minnesota Public Utilities Commission readies a major ruling on the project's need.
While the route preferred by Canadian pipeline company Enbridge Energy does not cross any Indian reservations, it does cross a large area of lakes and forests in northern Minnesota where treaties give tribes the right to hunt, fish and gather.
Tribal members say they are especially concerned about potential impacts on their right to gather wild rice. A three-hour meeting Enbridge hosted last week on the Fond du Lac Reservation was sometimes tense and emotional.