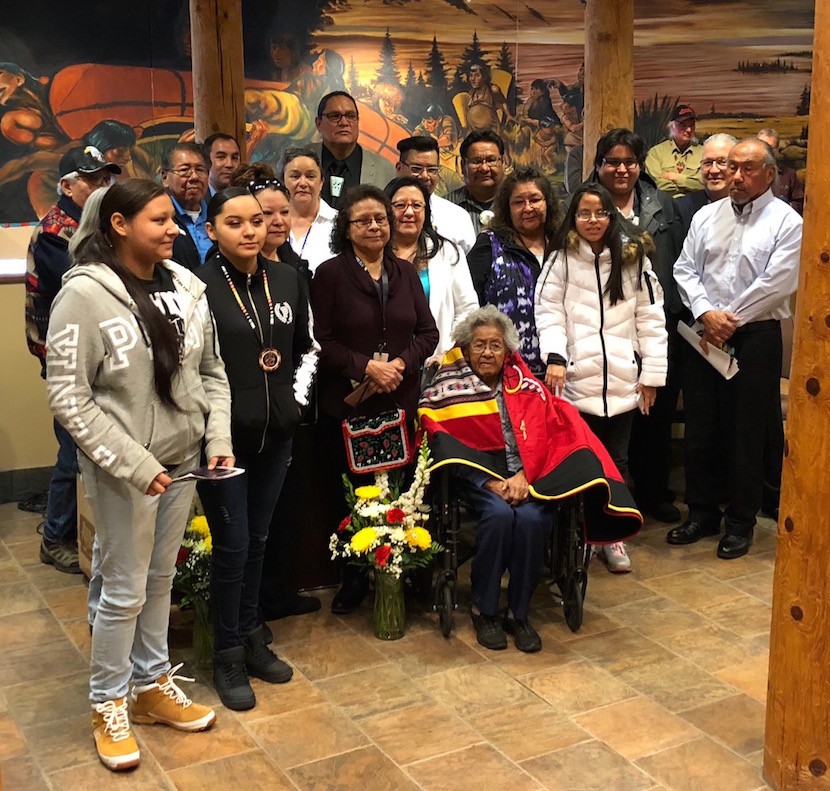 The Biidaabinookwe Government Center will serve as a monument to Marge Anderson's legacy of leadership
Marjorie Ann "Marge" Anderson dedicated much of her life to public service of the Mille Lacs Band, serving for more than 27 years in elected office including 12 years as Chief Executive. During her time in leadership Anderson oversaw a great deal of change for the Band, ranging from important victories for sovereignty to development of critical infrastructure that advanced the self-sufficiency of the Band.
On November 20, the Mille Lacs Band honored the memory and the legacy of leadership of Anderson, who died in 2013, by officially changing the name of the government center to the Biidaabinookwe Government Center.
"Marge was a champion of the early self-governance movement, of securing our 1837 Treaty rights to hunt, fish, and gather, and a fierce defender of tribal sovereignty," said Mille Lacs Band Chief Executive Melanie Benjamin. "As a traditional leader, Marge was deeply rooted in our culture and language, and showed how merging our traditional ways with modern governance could result in long-term, positive change for our community. In naming our government's central building after Marge Anderson, we honor her leadership and life's work on behalf of the Mille Lacs Band."
Anderson was the first woman ever elected to serve as chief executive of the Mille Lacs Band. Her leadership roles with the Band also included serving as the Band's District I Representative and Secretary-Treasurer. Anderson's legacy of service extended beyond the Band as well. Anderson served in leadership positions with the Minnesota Chippewa Tribe and the National Congress of American Indians, and she founded the Midwest Alliance of Sovereign Tribes, serving as its first president.
The dedication ceremony recognized members of Marge Anderson's family and was attended by current and former Band officials, Elders, and government center employees.
Clifford "Skip" Churchill gave the invocation, and Timber Trails Drum sang opening and closing songs.
The speakers included Secretary-Treasurer Sheldon Boyd, former Secretary-Treasurer Herb Weyaus, District I Representative Sandi Blake, and Marge's former assistant Molly Judkins.
Guest speakers from outside the tribe were National Indian Gaming Association Chairman Ernie Stevens, Midwest Alliance of Sovereign Tribes Executive Director Scott Vele, and Fond du Lac member Billy Blackwell.
Secretary-Treasurer Sheldon Boyd said, "Through the naming of this building, future generations of Band members will be reminded of Marge's legacy and of what we have overcome as a people; and will better understand the leadership and sacrifice it has taken to get us where we are today."
A plaque honoring Anderson was unveiled and will be installed on the building to signify the name change.