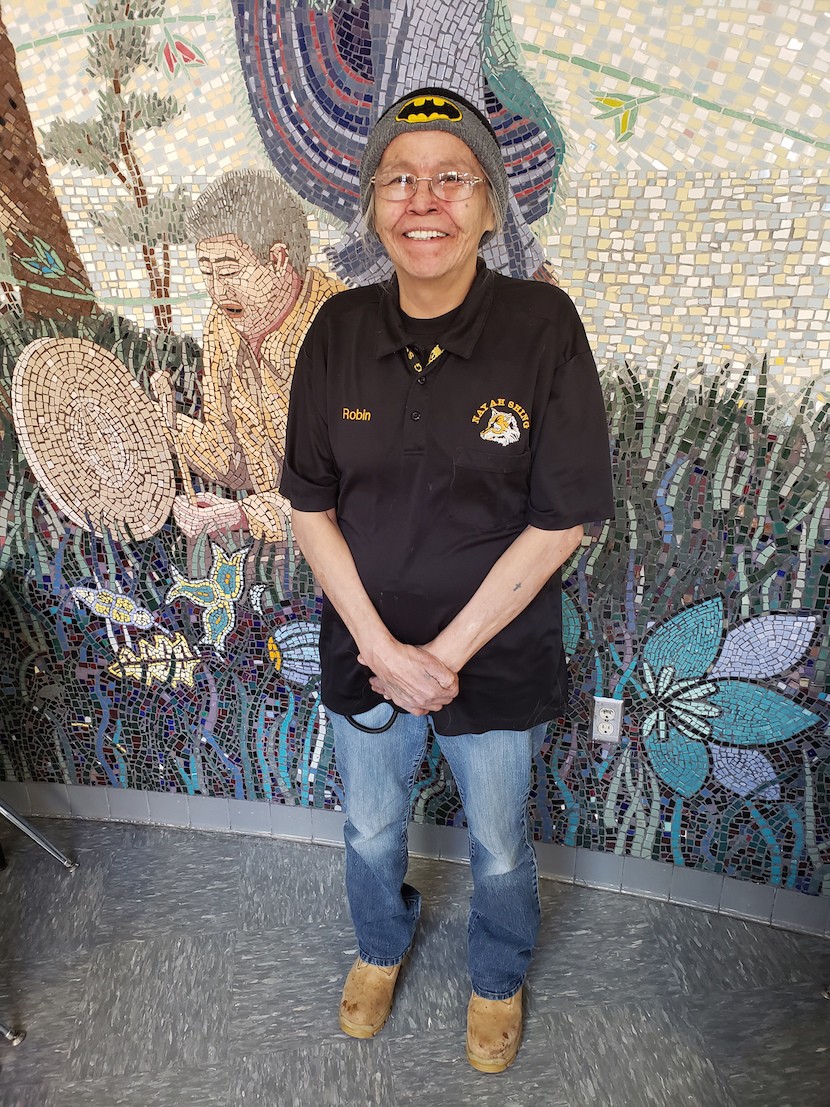 Robin Eagle has worked at Nay Ah Shing School as a custodian since July 2010. She originally started there through the Department of Labor (now Aanjibimaadizing) day labor crew, then was hired on as a temporary worker. She did such a wonderful job that she was hired on as a permanent employee in December 2010 and has been there ever since. Robin has had three grandkids who have all been graduates of NAS.
Anyone who has ever walked through the halls of Nay Ah Shing — student or staff — will recognize her kind smile and always affirming words. "Many kids have come and gone from the school during my time," Robin said, beaming with joy. "My favorite part of this job is the kids. I've loved watching the kids grow over the years. I feel like crying when I talk about them all. They could all be my grandchildren, the way that I feel about them." As she spoke, Robin wiped away tears of love and pride.
"I tell the kids all the time that the most important thing is staying in class, and not being absent. That's what employers look for when they hire you. They check school records and look at attendance and tardiness. No one is going to hire someone who is absent and tardy a lot, or if they have a bad attitude about things. I've told quite a few kids that they need to start thinking about that more. I really wish the kids would realize how important it is to be in class."
Whenever the kids give Robin any bit of attitude, she is known at the school for giving the "Grandma look" to the kids. "I give them the Grandma look, and most of the time, that's all it takes for them to behave. I don't know what the look is, but my grandkids and the Nay Ah Shing students call it the 'Grandma look,'" she said with a laugh.
Robin takes a different approach to the kids, knowing they have been through a lot in their young lives. "I show the kids respect. I don't talk down to them, and they show respect to me in return. With these kids, I think they need to be shown respect first before they show it to you. They've had a lot of stuff happen to them in their lives."
Listening to Robin, you can hear her genuine love and care for the kids she works with and the love she has for her job.
"These kids are our future leaders. I always tell them, 'You're a future leader. You need to think about that and your actions.'"
When asked what the key to success in school is for kids, she said, "They need continual reinforcement from adults. They need compliments. They need to be built up. A lot of these kids have low self-esteem, and they are shy. We need to get these kids feeling good about themselves and feeling like they can succeed."
Robin said she never fails to be amazed by the resiliency of the youth at Nay Ah Shing, and it inspires her daily in her own life. "These kids are smart. If you put a teacher and a kid out on the toughest streets, the kid would be the one to survive. They just don't realize their own inner strength and resilience that's within them," Robin explained. "No child ever really does unless they're made to believe it. It makes me so happy when kids are succeeding in class. They need the confidence to go on and be the leaders that we need them to be in the future."