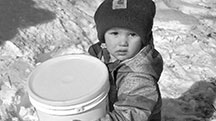 By Toya Stewart Downey, April 3, 2015
As winter loses its grip and the air becomes warmer, it means spring is on the way. It is also a sign that the sap from the maple tree is ready to flow and its trunk is ready to be tapped.
For Mille Lacs Band members this tradition, known as sugar-bushing, goes back to the beginning of time and is still widely practiced year after year.
This year's winter brought less snow and less cold, and signs of spring came early. Sugar bush season was a bit more unpredictable than usual, and families who were sugar-bushing needed to pay even closer attention to the weather.
Sugar-bushing usually begins in February or March, but it depends on the temperatures, said Mary Sam, who taps trees every year with her husband Dave near their home in Onamia.
"The temperatures need to go below freezing at night and then to no more than 50 degrees during the day," said Mary. "If we don't get more snow, this will affect how the sap runs."
"More snow equals more sap," she said in early February.
Five weeks later and with not much more snow accumulated on the ground, Mary and Dave hung their buckets to start collecting the maple sap.
Dave said the sap wasn't running as strong as it had in previous years. The couple, along with their children and other relatives, began boiling the sap soon after it was collected in their plastic buckets so it wouldn't sour.
"This is one of my favorite times of the year…working hard, laughing with family and passing on our traditions to our children and grandchildren," Dave added.
Near the Iskigamizige Powwow Grounds another couple, Melissa Boyd and Brad Harrington and their children, put their buckets out in mid-March to begin collecting sap for their family.
They use taps crafted from a sumac plant rather than the metal taps many people use, Melissa said.
For weeks Melissa's children and Brad's children went out at least twice daily to check the taps to see how the sap was accumulating. They too noticed, as others had, that it was flowing slowly.
"We're trying to see what we can get, but it's not moving too fast," Melissa said. "It's up to the trees and the weather."
Nonetheless they will continue with their efforts because it's rewarding, Melissa said.
It's rewarding not just because they will have sugar and syrup all year long from their efforts, but because they are teaching their kids about the tradition and spending time together as a family.
"It's so lovely to show them our ways," she said. "We're excited they get to practice something we've done as a people and it's exciting to see how eager they are to help."
Like the Sam family, Melissa and Brad believe in the values of maintaining traditional practices and teaching their children about them.
While some children are taught at home how to sugar bush, others learn about it at the Band-operated schools, Nay Ah Shing and Wewinabi, said Education Commissioner Suzanne Wise.
"It's really important for our kids to know who they are and what our culture is," said Suzanne. "It's important to their well-being.
"It is a priority for our tribal schools to make sure we are teaching our culture and language," she said. "We do that through the sugar bush in spring, ricing in the fall, collecting birch bark and sage in the summer, listening to storytelling in the winter and learning our Ojibwa language everyday.
"Learning to sugar-bush is just one of the important lessons we can teach our students."