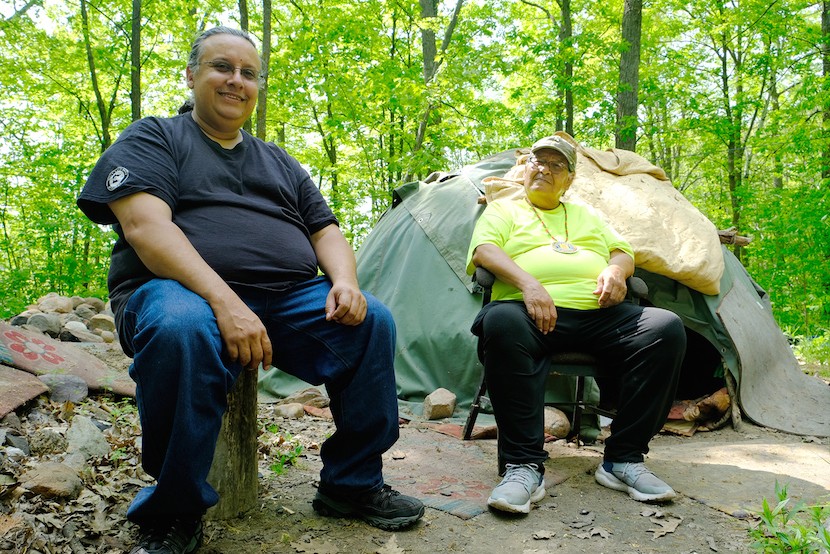 Behind the scenes of the resurgence of recovery in Mille Lacs Band communities is a nondescript building on a quiet road in District I: The Mille Lacs Band Men's Halfway House.
Although confidentiality laws prevent the staff from sharing the names of those they've served, you don't need to look far to find men in recovery who will happily share that the halfway house gave them critical assistance during a difficult time.
One former client is Colin Cash, founding member of Sober Squad, the recovery group that started at Mille Lacs and is making an impact with Indians and non-Indians across the state.
"We used to refer to the halfway house as 'the stronghold' — like from the movie 'Thunderheart,'" said Colin. "'Run to the stronghold, Thunderheart!' Back when I got sober, there was no Sober Squad, so the only safe place I had was the halfway house — the stronghold. That's where my journey began. It truly is a safe place for people seeking recovery."
Another veteran of "the stronghold" is now a staff member there: Band member Arvid Paschke. Arvid went through treatment several years ago and eventually moved into the halfway house, where Lloyd Keoke and others on the staff helped him become a healthy and productive member of the community.
"I never intended to come back," said Arvid. "How I came back is a spiritual thing, what my higher power intended."
Now Arvid helps others on the road to recovery as a counselor's aid.
Richard Hill, the lead counselor and house manager, said, "Progress, not perfection, that's our motto."
Clients come from all over but are primarily Band members and other Native Americans leaving treatment programs like Four Winds Lodge in Brainerd or Mash-ka-wisen on the Fond du Lac Reservation.
Once there, it's all about learning what they need to make it back in the community — from cooking and cleaning to job skills to healthy relationships.
"We wear a lot of hats," said Arvid. "Sometimes you're a father, sometimes a big brother, sometimes a friend. Sometimes we have to be the drill sergeant, or sometimes we just listen."
"A lot of it is accountability," said Rich. "We let them know what the expectations are and hold them accountable. They can stay up all night if they want to — but they have to be up at 6:30."
Although the program emphasizes Native American culture — with sweats, smudging, and Wellbriety — they meet people where they're at. "There's no one true path to recovery," said Rich. "We all want to get to Recovery Mountain. Some may do it through AA, some may go through treatment, and some may get there on their own."
"We expose them to different things so they can see what they gravitate towards," Arvid added. Clients of the program — "brothers," Arvid calls them — also get out in the community, to smudge walks, sobriety feasts, ricing, canoeing, fishing, and conferences.
What they all have in common is the need to overcome barriers that led them down the path to addiction, according to Rich. "Recovery is building bridges to overcome barriers."
Broken and defeated
Arvid remembers the hard times and isn't ashamed to share his experience with clients.
"I lacked a lot of skills," he said. "I wouldn't pay my bills, couldn't keep a job. I'm a product of this place, and simply by sharing with them what I've overcome and how I've done it, that can encourage them. I just try to remind them there's a lot of good stuff in the world. It's not all jail, loss of children, broken relationships. The sun will come up tomorrow, and you can be happy."
"My life was pretty bleak. It's not good to live just to get drunk and drink yourself into oblivion every day. I got to the point I was alone, and I began to pray. That's when my life started changing. So I kept praying, kept doing what I knew was right, and finally I went to Mash-ka-wisen, after getting a Rule 25 at behavioral health."
After treatment, Arvid came to the halfway house. "I came in humble," he recalled. "I was defeated, broken, and I needed all the help I could get."
What made the program work for him was the introduction to the culture and talking to Lloyd. "I had a lot of questions, and I didn't know who to ask," he said.
For Lloyd, there's no magic to it. "The guys who come here, they're wounded. All I am is a good listener, and that's all some of them need. If you treat people with respect, you're gonna get it back."
Lloyd has decades of experience in the helping professions. Although he is Dakota, he is a valued member of the Mille Lacs community. Band members Herb Sam and Lee Obizaan Staples helped Lloyd in his recovery, and he later worked with Dorothy Sam and Joe Nayquonabe at Four Winds. He's been at the halfway house for 10 years and is encouraged by what he's seen lately.
"When you look for the positive, you see the positive," he said. "I'm seeing a lot of change, especially the addicts helping the addicts. A lot of these guys were hell-raisers, and now they're helping their own people."
For Lloyd, the cultural aspect of the halfway house program sets it apart. "A lot of the people who ask to come here want a place where there's cultural teachings. A lot of them got all the AA stuff, and they get kind of tired of it. When they come here, it's different, but we leave it up to them. If they want it, it's here."
Happiness is possible
Once he had completed the program, Arvid stayed close to the halfway house and its staff. The halfway house has programs open to the public — a weekly sweat lodge, pipe ceremonies, and smudging.
"I volunteered a lot of my time here," Arvid said. "At that time there was nowhere safe to go, so I'd come back here a lot. My life had been centered around use. It helped me to feel I was helpful to others. I felt important."
Now he's gainfully employed, with a young daughter who brings a smile to his face every day. "How I was blessed so much is beyond me. Maybe that's why I want to help other people. I know happiness is possible. I'm living proof."