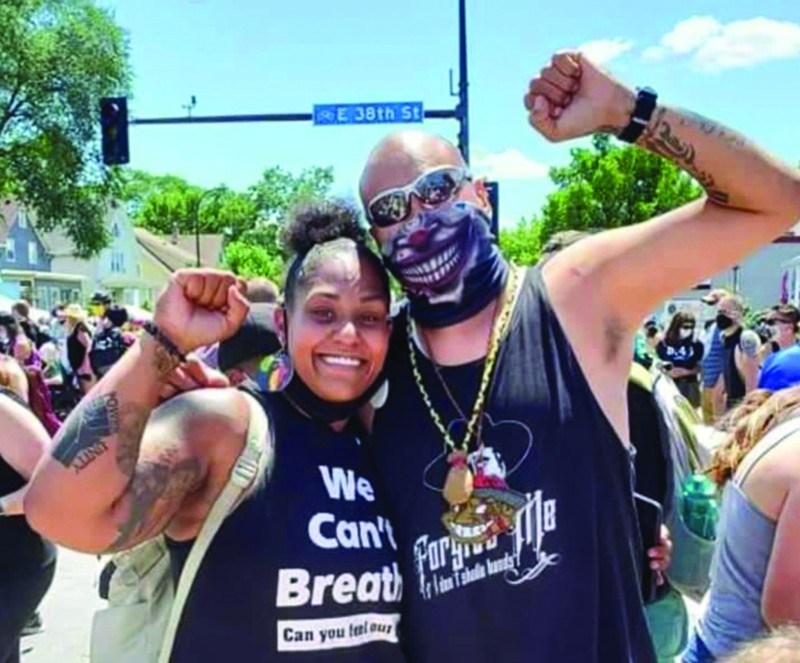 By Randell Sam Mille Lacs Band Member
Aaniin. I'm Randell. I am a recovering alcoholic and addict. I want to share with you what helps keep me walking on the Red Road today.
There are a lot of ways to begin your journey on the Red Road to Wellbriety. One thing that I have noticed in Native communities is that a lot of people that start their journey to the minobimaadizewiin want to give back to the communities that they had previously struggled in. That begins with service work. They say there is nothing stronger than the heart of a volunteer, but I say that there is nothing stronger than an addict in recovery that wants to give back as a way of making amends for any wrongs they may have done to their people.
I struggled with active alcoholism and addiction for over 30 years. It took a near-death experience for me to come to the realization that this was the wrong way to live. I was at the point in my addiction that I was throwing in the towel every single day. The issue I was having was that Creator continued to wake me up every morning. One day I decided enough was enough and that I had to get sober. It was through others in recovery, in my community, who entered my life when I needed them most, that I was able to achieve my goal of sobriety. It was because of them believing in me and accepting me just as I was, and witnessing how their service work accomplished miracles that I found hope that I too could recover. That I too could make a difference in my community. With that I want to give a shout-out to Sober Squad. Miigwech!
As I started participating in local recovery groups on the Mille Lacs Reservation, and witnessing how others were giving back to my community, I was inspired to do the same. The more sobriety time I achieved, the more confident I became in my abilities to make a difference. My we'eh, Obizaan, mentioned to me years back that he had a vision that "I was here to help the people." I didn't fully understand this until I hit my rock bottom and started my journey on the Red Road. With the help of others, I began coming up with ideas to make a difference, and began putting them into action. It was our thoughts that we would recover so loudly that no addict would have to die quietly and alone. With that I came out of my shell and starting leading others to the Red Road. I do my best to lead by example. This comes with discovering something about myself every day that will strengthen my recovery. Today I hold myself accountable.
Service work and participating in all community events is where I've found that I can be of the most use. I do this because I no longer have to live alone and isolated. Volunteering with Drum and Dance, Smudge Walks, and Recovery events all over the state of Minnesota is where I find the knowledge and skills that I can bring home to Mille Lacs and put into action to better our community. I have found that in service work I am filled with gratitude and joy. I am learning that a leader for Anishinaabe people listens to their people ... helps all their people. I have learned from my mentor, Joe N., that we must treat all people equally. I am no better or worse than any other person.
You will find me participating in our community, in events on and off the reservation, and supporting everyone and anyone that has a desire to find a better way of life. With the difficult times of this pandemic, I have had to become creative in ways to support recovery while keeping others safe. This is how Zooming Towards Recovery (ZTR) came about. With daily NA Zoom meetings, morning meditation meetings on Zoom, a Facebook page, and a group chat, we are supporting others and bringing people together in recovery so that they never have to feel alone and isolated. I'm happy to announce that the NA meeting "The Rez" will be starting back up immediately. This meeting will be held every Friday at 6 p.m. at the old District I community building on the Mille Lacs Reservation.
With that I want to say chi miigwech to everyone out there that is doing their best to make a difference in these unprecedented times that we are living in today. You know who you are! I may not have the answers to all the situations that we are going through today but I have the experience and knowledge of what not to do, and I will continue to be of service to my community and everyone that needs support.
Photo: Randell Sam with his friend in recovery Chaunte Ford.