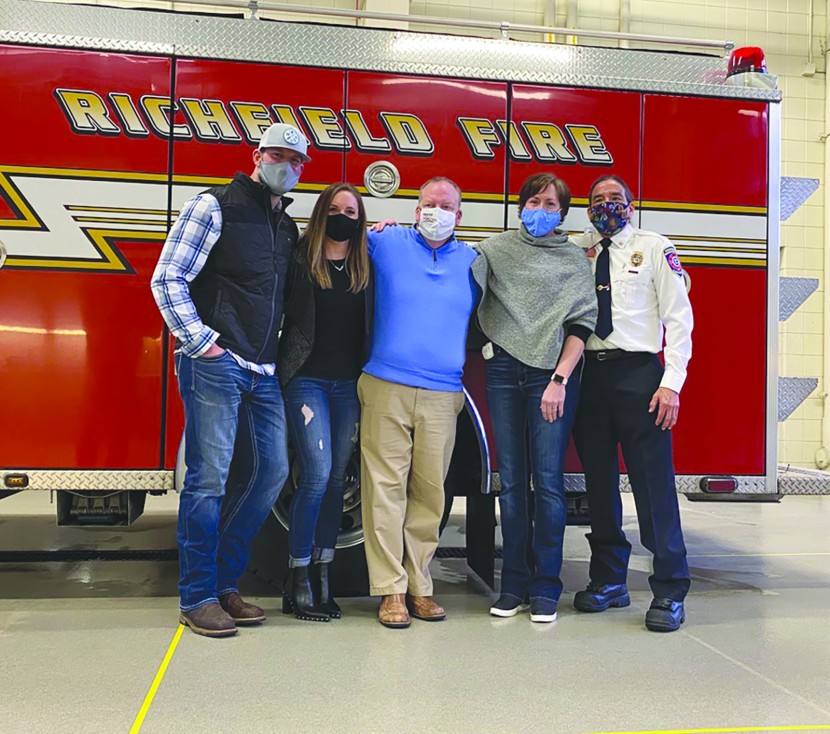 Band employee jumps in a swamp to assist victim of cardiac arrest
By Vivian LaMoore Director of Public Relations
If someone in a rural community suffers a sudden cardiac arrest (SCA), rapid access to life-saving treatment can mean the difference between life and death.
In August of 2020, Mille Lacs Band Tribal Police and Emergency Management, along with a Mille Lacs County deputy and a passerby, responded to a cardiac arrest suffered by a driver on Highway 169. Thanks to their efforts, retired Richfield Fire Chief Wayne Kewitsch is alive today.
Stories such as this one do not always end on a positive note, but the Mille Lacs Tribal Police and Emergency Management have the critical training needed to help their communities evaluate readiness in cardiac events. The Mille Lacs Band of Ojibwe is the only tribe in Minnesota to be recognized as a Heart Safe Community by the American Heart Association, a status they were awarded in 2018.
On August 21, 2020, their training was put to the test. Tribal Police received an emergency call for a possible medical emergency. When officers arrived, they found a vehicle had left the roadway and was resting in two feet of cattails and water in the Wigwam Bay area of Mille Lacs Lake. The driver was in medical distress.
Seconds matter
Wayne's wife, Ruth, was a passenger in the vehicle. She had witnessed her husband having a similar cardiac arrest at their home in July, so she knew right at that moment he was in the same situation again. "I grabbed the wheel and steered right," said Ruth. "I said a little prayer, and we landed in the cattails… I was like, 'I need to get off the road because I don't want to hurt anyone else.'"
Prior to the arrival of the emergency response teams, a passerby had witnessed the car leave the roadway and stopped to help.
Emily and Matt Roeder were on their way north to visit Emily's cousins. Emily is a registered nurse at Mercy Hospital in Coon Rapids. As she saw the SUV leave the roadway, she said to her husband, "You need to pull over," and before Matt had even stopped the car, Emily was jumping out and running through the swamp. She yelled back at her husband, "Call 9-1-1!" She saw Wayne slumped over in the driver's seat and knew he needed chest compressions and he needed them immediately.
Monte Fronk, MLB Emergency Response Coordinator, arrived on the scene moments later. Monte recognized SCA and immediately sprang into action.
Every second is critical in a SCA. The most important factor was keeping Wayne's brain oxygenated by providing good chest compressions at a rate of 100 to 120 per minute. Monte assumed the chest compressions and activated the AED immediately. "It's all about the compressions to keep the patient's brain fed oxygen-rich blood," Monte said. "Then the AED is a tool to help get the abnormal heart rhythm shocked back to as normal as it can."
Emily assisted Monte with the bag valve mask (to push air into Wayne's lungs). Soon Mille Lacs County Deputy Jason Gallion arrived along with an EMT team from Mille Lacs Health Systems, all of whom have extensive training in life-saving measures. They all rotated through, providing chest compressions, applying the AED, and the bag valve mask (BVM). Wayne's heart was shocked a total of seven times that day.
"It really was a team effort," Monte said. "We had Tribal on the scene, we had sheriff's deputies on the scene, and we had Emily."
Ruth soon told Monte that the driver, her husband, was Wayne from the Richfield Fire Department. Monte had known Wayne for about 15 years. Monte explained that working in a rural community as an emergency responder, you often know the patients. It is a relatively small, tight-knit community. He added that whenever the 9-1-1 calls come in, he hopes it does not involve someone he knows. "It can be our friends, neighbors, and even family members," Monte said. "Regardless of who it is, we focus on providing good quality care."
Within minutes, the first responders were carrying Wayne through the swamp to a waiting ambulance and transported him to Mille Lacs Health System, where he was airlifted to University of Minnesota Hospital for care.
The following day, Monte received a phone call from Wayne. He made it. He was alive.
Wayne, Ruth, Emily, Matt, and Monte had a reunion at the Richfield Fire Hall recently, an event featured on KSTP television news in February.
"When we have patients who are guests in our area or visitors, we don't get, a lot of times, an idea of the outcome, especially if it's a positive outcome," Monte said during the interview. "For myself, to get that call on Saturday from Wayne thanking us that he was still with us is one of the rarities because time and distance for us in rural Minnesota and Tribal nations is the challenge we face."
"For me to see and be able to thank them personally is incredible," Wayne said.
Monte teaches CPR/AED classes for Band members and employees. Classes are scheduled for the last Wednesday of the month at HHS Family Services training room, and Aanjibimaadizing offers First Aid and CPR/AED training to the community as well. If you would like schedule a class, contact Monte at monte.fronk@millelacsband.com or call/text on his cell at 320-362-0435.