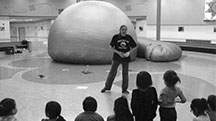 By Tammy Wickstrom, March 4, 2015
In January, the Mille Lacs Band Early Education department was awarded a 4-Star Parent Aware rating from Child Care Aware of Minnesota. This is the highest possible rating by Parent Aware, a rating tool designed to improve, support and celebrate the strengths of childcare and early learning programs.
The Minnesota Department of Human Services leads Parent Aware in coordination with the Minnesota Office of Early Learning. Child Care Aware of Minnesota is working in local communities to share the Ratings with parents and prepare childcare and early education programs.
This is the second time the program has received the highest rating. Participating programs earn from one star to four stars by demonstrating competencies in the areas of health and well-being, child assessment and family relationships. All Star-rated programs go above and beyond licensing requirements to support school readiness. By voluntarily becoming rated, a program shows it cares enough about early learning to use best practices and proven approaches.
Participating programs have:

Volunteered for extra in-depth training.
Use a scientifically based curriculum which is validated by Parent Aware.
Shown evidence of strong, caring relationships with each child.
Adopted the latest approaches to getting children's learning on track.
Committed to daily activities that help children learn and grow.
Placed high importance on children's health and safety.
Been trained in current observation techniques and that training is used to aid staff in assessing children's needs.
Demonstrated it is respectful of each child's unique background and encourages children to celebrate their individuality. Activities that teach about similarities and differences in realistic, positive ways help children learn to value and respect themselves and others.
Programs communicate with parent on a routine basis and are partners in the child's education.
If you would like more information concerning Mille Lacs Early Education's Parent Aware four star rating, please contact:
Tammy Wickstrom or Mary Fletcher at Wewinabi Early Education Center: 320-532-7590.
More information concerning Parent Aware and quality childcare can be found at parentawareratings.org.