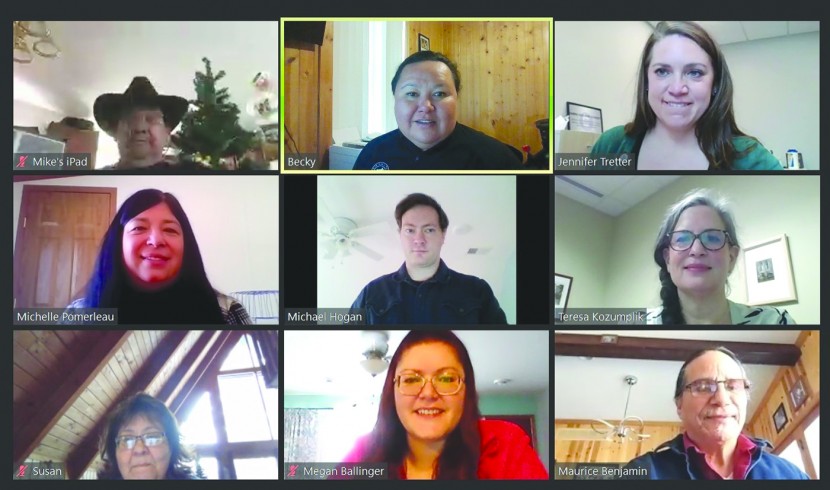 We are honored to introduce you to the Board Members of the Mille Lacs Band of Ojibwe Gaming Regulatory Authority. Our most recent GRA Board meeting, held on December 17, 2020, marked the first meeting we were at full staff on the Board since the end of July. We're excited to get to work with our new Board Members. We encourage you to congratulate them when you next see them and please look to them if you have any questions regarding Mille Lacs Band gaming regulation!
Michelle Pomerleau, Vice-Chairperson, nominated by District III Representative Wally St. John, has been on the GRA Board since August 2014! Michelle has worked for the Mille Lacs Band Government since 2008 and prior to that at Grand Casino Hinckley. She is currently Legislative Aide for our District III Representative, Wally St. John. Michelle lives in Finlayson with her husband and two dogs, a boxer and a German shepherd. She has two daughters, one son-in-law, two granddaughters, and a grandson.
Michael (Mick) Davis, nominated by District II Representative Marvin Bruneau, joined the Board in May 2017. Mick has worked for the Band since 2005. He was with Housing from 2005 to 2016 and, since 2017, works as an Elder Abuse Advocate for Health and Human Services. He and his daughter, Jewel, live in District II in a house they had built in 2006. Mick said, "I really enjoy working with GRA staff, all departments, legal, [and] with the other Board members. Awesome staff."
Megan Ballinger, nominated by former District I Representative Sandi Blake, joined the Board in September 2018. Megan worked at Regency Salon prior to moving back to District I. She has worked in a number of different areas within the tribe: Grand Casino Mille Lacs, Housing, OSG, Legislative, the Women's Shelter, and is currently in Education at the Abinoojiiyag School. Daughter of Floyd Ballinger, Jr. and Gwen Ballinger, she is one of ten (10!) children and resides in District I.
Maurice Benjamin, nominated by Secretary-Treasurer Sheldon Boyd, was added to the group just last month in December 2020. Maurice has worked for the Mille Lacs Band since 1997! He has worked as a Chemical Dependency Counselor and in District II Project Management, and for the past 16 years has been with Public Works. Son to Katherine Benjamin and Jerry Benjamin, Sr., he lives in East Lake with wife Brenda W. Benjamin. Maurice has two beautiful daughters, Nicole and Melissa, two handsome grandsons, and two German shepherd boys.
Susan Klapel, our newest Board Member by one meeting, nominated by Chief Executive Melanie Benjamin, also joined in December 2020. Susan has worked for the Band since 1998 as the Police Department Admin, Conservation Officer, Police Officer, GRA Investigator, Commissioner of DNR, Deputy Assistant to the Chief Executive, and Special Consultant to the Commissioner of HHS. She is currently at Mora High School, Hinckley High School, and East Central High School as a substitute teache. Said Susan, "This job has been very fun for me as the kids I remember when I was out in the field as an officer are in high school. Some of them I remember when they were born. I love it!" Susan lives in Mora and continues to have close ties to District III. Her family (Dunkley) is from the Aazhoomog community.
The Mille Lacs Band Gaming Regulatory Authority (GRA) is an independent regulatory agency of tribal government established to separate the government's regulatory function from the management function of the Gaming Enterprises. More information and contact numbers can be found at http://www.millelacsband.com/government/gaming-regulatory-authority. You can also LIKE us on Facebook at Mille Lacs Band GRA. GRA Board meetings are open to the public. Due to COVID-19, meetings are currently being conducted remotely using Zoom Thursday, January 7, 2021 at 9 a.m.
Photo: The GRA board has been meeting via Zoom conference. Top: Board Member Michael Davis, Executive Director Becky Houle, Executive Administrative Assistant Jennifer Tretter. Middle: Vice Chairperson Michelle Pomerleau, Deputy Solicitor Michael Hogan, Assistant Executive Director Teresa Kozumplik. Bottom row: Board members Susan Klapel, Megan Ballinger, and Maurice Benjamin.