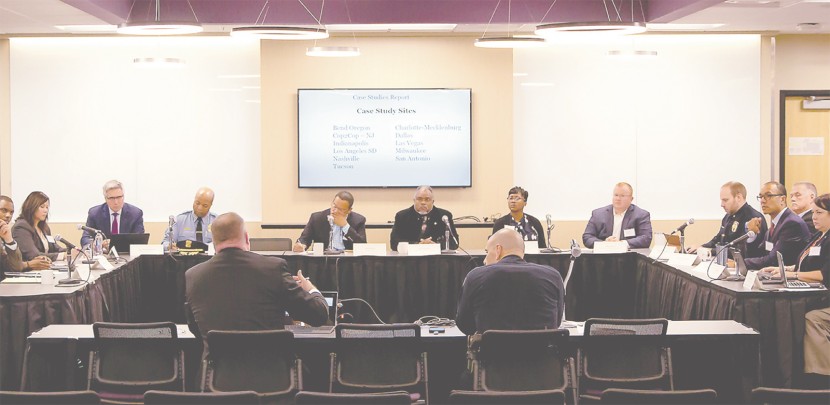 Mille Lacs Band member and Tribal Police Chief Sara Rice served on a working group that investigated police-involved deadly force encounters and prepared a plan that has received renewed attention after the murder of George Floyd.
Sara, who is also a member of the state's Peace Officer Standards and Training (POST) Board, was one of 16 members of the working group, which held public hearings for six months and issued its final report in February.
Attorney General Keith Ellison and Department of Safety Commissioner John Harrington convened the group because, in Harrington's words, "The time to discuss deadly-force incidents is not when one occurs."
Commissioner Harrington, who knew of Sara's work on the POST Board and her tribal affiliation, invited her to participate as a representative from Indian Country.
Sara valued the diversity of the working group and said it gave her the freedom to voice her opinion freely — not just from a law enforcement perspective.
"It was very enlightening to come together as an entire group and collectively come up with recommendations that will have a huge impact, not just in law enforcement, but also for the communities we serve," said Sara. "Being on a group that's so diverse, seeing things from different perspectives — not just law enforcement — provides true insight."
The working group held a series of four hearings between October of last year and January of this year. Each hearing was followed by a working group session.
Special session
At a special session in June, the State Legislature looked at the working group's recommendations, which Chief Rice had a role in developing.
"In this unprecedented moment, we must take unprecedented action on police accountability, equity, and economic recovery," said Lt. Governor Peggy Flanagan. "This is not business as usual. We have an extraordinary opportunity to create meaningful, lasting change. We cannot waste this moment with hesitation."
Governor Tim Walz supports the recommendations on police reform and accountability that were introduced by the Minnesota People of Color and Indigenous (POCI) Caucus and the Attorney General's Police-Involved Deadly Force Encounters Working Group. The proposals support use of force reform; funding for alternatives to policing; greater police oversight; voting restoration; community healing; and prosecutorial, investigatory, and training reform.
Some of the recommendations from the working group's report are already in place with the Mille Lacs Tribal Police or do not apply.
One recommendation calls for the Legislature to evaluate the use of body cameras, and if they are found effective, to encourage their use in local law enforcement and provide funding.
The Mille Lacs Tribal Police Department already requires body cameras.
The power of police unions has also been an issue, making it difficult for agencies to discipline or fire officers who violate policies. One recommendation calls for an increased role of the POST Board to approve, suspend, or revoke officer licenses at the Chief Law Enforcement Officer's request, which would strengthen accountability and transparency of officers who violate State standards.
Mille Lacs Tribal Police officers are not members of a union.
Attorney General Ellison talked about the report after the murder of George Floyd. "I urge us to really reflect upon the recommendations in this report," Ellison said. "Because at some moment, sadly, George Floyd will be laid to rest. At some moment the criminal and civil rights process will be concluded. But will we have made any real substantive changes or will we just be setting ourselves up for it to happen all over again?"
Sanctity of Life
One recommendation from the report is for departments to adopt policies that "make sanctity of life a core organizational value," to require only reasonable and proportionate use of force, and to require officers to intervene when witnessing an unreasonable use of force.
Minneapolis already had a "sanctity of life" policy and a requirement to intervene, but officers did not follow them in their interaction with George Floyd.
Minneapolis Police Chief Medaria Arradondo, who was also a member of the task force, used those policies to help justify firing the four officers involved in the incident leading to the murder.
Public Safety Commissioner John Harrington said some of the working group's recommendations are especially relevant after George Floyd's death, including one that says law enforcement should train officers "to be aware of the impact of current and historical racial trauma in communities."
"The question that we asked (at the task force) and that I ask here with you is how does a community recover when its heart has been ripped out?" Harrington said.
Senate Republicans ended the special session with no progress on police reform.