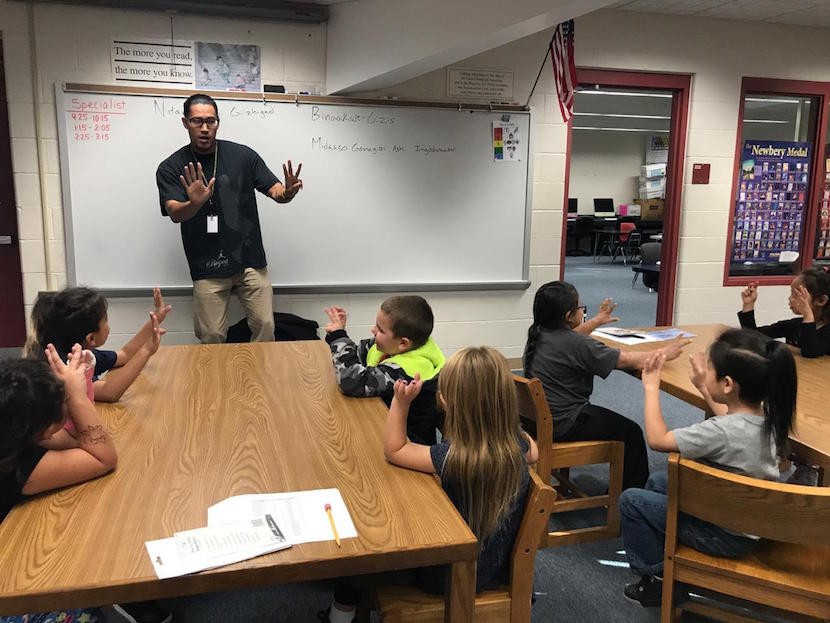 Amikogaabawiikwe Adrienne Benjamin Guest Writer
Christina Clitso-Nayquonabe & Byron Ninham Photographers
Some exciting things are happening at Onamia Public Schools in regard to the Ojibwe language. Indian Education Coordinator Christina Clitso-Nayquonabe was proud to announce the recent addition of an elementary Ojibwe language class. The teacher of this language class is Byron Ninham, who is the Director of the Niigaan Youth Program for the Mille Lacs Band. The class is offered to Pre-K through 5th grade students for 30 minutes, once a week, during hours that are designated as "Specialist" time slots. These slots would normally be filled with a range of activities such as art, music, computer, etc.
Currently there are over 100 kids (both Native and non-Native) signed up for the class. The hope of this class offering is to jumpstart Ojibwe language learning early and to instill value and importance of the language as well. It is also a hope that the early learning of the language will sustain a love for language learning through high school and beyond. "This year, Onamia's Native American student population reached over 50 percent (many of whom are Mille Lacs Band members or descendants), and the school is starting to reflect the diversity of the student body," Christina said. "We are working toward bridging any cultural gaps that may exist in the school, and building acceptance and under- standing in the process."
Instructor Byron Ninham is more than excited and grateful about his opportunity to teach. "I tell the kids every day that this is something that I am passionate about, and I'm aware that I don't know everything but that I will do my best. I let them know that I will continue to learn so that my best is better for them than it was yesterday. I feel that it's important to acknowledge those who have taught me language over the years — it's because of them I know anything. Their teachings are now reaching a new generation through me, and I'm so honored and incredibly grateful for that."
Ojibwe language hasn't just been expanding in the elementary; an exciting partnership opportunity with Central Lakes College recently presented itself to the Onamia High School as well. Thanks to an external partnership between Central Lakes College and Bemidji State University, an Ojibwe language course taught by well-known Ojibwe professor Dr. Anton Treuer has been available to Onamia Public Schools students for the fall semester. Upon completion, it is worth 4 college credits and the high school credits necessary to help fulfill their high school curriculum requirement for a second language.
Indian Education Coordinator Chris couldn't believe it at first. "It was the opportunity of a lifetime for these kids," she said. "Not only would they be able to learn the language and receive high school AND college credit, but they would also be learning from Dr. Anton Treuer, who is such a great role model and well known master speaker. I was thrilled and so excited for the kids to say the least! We have worked toward this for a long time at Onamia, and to see it happening is so fulfilling. This is the first Ojibwe language class taught as an elective in my tenure (four years) at Onamia High School."
This semester there are four young ladies taking the class: Deilyah Dexter (Mille Lacs Band), Madison Sam (Mille Lacs Band), Amanda Eagle (Mille Lacs Band), and Megan Saboo (Bay Mills Indian Community, MI). When asked, one common thread amongst the students was their appreciation of the academic structure of Dr. Treuer's teaching style. When specifically asked about her experience in the class, Madison Sam said, "I feel more connected to the language than I ever have. I'm learning more than just words. I'm learning the meaning behind them."
Deilyah Dexter added, "This class has been desperately needed in the school so that Ojibwe language can be accessible to all students, and it's needed to preserve the Ojibwe language in this generation and for the next. Now when I go to ceremonies and hear the Elders speak, I'm starting to understand what's being said and can appreciate those ceremonies even more than before."
Although only four students are in the class this semester, Chris sees it as a stepping stool in building momentum to make Ojibwe language a staple in the school's curriculum. "We are hoping that the students in the class will use their influence to make the class popular among not just Native students but non-Native students as well," Chris said. "It's important for everyone to learn about Ojibwe culture and history, and the language is the staple of that."
Shortly after this interview was conducted, Chris received a notice from Central Lakes College that after this semester, the class would no longer be able to be offered at Onamia due to financial strains caused by low interest and enrollment in the class on CLC's Brainerd campus. Onamia is currently seeking other partnering options and/or funding sources to continue Ojibwe language as an accredited course option for their students in the school district.