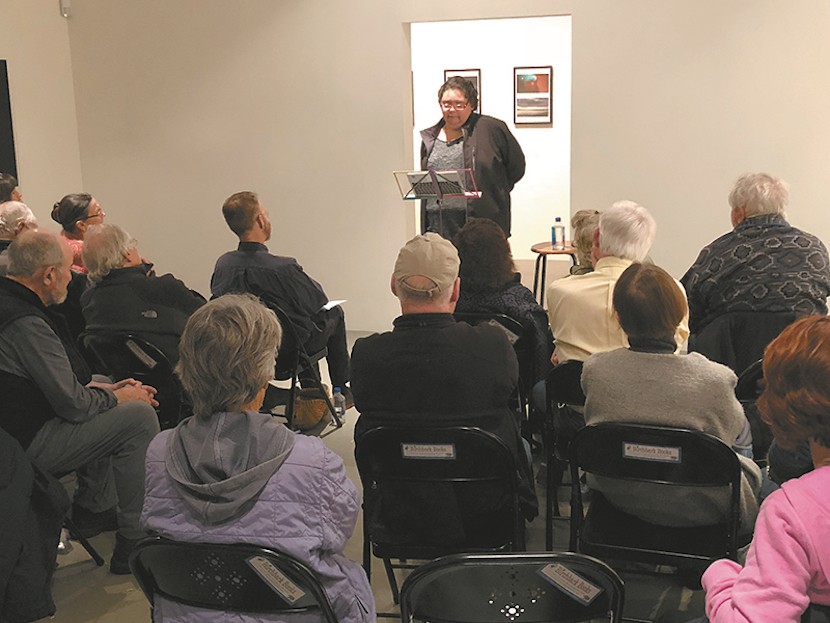 Mille Lacs Band member Li Boyd was one of four poetry and fiction writers to give a reading in Minneapolis on October 10 as part of The Birchbark Books Reading Series. This was Li's first formal public reading, and she read excerpts from her award-winning short story as well as her novel project, which is still in the works.
Li, who works as an environmental technician for the Band's DNR, led off with a reading from her self-described "speculative fiction" story about Native Americans traveling together.
"It's never point A to point B," Li said before she began reading her story of Rita, Rusty, and Vern.
*"Anywhere you wanna stop before we pick up Auntie Rita?" Rusty asked when Vern seemed to settle for good.
"Pick up?!" Vern said. "We're going to Auntie Rita's!"
"Well yeah, but she won a weekend fantasy bingo package at White Shells. She needs a ride home."
"When were you going to tell me?"
"Now."*
From futuristic travel to casino bingo to a beloved rez dog that is bilingual in Ojibwe and Dakota, it's easy to understand after listening to Li read her story how "Everyday Strays" made her a co-winner of the eighth annual Imagining Indigenous Futurisms short story contest. The story is unpublished, but she is interested in the right publication opportunity.
Li's second reading came from her novel project, with the working title Caged. "It came to me after I was at the Stand- ing Rock camp," she told the audience of 40, which included Li's parents, Janet Boyd and Jim Boyd, as well as her aunt, Phyllis Boyd.
Motivated by the growing Native movement against pipeline expansion, Caged is set in the near future in a "corporatocracy" scenario in which oil companies have divided up the country into districts, and they are fighting each other for control of the oil fields. "This is a worst-case nightmare of what could ever happen," Li said. The upper class would go on with life, while everyone lower than that would be servants to the corporate oil machine." She hopes to finish the novel in 2019.
Li's passion for writing
Li was introduced at the reading series event by Ardie Medina, who she met through the TGIFrybread writing group made up of Minneapolis-based and greater Minnesota writers. Li says she is "in a long-distance relationship with the Twin Cities arts and writing communities" — having been born in Minneapolis, but growing up close to her Anishinaabe family up north. In 1998, she moved to the Mille Lacs Reservation full-time.
Li began telling stories before she learned how to write. "I remember as a kid admiring people as they wrote out checks, even," said Li. "I wanted to make curly Qs so bad!"
So her grandmothers wrote for her or made audio record- ings of her stories on cassette tapes. Li's paternal grandmother, the late Grace Boyd, helped her work on the curly Qs. "She had really bad arthritis, but still she would write for me what I'd want her to. She was one of the most inspiring women I've ever known."
The late Helen Stewart was Li's maternal grandmother, and they spent a lot of time together when Li was a young girl. "Almost every afternoon, we'd set up a fort on the living room floor. We'd put a blanket over an umbrella, we'd gather up some of her little knick-knacks, and I'd tell stories about the knick-knacks while she recorded me. Those were golden times," Li said.
Her writing is also influenced by her passion to protect our waters, the joy she gets from building things with her hands, and her love for the Band's homelands at Mille Lacs and her 14-year-old dog Maddie (affectionately called "Puppy" much of the time).
"Right now I'm focusing on generating material," said Li, who is a regular Inaajimowin contributor as well, but she is interested in doing readings at Birchbark Books (located near Lake of the Isles in Minneapolis) or elsewhere.
She also encourages others to write. "You don't need to write War and Peace," she said, referencing the daunting thousand-page novel. "All you need is a pen and a legal pad from the dollar store."