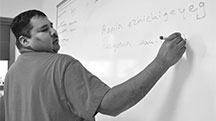 By Mille Lacs Band of Ojibwe, July 23, 2015
Central Lakes College welcomes its first local Ojibwe speaker/instructor, who will teach the Ojibwe language class in the fall and spring semesters.
John Benjamin, or his Ojibwe name Waabishkigaabaw, is from the Mille Lacs Band of Ojibwe. He brings a high level of knowledge about the language and culture, according to Mary Sam, CLC's director of diversity, equity and tribal relations.
"John is a well-respected Ojibwe instructor within the Mille Lacs Band community and across the region," Sam said.