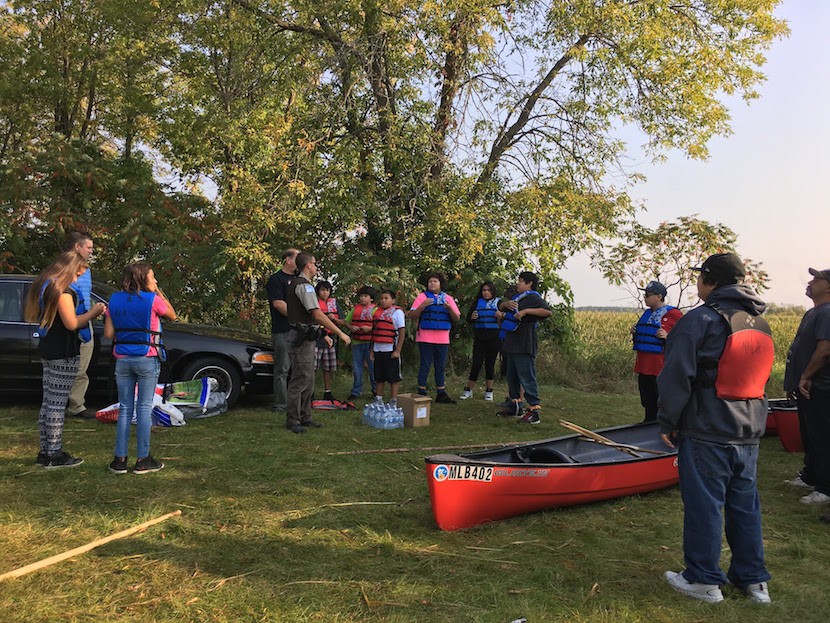 For two weeks this fall, Nay Ah Shing Upper School students experienced hands-on learning about manoominike — harvesting and processing wild rice. Teachers created curriculum around rice and ricing, volunteers lent a hand, and students learned science, literature, art, and even cooking through the lens of manoomin — the good berry.
Prior to the actual rice harvest, students made their own knockers with science teacher Larry Hansen. Middle School teacher Bambi Brown taught her students about the life cycle of manoomin, as well as the legend of Wenaboozhoo bringing manoomin to the Anishinaabe. Students did art work on both topics, drawing pictures of rice at various stages and of Wenaboozhoo finding the sacred plant that grows on water.
"The life cycle of wild rice can be broken down into six stages," Bambi said. "1. Germination, 2. Submerged Leaf, 3. Floating Leaf, 4. Aerial Shoots, 5. Flowering, 6. Ripening. Over the course of a few days, 6th through 12th grade students filtered in and out of my class learning about these stages, drawing their own life cycle maps, creating wild rice poetry, and understanding and interpreting the legend of how the Ojibwe people were given the gift of wild rice."
Cheryl Houde's students spent several days researching the harvesting of wild rice, nutritional information, and fun facts about Minnesota's wonderful state grain.
Dominick Polito (Physical Education) and Blenda Hagberg (English) kept their students busy and motivated with a variety of rice activities. In addition to two days on the water, they helped students gather information on ricing and create Power Point presentations.
Their studies covered many aspects of wild rice: local history, harvesting and processing procedures, biology, water quality, uniqueness of Minnesota's crop, and traditions.
Dom used his talents with Power Point on a visually compelling presentation and voyage of discovery when the students checked out single-grain artwork on-line. It is a marvel how much artwork can fit on one grain of rice!
Outside of the adventures in the great outdoors, students had the most fun using food coloring to color white rice, then — once the rice dried — to create Dagwaagin or Ricing pictures, using the rice and glue, rather like creating mosaics. The creations were beautiful, including scenes on the water, close-ups of birch trees, and other natural perspectives.

Then came the real fun. Ten students went out at a time with four adults for six days straight — September 6–13. Fifty students and eight staff in all participated in the harvest on Onamia Lake and at Mallard Lake in Aitkin County.
"Blue skies and dry weather made this year's ricing so enjoyable," said Principal Noah Johnson. "One could say it was perfect ricing conditions."
Noah helped line up volunteers to haul three vehicles, a trailer, six canoes, and equipment — poles, knockers, life jackets, sunglasses, etc. Staff and students worked together to load and unload the trailer, haul canoes and equipment to and from the landings, and dump, separate, and bag their rice.
Bambi Brown said none of her 6th grade students had ever been in a canoe ricing before, so the nerves were at an all-time high. "Many were afraid of falling in or tipping the canoe," said Bambi. "Some were afraid to stand up and be the poler. I, for one, was not going to stand up with a student in the canoe, so I was the knocker. I soon became aware that I am more effective pulling rice with my left knocker and knocking with my right."
(Students also learned that capsizing in a canoe is not the end of the world, thanks to an unintentional demonstration by high school teachers Blenda Hagberg and Dom Polito.)
In all, students brought in over 250 pounds of rice — and it didn't come easy. According to Noah, bugs, worms, sweat, and wet clothes took their toll, but complaining was at a minimum, and smiles abounded.
Those rice worms came as a surprise to Bambi Brown. "Connor Boyd was my guide as he pushed me around Lake Onamia," she recalled. "The rice was so tall he could barely see above it. We could hear other voices but could not see anyone. It was amazingly peaceful. That was until I noticed the creepy-crawly friend of the rice stalk. As I knocked rice into the canoe, I also knocked this whitish yellow worm into the canoe and on me!"
Her reaction? "EEEW! IIIIICK!"
The rice worm (which is the larval stage of the noctuid moth) was the only drawback of the rice harvest for Bambi. "Had I known ahead of time about this pesky larva, I might have taught students about their life cycle," she said.
The activities didn't end with the harvest. Students and staff brought the rice to the circle, where they spread it out on tarps to dry. They also set up a rice camp outside, where they could learn to parch, jig, and winnow the rice.
Teachers Cheryl Houde and Gary Nelson also took a group out ricing. "said Cheryl. "We then spent time in the kitchen trying out different recipes that included wild rice. Some of the recipes we tried were Cajun Wild Rice, Blueberry Wild Rice Muffins, Wild Rice Hot Dish, and Blueberry Wild Rice Pancakes, which were by far the favorite among the students." (You can find the recipe at thepioneerwoman.com.)
On Friday, September 15, the school celebrated the end of the manoominike season by hosting a Wild Rice Luncheon for parents and community members.
"Many thanks go out to staff, parents and volunteers who made this experience great," said Noah. "As a school administrator, I am proud to be able to take part in these cultural activities and have fun together. We look forward to sharing our rice harvest with families at parent teacher conferences (wild rice hot dish) as well as in our gift baskets to families. We are also privileged to be able to give away a brand new canoe to a Nay Ah Shing parent who came to Open House and turned in the winning raffle ticket."