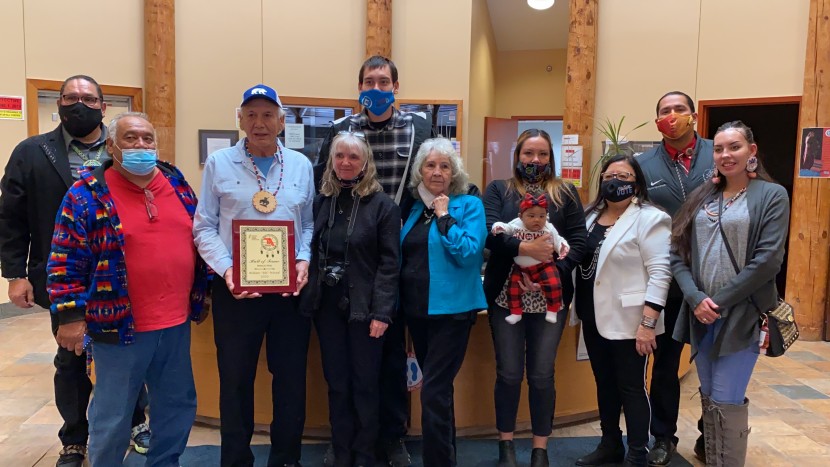 When William "Bill" Schaaf was six years old, his teacher at the little schoolhouse in Ball Club, Minnesota, was a Red Lake Band member who also happened to play basketball for the Deer River veterans team. Every Friday night, they'd play at the Memorial Arena, and one night, he brought a group of his students along to play a warm-up game before the main event.
Young Bill's first taste of competition on the court was something he would savor for the next 14 years — but all he could do was dream of another chance to play.
"After that was over I never got to play again as a young guy," he said.
Bill never played basketball in grade school because there was no gymnasium in Ball Club.
He never played football in high school because it was during ricing season, so he had to work.
And he never played basketball because he didn't get along with the guys on the team. They treated him poorly because of his race.
So it was a long wait for that next taste of competition, which came at Haskell Institute, where Bill played intramurals. "That's where I learned to play," he said.
Over the next 60 years, there would be no more breaks, no more lulls, and no need to dream — because Bill was busy with one tournament after another after another.
In the 1960s, Bill moved to the San Francisco Bay area on the Relocation program. "They wanted to make Indians like everybody else to deal with the 'Indian Problem,'" Bill recalled (with a note of sarcasm).
In addition to attending the University of California Berkeley and taking part in the occupation of Alcatraz Island, Bill was pursuing his love of the game, playing in tournaments around the Bay Area and beyond — northern California, Reno, and up to Oregon, Idaho, Washington, and Montana.
When he started his career working with tribes in the Pacific Northwest, the games continued on weekends. "I think there are 23 reservations in the state of Washington, and I think I've played basketball on all 23," he said.
He's won tournaments in every age group, from his 20s and 30s to his current group of over 65s. He won state and national championships with the Onigum Nighthawks in the 1970s. He won 3-on-3 championships in the 30-40 age group in Washington. His teams won the NIAA championships in the 40-and-over class in 1987 and '88, and Bill was named MVP in both.
He played with NIGA Chairman Ernie Stevens Jr. in the 40-50 age group and won NIAA championships seven years in a row.
His accomplishments have made the pages of USA Today, and he once saw a guy score 113 points in a game. "I scored 40 and thought that was pretty good," Bill recalled.
He often competes with and against players he met more than 50 years ago. "It's really all about the friendships," he said. "I go to tournaments and see guys I met when I was 25 years old. It's like a reunion."
In recent years, Bill has played in the National Senior Games and the 70-plus exhibition at Fort Hall, Idaho, one of the tournament locales he's returned to again and again.
Hall of Famer
On November 13, Bill was inducted into the National Indian Athletic Association Hall of Fame at a ceremony at the Mille Lacs Band Government Center, where Chief Executive Melanie Benjamin also received an award for her life-long support of athletics.
Bill was nominated by Dan Ninham, who entered the Hall last year and was aware of Bill's accomplishments. Dan and his wife Susan have been lifelong educators and role models around Indian Country.
"When I was nominated, I thought, 'Somebody else that is worthy is Bill Schaaf,' so I addressed it with the main organizer, Ernie Stevens Jr.," said Dan. "I've known about Bill for a few decades. About 10 years ago I was at a legends game in Red Lake, and Bill was playing at an outstanding level."
As Bill was growing older, he kept outgrowing the tournaments, Dan said. The oldest age group used to be 40 and up, so when Bill and some of his peers kept playing, more age groups were added — 50 and up, 60 and up, 70 and up. "Bill would just keep going, and playing at an outstanding level. He was MVP in a number of those tournaments."
Ernie Stevens Jr., who now runs the NIAA, came to Mille Lacs to present Bill with his Hall of Fame plaque on October 13, as friends, family, teammates, and colleagues showed their support. Ernie has played and coached with Bill and knows how much he has contributed to the game of basketball in Indian Country.
"Bill is a role model," Ernie said in a phone interview after the event. "Everything we've strived to do — work hard, be active, help people, make the world a better place — at 80, he's still doing it. There's a lot of great athletes out there (and believe me, the older we get, the better we were) but the key thing is what you do with your athletic capability, how you help others grow, to be a better business person, a better activist, or a better school teacher. We'll tell you forever how great we were, but in the end it's not how many points you scored, but how many people you helped."
Ernie was a National Indian Heavyweight Boxing Champion who rubbed shoulders with Sugar Ray Leonard and Tommy Hearns back in the day, with support from the National Indian Athletic Association. When the organization started to falter, Ernie and others stepped in to save it so the annual championship tournaments could still be held, and athletes would continue to be recognized.
"Bill Schaaf is a gentleman and a statesman," Ernie concluded. "What he's done as an athlete is way better than most, but what he's done as a person to move his community forward is really the highlight. Using your talents to make the community a better place — Bill is a role model of that, a role model to me. The real strength of what we do is asking 'Who are we gonna help next?' That's our goal, to create more winners, more activists, more people helping people. We want to encourage our younger folks to be the next Bill Schaaf, the next Dan Ninham, the next Susan Ninham."
Role model
Not only is Bill still playing ball; he's still working, too. He is a youth mentor for Pine County, sharing his love of sports and learning with Hinckley and Aazhoomog students.
Byron Ninham, Assistant Principal of Nay Ah Shing Schools, was one of those youth who looked up to Bill back in the early 2000s, when Byron was a student at Bemidji Middle School and Bill would play pickup games with a group of men called "The Timberwoofs."
"I admired these men that still gave back to the game and committed their time to the camaraderie of the sport," said Byron. "Bill has won at every level and age group throughout the 'tourney trail.' He is a legend on the hardwood. His understanding of the game and how I have personally seen him give back to his communities is amazing. When you see Bill in the stands or communicating with a young athlete, you know he is going to share knowledge from learned experience that is meant to guide and support."
Byron tells a story about playing with Bill at a tournament in District I organized by Bill's daughter, Makadegwanebiikwe/Mikayla, in the fall of 2018 through Health and Human Services. "I remember a play in transition when Bill and I sprinted back on defense, and Bill secured the rebound and was fouled. We called a timeout and gathered our group. On the previous play, our younger teammates had been jogging back on defense and were not an active part of the play, so Bill shared the importance of playing hard and giving your all. 'I am 77 years old, and I am out-rebounding some of you on the defensive end,' he said. 'We need to do this together to give ourselves a chance to win.' Bill didn't allow the heads to hang and was an uplifting voice for the team and young student-athletes.
"Bill Schaaf is a multi-generational leader and innovator for Indigenous athletics and wellness throughout the country," Byron concluded. "He continues to be an example for wellness and an advocate for young people. Although many of us throughout Indian Country see Bill as a Hall of Famer for his contributions to community, his 'official' induction into the NIAA hall of fame is well deserved."
Photos: Above: Bill Schaaf was joined by friends and family when he accepted an award from the National Indian Athletic Association.
Below: Bill Schaaf's love for basketball has remained consistent for 60 years.
Bill is pictured with his Oakland, California, team in 1963 and the 1970 Oakland Red Hawks, champions in Bishop, California.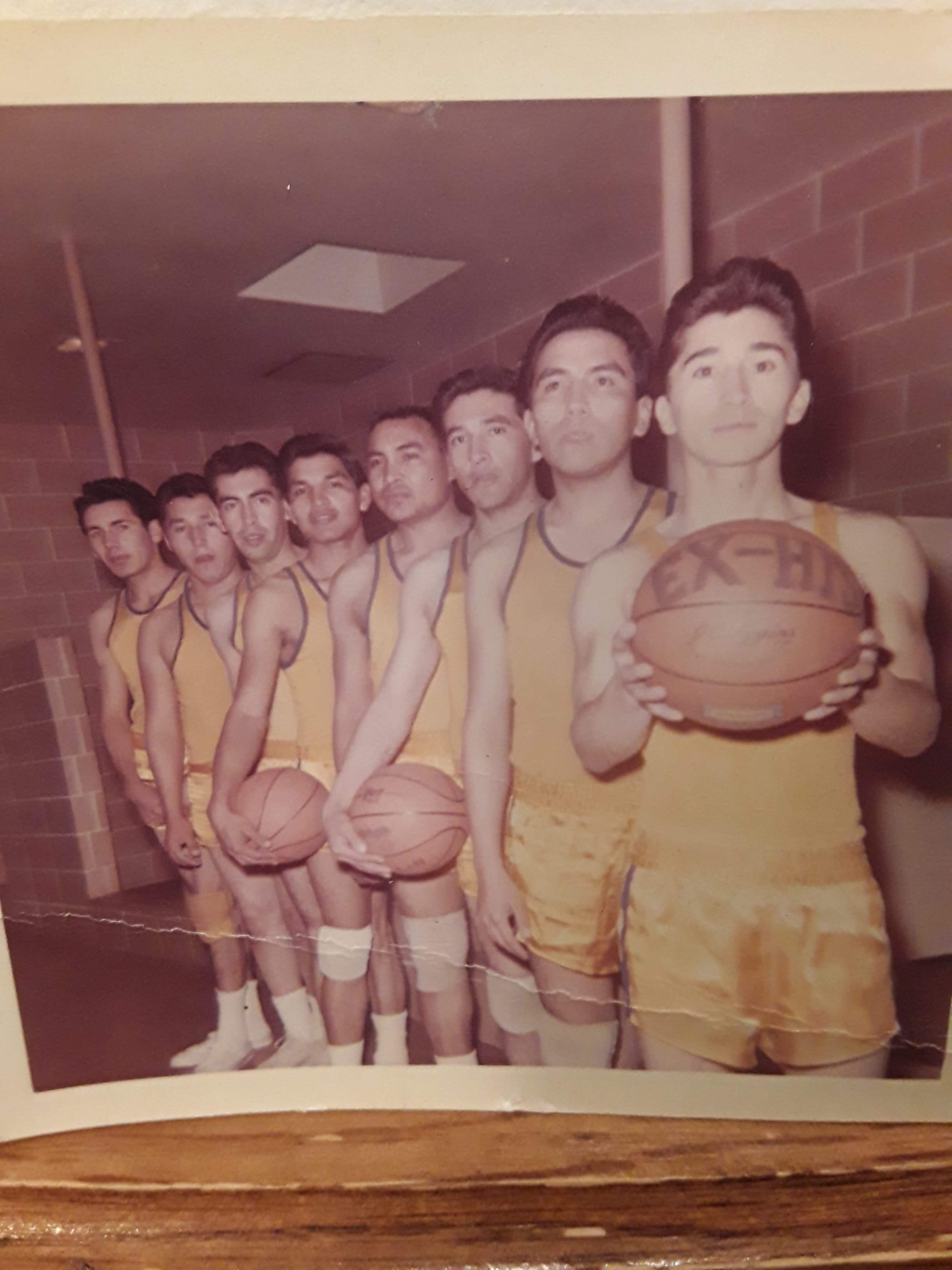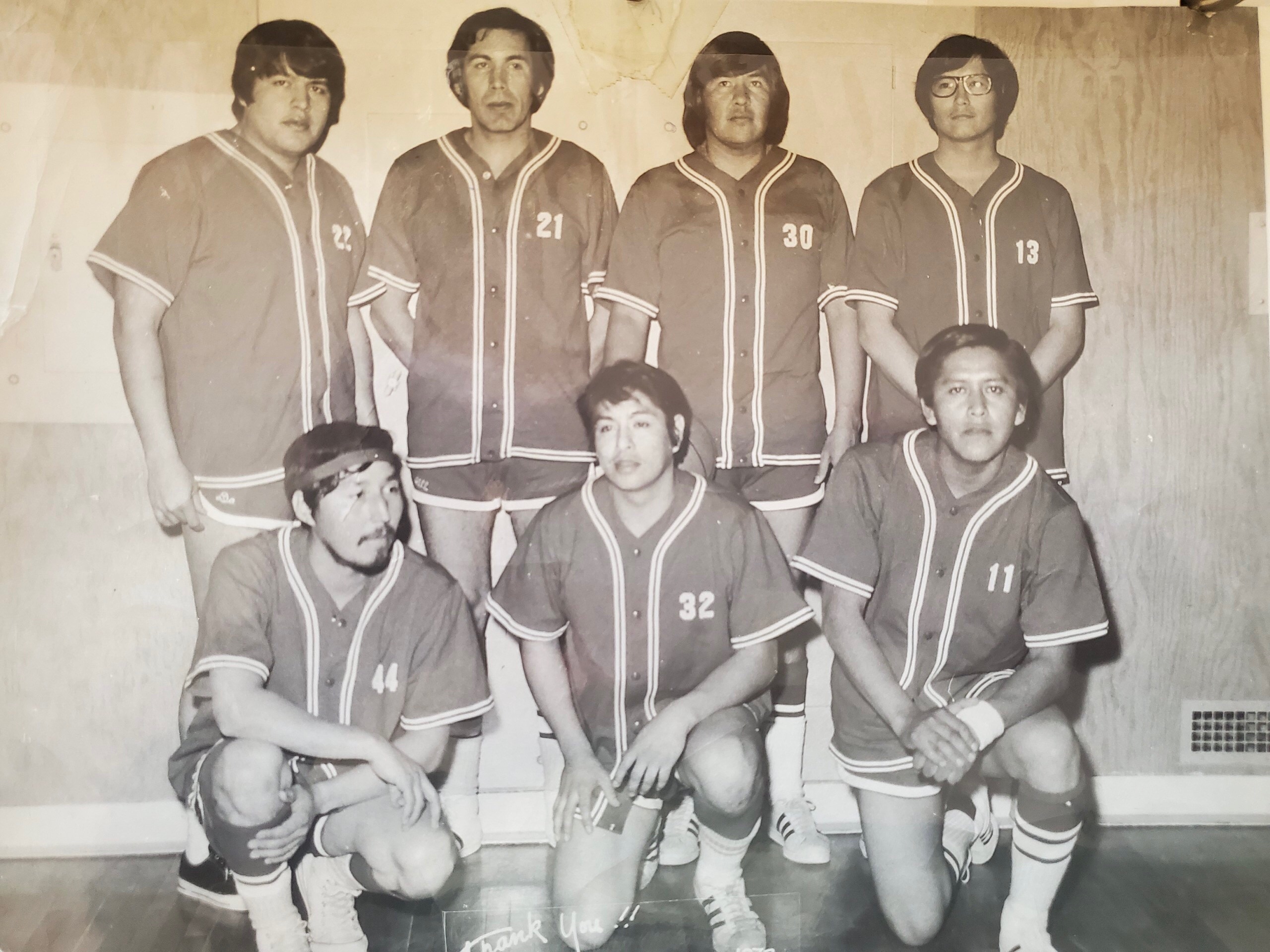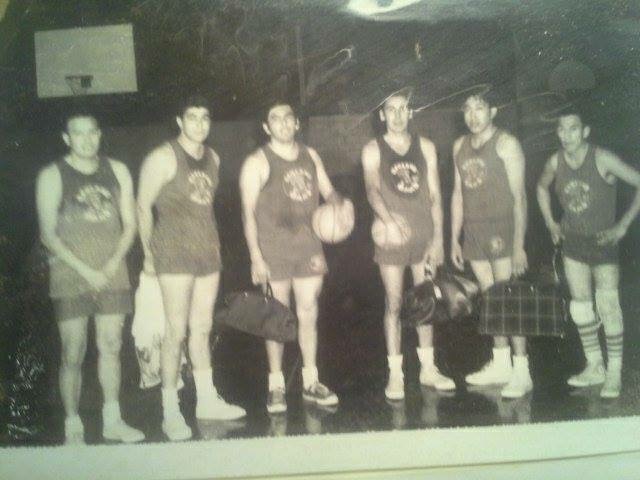 Bill was a member of the Onigum Nighthawks in 1978 when they won the Southwest All-Indian Tournament in Phoenix and Bill was named Most Valuable Player. The new community center at Leech Lake is named for the Nighthawks, who won state and national championships.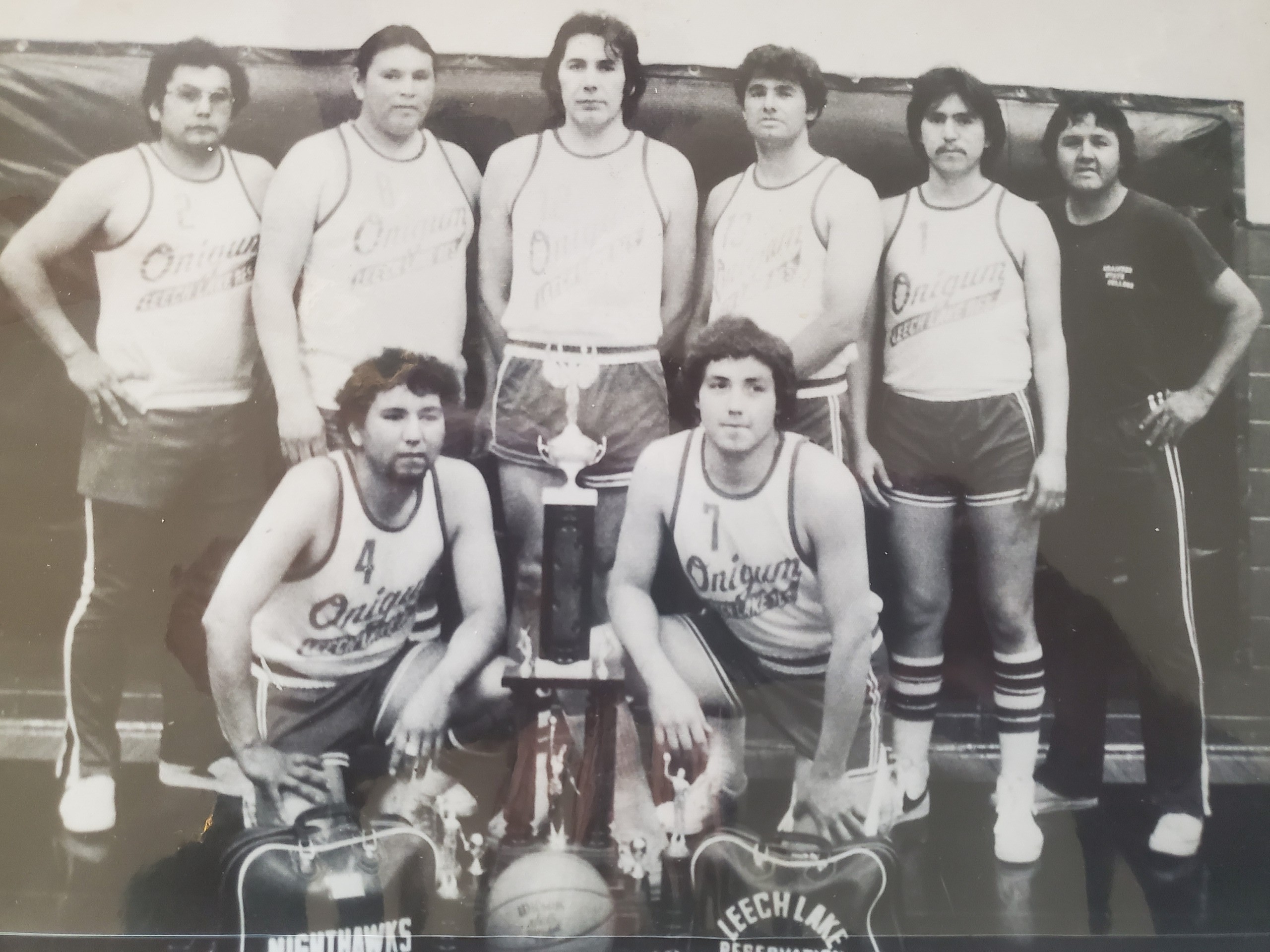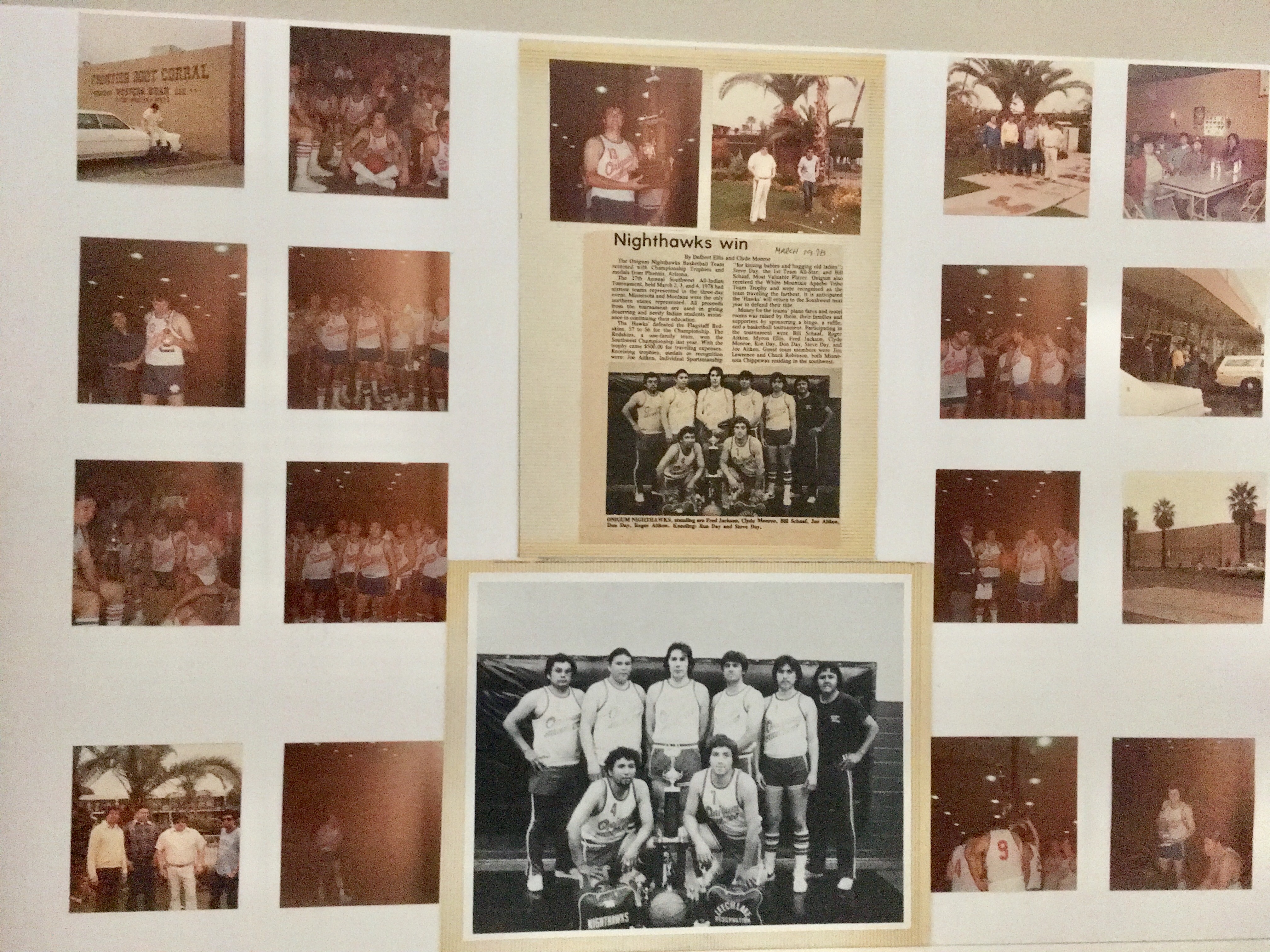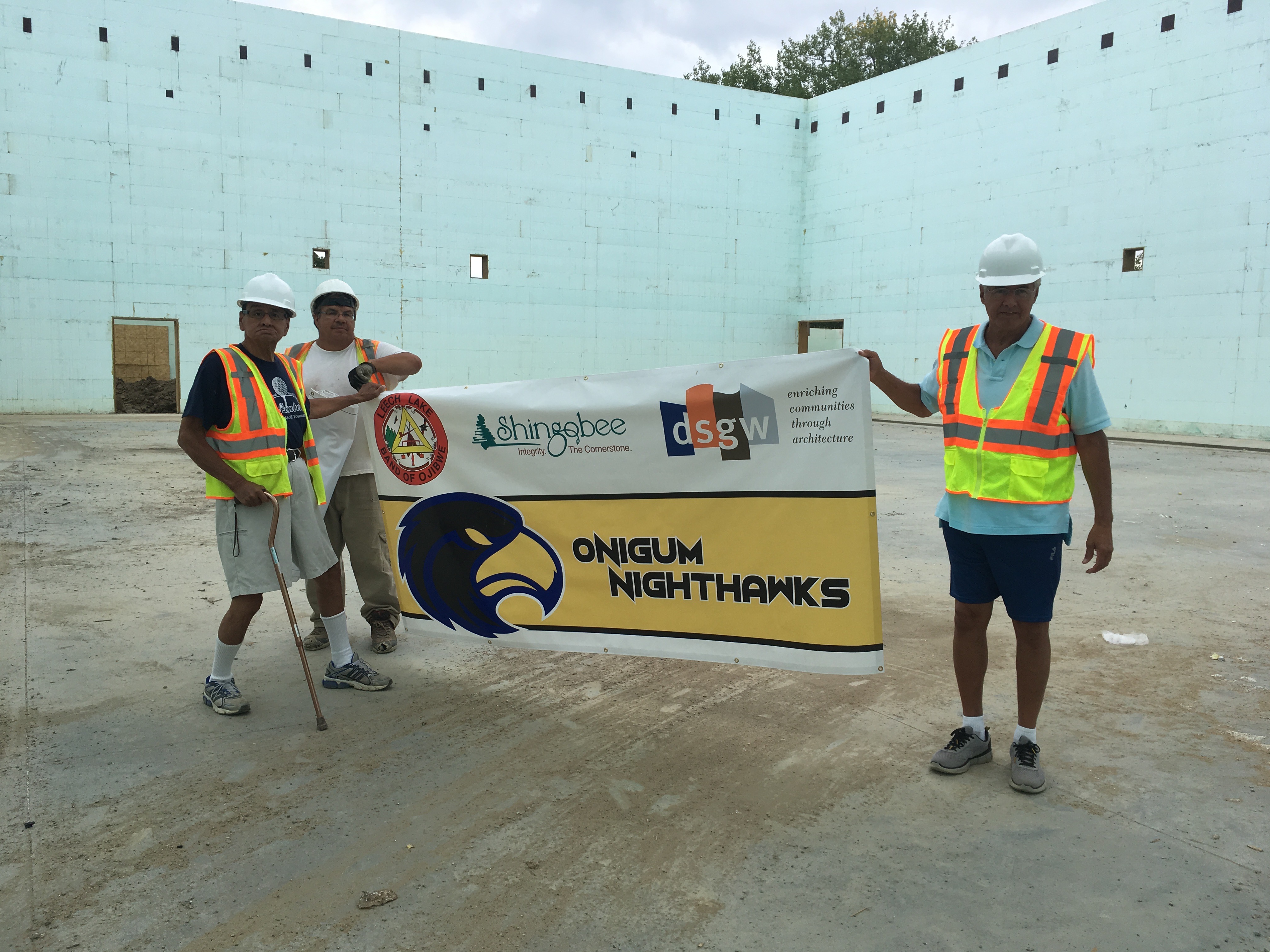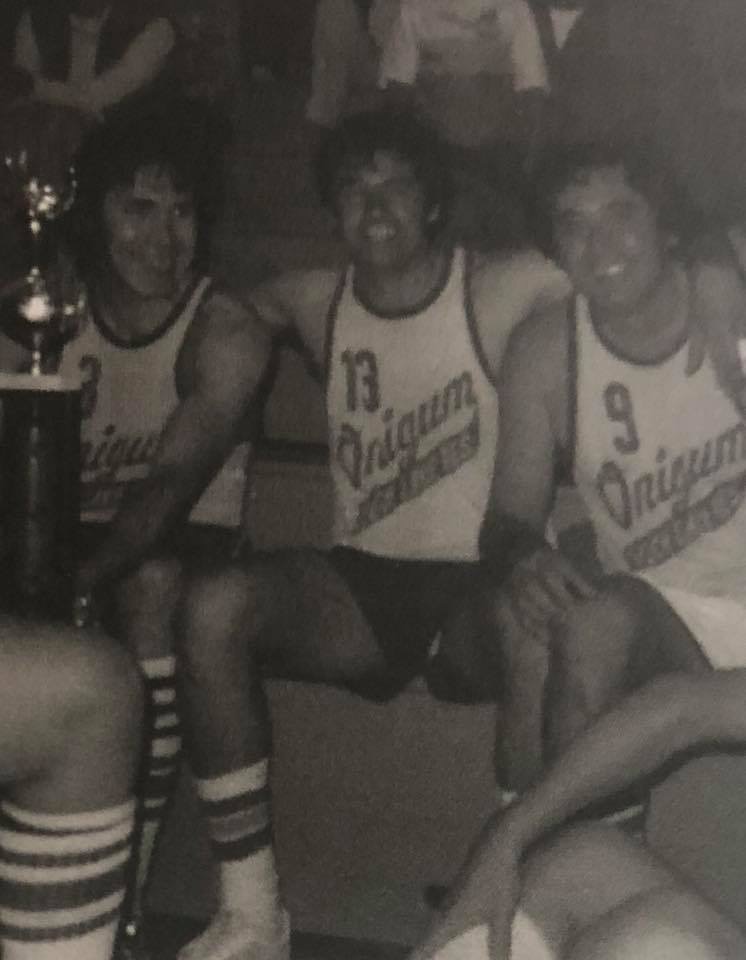 Bill won a number of 3-on-3 championships as well as 5-on-5 tournaments around the nation.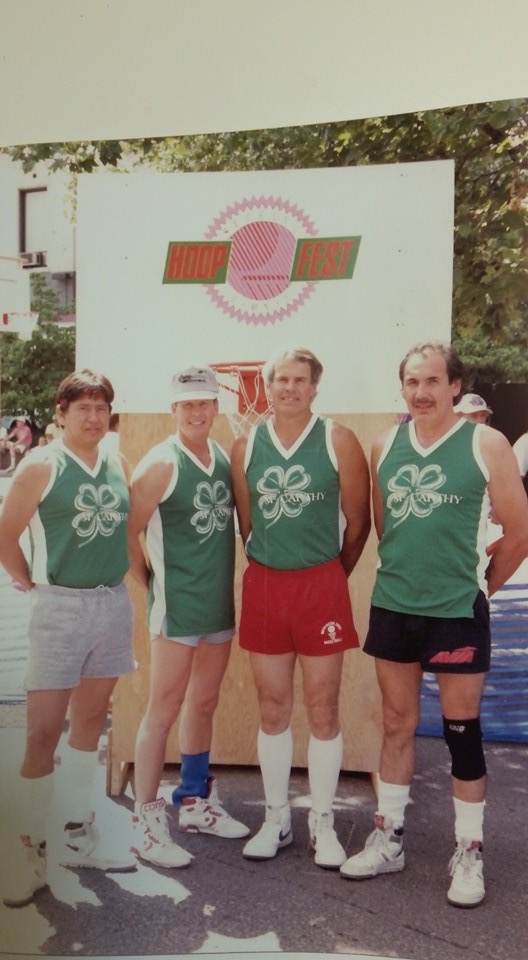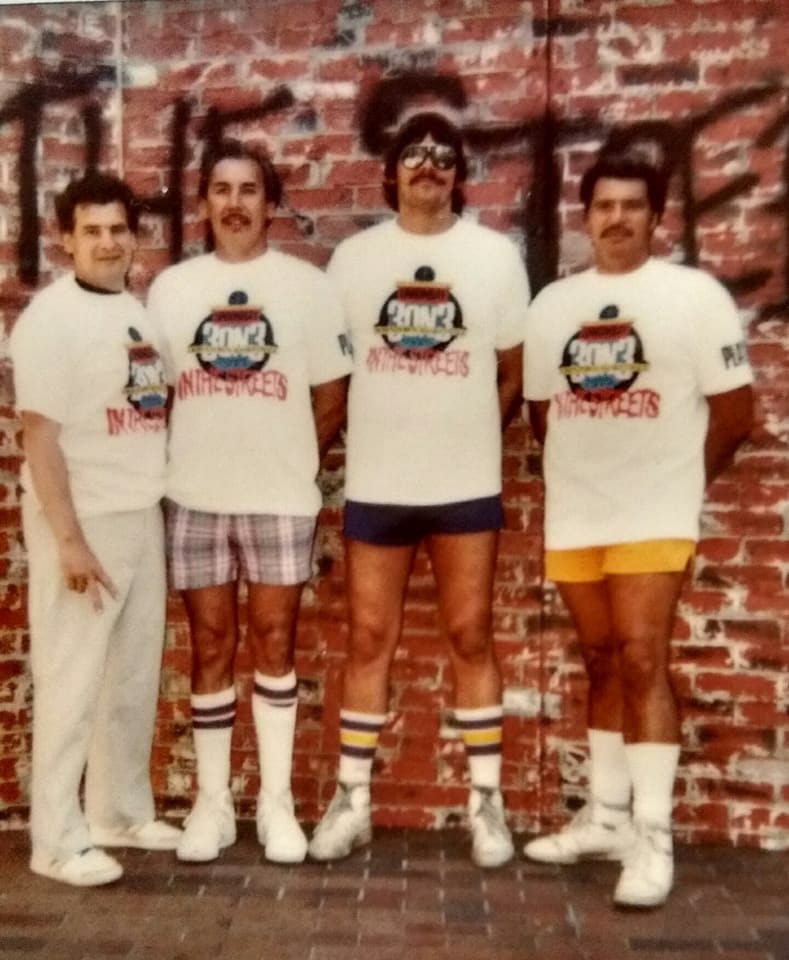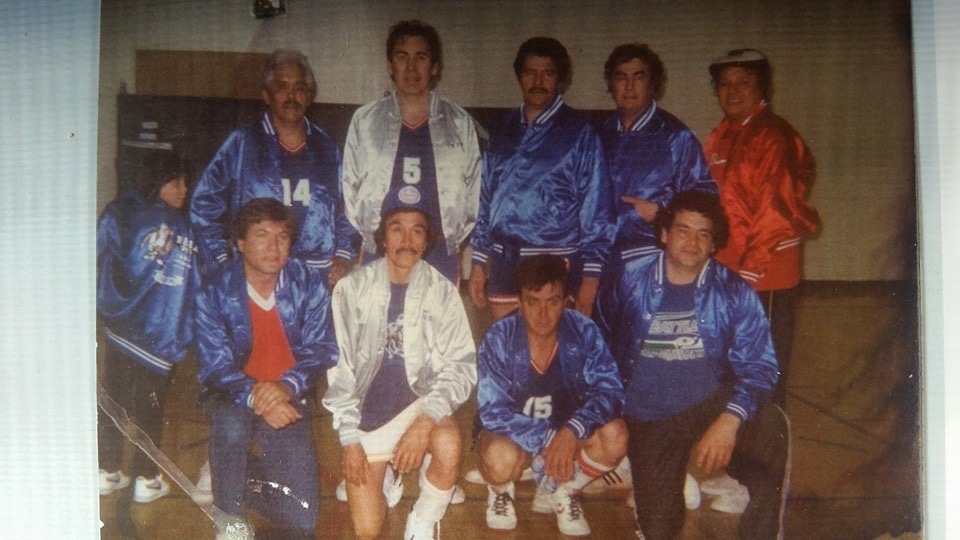 Bill and Ernie Stevens Jr. were teammates on a few championship teams, and they also coached together.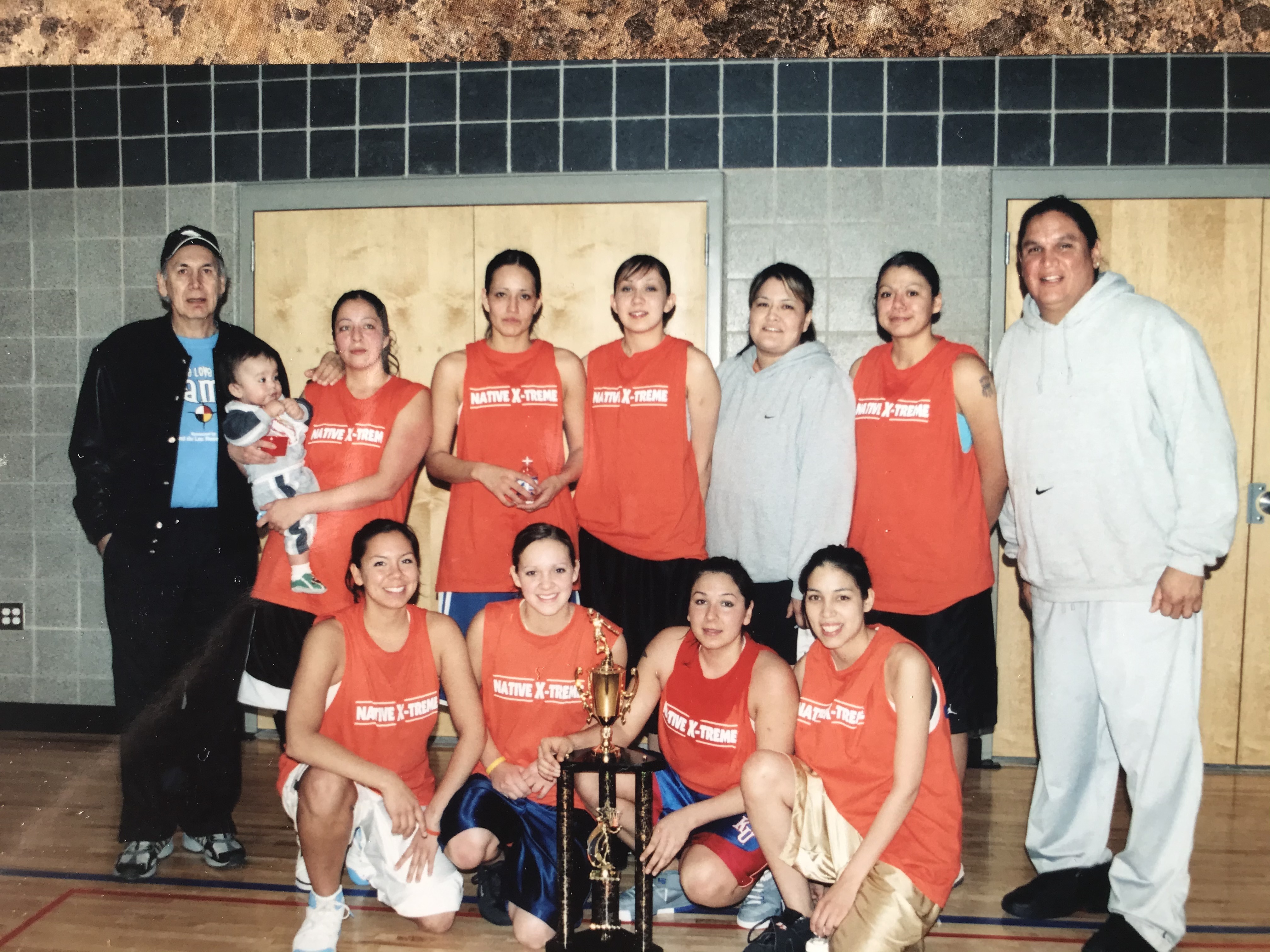 In recent years, Bill and friends have competed in the Senior Games and Over-70 tournaments.