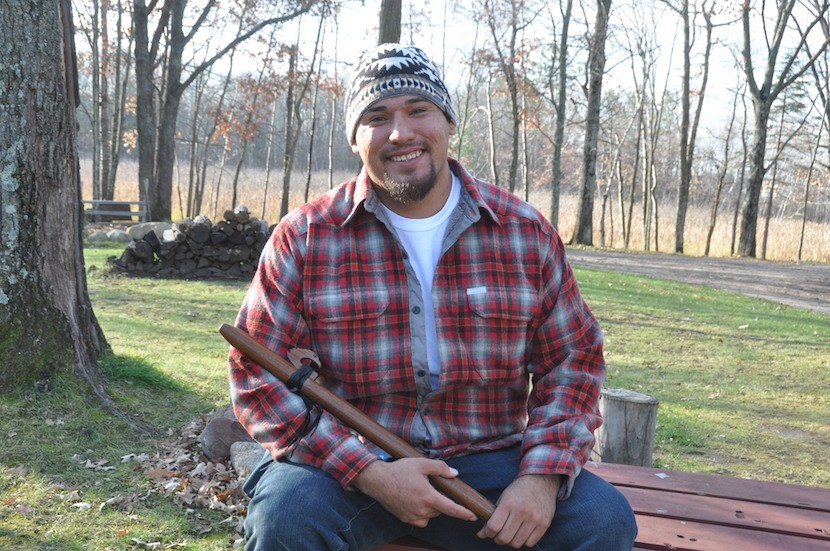 When Max Blake first picked up a flute, it just felt right.
He was 17, and his dad, Benji Blake Sr., brought a flute home from the Gathering of Nations in New Mexico. Benji was trying to play, and Max was teasing him about how it sounded. Benji let Max try, and when he played his first note, it was like he'd been playing forever.
Listen to him now, after 15 years of practice, and you'll hear why Max is becoming a sought-after musician across the region. Max has played at a meeting of the Minnesota Indian Gaming Association, during the Memorial Day festivities at the Mille Lacs Indian Museum, at men's and women's gatherings, and at weddings of friends.
Max composes his own songs, but he can also learn by ear, anything from his kids' Disney tunes to his mom's favorite melody: Amazing Grace. He's learned a lot by watching Tony Duncan and his group, Estun-Bah, on YouTube.
He usually plays solo, but at the Memorial Day event he was joined by rapper Thomas X and liked the way it sounded.
Max likes the way the flute expresses emotion. "If you're mad, it's going to sound one way, if you're sad or happy, another. Your emotions come out of those flutes."
His second time performing in public was at a wedding in Pine City. "I only had a few days' notice, but I wanted to make sure it was special," he said. "I sat and thought about it — the idea of a wedding, love. So when I went there to play that song, I told him, 'That song was made for you guys.'"
For most of his adult life, Max worked at the Casino as a pit boss, but last June he made the move to the District I Cultural Grounds, where he works as a groundskeeper. "I needed a breath of fresh air just to change it up," he said. "Who would've known it would bring me here?"
The environment suits him, and his bag of flutes.
"When I make my own songs, I feed off of other energies," said Max. "I watch the birds play, how the wind is blowing those trees — you can take that and feel it, and put it in your interpretation. Anything I see — watching my kids play, the trees, the birds, the squirrels, watching the water, whether it's a wavy day or a calm day — I interpret it through my riffs and my playing."
According to Fawn DeWitt, who works with Max at the Cultural Grounds, the birds like it, too.
"They come and start talking to him when he plays," she said. The loons will swim closer and answer with their own flute-like calls.
Max gets most of his flutes from High Spirits and Jonah Thompson, a Navajo flute maker. He also has a seven-hole Hidatsa flute from his dad's reservation. He takes good care of them — oiling them and keeping them out of the sun.
As for his dad, who got Max started on this road, he still plays too, along with Max's brother, Benji Jr. Max is the Pied Piper who's now encouraging some of his own kids to play.
He gets them started, explaining how to tune the flutes, how to care for them, the best way to hold them, and how to breathe. But mostly it's a matter of trial and error and practice. "We're all self-taught."
At a recent naming ceremony for one of Max's sons, Benji brought out a flute and handed it to Max.
"He likes my style," he said.
"We'll be sitting out at a family barbecue, and someone's gonna take a flute out, and somebody's gonna play. After a good meal from my mom, it's so relaxing. My dad will bring his flutes out, and they'll get passed around to my brother and me."
Like any art, it remains a challenge, even for a master. "I've been playing 13 or 14 years, and I'm still learning," said Max. "It's never ending, and it's all fun, in a good way."