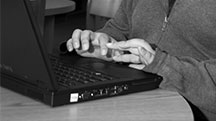 By Toya Stewart Downey, August 3, 2015
When the Anishinaabe College students return on Aug. 24 for their fall semester, they will have a new slate of courses and a new way of taking those classes.
Students will take their classes through what's known as ITV — an interactive method that uses television monitors and phone lines and allows for students and instructors to interact without being in the same room. Another option will be through a method called telepresence, which is similar to ITV.
"We've wanted to use technology to offer classes for a while now, and now we can," said Camille Naslund, the Band's director of Higher Education. "What's really great is that people can take classes where there's an ITV class being offered so it will be convenient for them."
The partnership with the Fond du Lac Tribal and Community College is making ITV possible, and it's opening the doors for students in East Lake and at Pine Grove to take classes without having to drive to the District I tribal college to attend in person. In DI classes are held at the Nay-Ah-Shing Upper School, in DII they will be held at the East Lake Community Center, and in DIII they will be offered at the Pine Grove Leadership Academy.
"Anytime something new happens there is quite a bit of excitement in the community, which is a good thing," said Suzanne Wise, the Band's Commissioner of Education. "Our students want a variety of classes that can keep them motivated to continue on with their education."
The classes are being taught by staff from Fond du Lac and include offerings such as digital storytelling, American Indian studies, business, child development, American Indian history, calculus and introduction to Anishinaabe language.
"Previously, we've offered six to eight classes, but we are now offering 16 classes," said Camille. "Calculus is brand new, and so are some of the other classes that are being offered."
Students can continue to enroll for classes until the start of the semester and can eventually earn an Associate of Arts degree and can transfer their credits to a four-year college to earn a bachelor's degree.
"We're continually evolving to best meet the needs of Band members," said Camille, adding that there are more Indian studies classes and topics.
For the past four years, the tribal college offered classes taught through Central Lakes College (CLC) and staff from CLC came to District to teach in-person classes. This year the in-person classes aren't being offered, but staff from Fond du Lac will spend time meeting with students as needed.
"The classes that are being offered are meaningful to our students — as Anishinaabe people," said Suzanne. "We want potential students to look at these class offerings and feel a sense that they want to learn and they can accomplish going to college.
"We welcome them even if they want to only start with one class that looks interesting," she continued. "It's getting them through the door that matters, and helping them accomplish their academic goals of working towards a college degree."
For more information or questions call Camille Naslund at 320-532-4695. For a schedule of classes visit the Department of Education page.
Anishinaabe College (formerly Mille Lacs Tribal College) is located at Nay Ah Shing Upper School — 43651 Oodena Drive in Onamia.