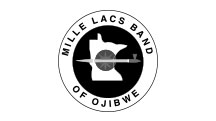 By Brett Larson, August 6, 2015
Five young Mille Lacs Band boys learned to make a hand drum on July 8 at Bimaadiziwin Hotel, the old Budget Host in District I. More importantly, they learned about Anishinaabe culture and traditions.
Their teacher was Mille Lacs Band member Terry Kemper, who told them, "Everything we do as a people has a spiritual connection to it."
"The drum teaches you," said Terry. "The pipe teaches you. If you use them, they'll teach you. Everybody wants to go to an Elder to learn about the culture, but if you pick up a drum and use it, it will teach you, just from being connected to it."
Jordan and Jayden Nayquonabe, Seth Benjamin, Damien Churchill and Jayden Sayers learned to punch holes in hides to make the drumhead, cut strips of hide to attach it to the frame, and wrap willow branches in yarn and leather to make drum sticks. William Sayers, Jayden's father, also took part.
"It's a good thing to watch this happening — a father and a son working together," said Terry. "Learning something good, not what they learn in rap music and video games — something that has life that can help them.
"Today we need all the help we can get, and our culture is what's going to help us," he added. "If we can share that with the young ones, they'll have the tools to use, cultural things, rather than what the system now gives us. They'll be able to share with each other and create a better community."
The class was offered thanks to Richard Hill, manager of the Bimaadiziwin Hotel. Richard learned that the Mille Lacs Indian Museum had some drum kits to share, so he contacted the museum's director, Travis Zimmerman. Travis was happy to provide the drum kits for the class.
Richard brought in Terry to teach because he knew Terry would offer more than just a lesson in arts and crafts. "The teaching he brings with it goes beyond just the making of the drums," said Richard. "That's the big thing for Anishinaabe boys who are here. When they play their drums, hopefully they'll remember that teaching and know it's more than just a hand drum."
Richard hopes to host additional drum-making classes in the future, as well as drumming and singing classes.