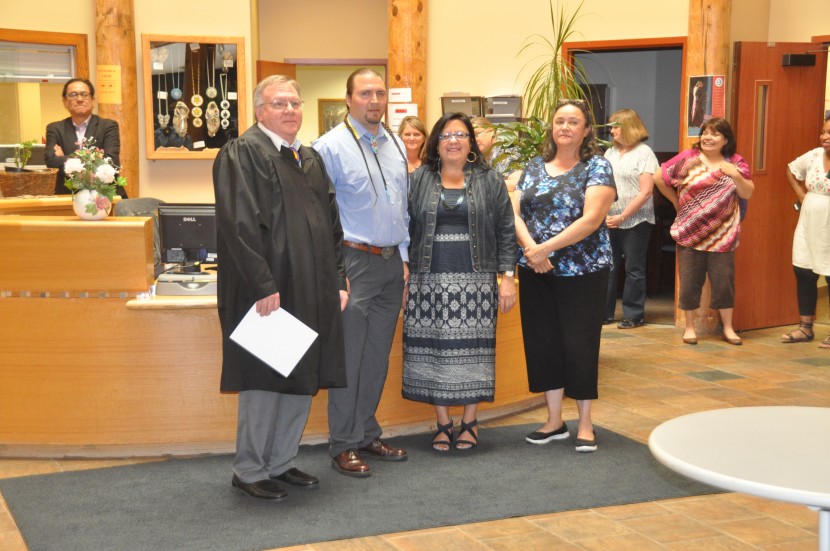 Public safety, pipelines and opioid prevention were at the top of Chief Executive Melanie Benjamin's agenda for discussion with Governor Mark Dayton at the State Capitol while attend- ing the annual Tribal-State Summit on June 22. Leaders from the eleven federally recognized Indian tribes in Minnesota were invited to attend.
The Governor opened the meeting with a discussion about tribal concerns regarding pipeline activity in Minnesota. Chief Executive Benjamin shared a paper outlining the Band's concerns regarding the proposed Line 3 route through watersheds that support Manoomin, and other leaders echoed their concerns as well.
When the Governor brought up the topic of opioids, which led to a discussion about law enforcement and public safety on the reservations in Minnesota, Chief Executive Benjamin informed the Governor that the recent mediation that he had personally arranged between the Band and Mille Lacs County had ended without an agreement reached. Last summer, after Mille Lacs County turned down an offer of federal mediation, Governor Dayton travelled to Mille Lacs County and personally requested that they at least attempt mediation with the Band via the assistance of the Minnesota Bureau of Mediation Services.
Other tribal leaders also spoke with a collective voice in support of the Band, stating that the public safety crisis at Mille Lacs could have far-reaching impacts on the other reservations as well. "Public safety is one of the most basic rights of any community, and all our community members and neighbors have a right to feel safe and secure in their own homes," said Benjamin.
Additional topics that were addressed included education funding, support for State-Tribal relations training for state employees and the need for more support of home health care. The meeting lasted two hours, and at the conclusion the group was invited to lunch at the Governor's residence that lasted about another two hours. When language revitalization and culture came up during the lunch, Chief Executive Benjamin shared with the Governor that we have several Band Members who made mistakes earlier in their lives but have turned their lives around by immersing themselves into language and culture. She stated that she is committed to breaking down the barriers that prevent these individuals from contributing positively to our Band government. Governor Dayton responded by saying that he wants to work on streamlining the process of expungement.
For the past several years, Governor Dayton has invited the elected tribal leadership of each of the 11 federally recognized Indian tribal governments in Minnesota to sit down to dis- cuss issues together at the Capitol. Band Statutes specifically charge the Chief Executive with conducting external relations with other governments, and conducting effective tribal-state relations is one of the most critical responsibilities of any Chief Executive.