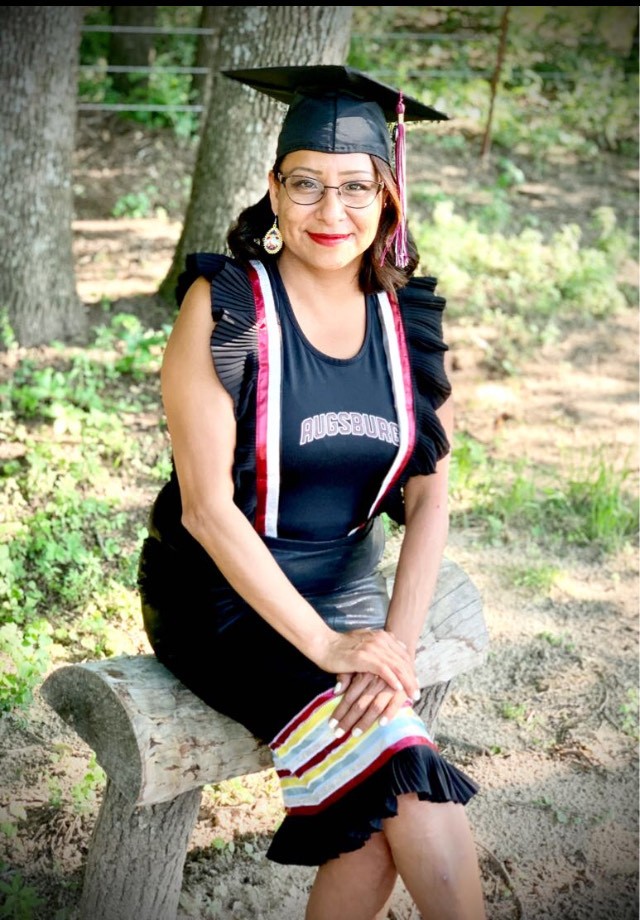 By Chilah Brown Mille Lacs Band Member
I am a high school dropout. Growing up, I always had this awkward feeling that I was different, or that I didn't belong in a public school system. My peers did not resemble myself, and my educators didn't have much knowledge about the real history of this country or my cultural traditions. I can recall at times being the only minority or Indigenous person in the classroom. In grade school there would be days where my fellow classmates would try to touch my beaded barrettes or grab my braids. It wasn't long before I became irritated and withdrawn in class, and I started getting into fights and skipping school. As I grew older I had very little interest in academics. Public school took its toll on my educational aspirations.
When I turned 18 and had the opportunity, I acquired my GED, leaving the public school system behind me, with the mindset that public education was designed for the majority of society to succeed. Once I acquired my GED, I went to work for Mystic Lake casino for six years. When my siblings (who attended Heart of the Earth Survival School) approached graduation and aspired to attend college, a fire was sparked inside of me to enroll at Haskell Indian Nations University.
Attending Haskell was one of the most rewarding experiences I have ever encountered as I was finally in a setting with peers who resembled me and understood my cultural traditions. Having students, faculty, and staff that I could relate to helped create a positive learning space for me, and I began to find academic success. I graduated with an Associate of Arts with an emphasis in Tribal Management in 2006 and quickly enrolled in a four-year program to acquire my Bachelor of Science in Business Administration with an emphasis in Tribal Management.
After graduating from Haskell, I returned to work for the tribe. As I was walking through the government center hallway I noticed the flyer for the Masters in Tribal Administration and Governance program at the University of Minnesota Duluth. As I gathered more information regarding the program, it was plain to see that it was an exceptional opportunity that I had to take advantage of, so I enrolled and became a Bulldog in 2014. The program was a great educational experience, and I encourage anyone working with tribes or seeking a Masters or Bachelors in Tribal Administration to apply. In 2016, my commencement was a success, but my academics were cut short due to my historical endorsement to run for Minnesota Senate as the DFL candidate. Running for Senate was a great learning experience, but in the back of my mind I knew I had to finish my Master's degree.
In 2018 I applied to Augsburg University's Minnesota Indian Teachers Training Program for a Master's in Education. I successfully completed the program Dec. 19, 2020, and with the excitement of commencement at US Bank Stadium, myself along with 900 other Auggie graduates were eager to walk across the stage in a ceremony scheduled for May 4, 2020. Unfortunately, the coronavirus epidemic canceled Augsburg's commencement, which was replaced by a virtual graduation. This was very upsetting to me as I was ecstatic to walk across the field, to take pictures with my family and friends. Being in a large commencement of thousands of students and hearing your name called as your family watches you walk across the stage was one of the main reasons I went back to school because I never had that as a high school dropout. Although virtual graduation was small and informal, seeing the look on my mother's face and listening to her "lee lee" was better than any of my commencements as normally I would be searching for her in a massive crowd.
Graduation will be rescheduled, and I look forward to that date, but for now I have once again found another program online to keep me occupied during this pandemic. I am happy to say I am accepted into the Post University's Leadership and Change Management Graduate Program to acquire a certification beginning June 29, 2020.
Although I am a high school dropout, once I found a successful learning environment, I began to find my potential and to thrive. Finding your passion for learning is a great path that is different for everyone. I don't have any regrets about dropping out of school because it has led me to where I am today. I encourage everyone of all ages to find their own educational path to success and hope that maybe by sharing my story it can inspire others to find theirs as well.