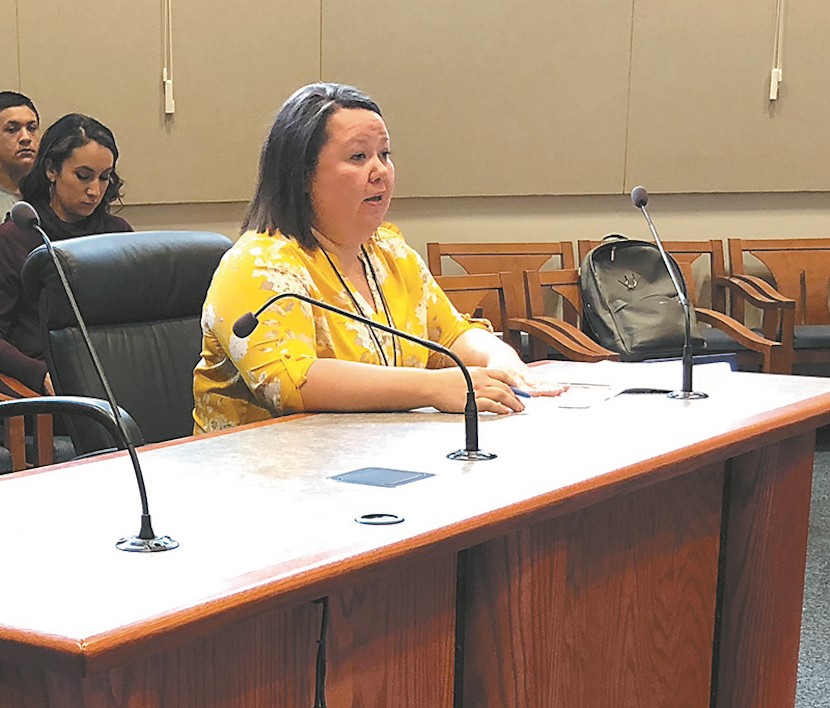 You probably won't see the faces or hear the names of Gaming Regulatory Authority (GRA) members and employees when you walk into Grand Casino Mille Lacs or Hinckley, but the ongoing success of two of the nation's best tribal casinos could not occur without them.
GRA Executive Director Becky Houle came before Band Assembly on November 8 to share a GRA organizational overview and "regulatory health check" with Secretary-Treasurer Sheldon Boyd and District Representatives Sandra Blake, Marvin Bruneau, and Wally St. John.
The Mille Lacs Band GRA is an independent regulatory agency established to separate the government's regulatory function from the management function. The purpose of the GRA is to ensure that all gaming activities on Mille Lacs Band land are carried out in compliance with the Indian Gaming Regulatory Act, Title 15 of the Mille Lacs Band statutes, tribal and state compacts, the GRA's Detailed Gaming Regulations, and all other applicable laws.
The GRA's mission statement: Dedicated to providing protection, value, and regulatory excellence in gaming for the Mille Lacs Band of Ojibwe.
Becky, a Mille Lacs Band member, explained that the GRA Board — composed of Chair Wendy Merrill, Vice-Chair Michelle Pomerleau, Shannon Thomas, Michael Davis, and Megan Ballinger — oversees the Executive Director and the Director of Internal Audit, who in turn supervise the GRA's departments: Internal Audit, Compliance, Employee Licensing, Vendor and Facility Licensing, and Surveillance.
The following are among the responsibilities of the GRA:
• License associates, facilities, and vendors;
• Promulgate Detailed Gaming Regulations (DGRs);
• Monitor gaming activities to ensure compliance with DGRs;
• Provide independent information to the tribe on statusnof gaming activities;
• Support and add value to the gaming enterprises through risk mitigation, controls, and governance processes;
• Establish rules for and inspect games, tables, equipment, machines, cards, and chips;
• Operate proactively to identify threats to the property and respond promptly and professionally; and
• Protect tribal assets, guests, and associates.
Becky explained that the board members are required to hold the highest gaming license possible and are prohibited from gaming at any Mille Lacs Band establishment. "The GRA does not tell operations how to do their jobs, and casino management does not tell the GRA how to regulate," said Becky.
Confidentiality is also essential, she added.
Becky also presented a summary of the GRA's recent accomplishments and activities, including the following:
• A 25 percent reduction of GRA staff and $500,000 budget reduction since Becky took over as Executive Director in 2014;
• Updates to five gaming regulations in the last year;
• Twenty-three internal audit reviews throughout the year;
• Maintain licensing files for 2,200 vendors;
• Over 660 investigations of vendor representatives accessing casino sensitive areas over the last year;
• Updates to surveillance technology on both properties; and
• Writing of administrative procedures to aid transition and provide a roadmap to success in the event of new leadership.
"GRA has the duty to help with efficiency and process improvement as well as basic regulatory compliance," Becky concluded. "Employees, vendors, and the facilities themselves are to be monitored and licensed to ensure the public health and safety of our guests and employees."