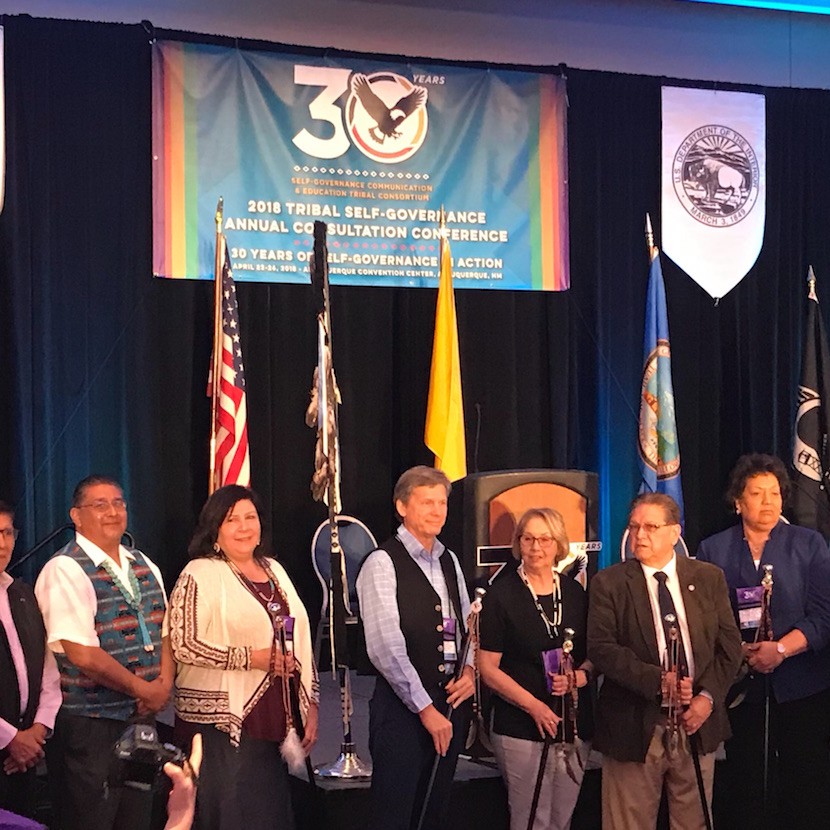 The Mille Lacs Band was one of seven original self-governance tribes recognized at the 2018 Tribal Self Governance Conference April 22 – 26 in Albuquerque, New Mexico.
The conference celebrated 30 years of Self-Gov- ernance in Action, with the special acknowledgement of the tribal nations who entered into the first self-governance agreements with the Interior Department — Absentee-Shawnee Tribe, Cherokee Nation, Hoopa Valley Tribe, Jamestown S'Klallam Tribe, Lummi Tribe, Mille Lacs Band of the Minnesota Chippewa Tribe, and the Quinault Indian Nation.
Commissioner of Administration Shelly Diaz accepted an honorary staff on behalf of the Mille Lacs Band.
In 1988, Congress first amended the Indian Self-Determination and Education Assistance Act of 1975 to allow tribes to assume responsibility for administering programs, services, functions, and activities (PSFAs) that were previously managed by the Department of the Interior (DOI) through the Self-Governance project. The law was amended again in 1994 and 2000 to amend, expand, and permanently authorize the program to the Indian Health Service (IHS).
Today, Self-Governance allows tribes maximum flexibility to use and redesign federal dollars associated with assumed PSFAs to meet local community service needs and tribally-driven priorities.
Secretary of the Interior Ryan Zinke welcomed conference attendees via videoconference: "For tribal nations across America, the road to prosperity is paved with the stones of sovereignty," said Secretary Zinke. "When we promise economic empowerment to every American, that promise must extend to every tribal nation. As we look to the next 30 years of Self-Governance, the relationship between Indian Country and the Department of the Interior must be strong if we are going to accomplish our mission."
Principal Deputy Assistant Secretary — Indian Affairs John Tahsuda also spoke. "Ultimately, the self-governance program serves not just as a funding vehicle, but also as a diplomatic exchange between sovereigns," Tahsuda said.
The Tribal Self-Governance Conference is an annual event attended by officials of federally recognized tribes that operate federally funded programs under self-governance compacts and representatives of the federal agencies they do business with.
SUBMITTED PHOTO
Commissioner of Administration Shelly Diaz, second from left, accepted an award on behalf of the Mille Lacs Band.