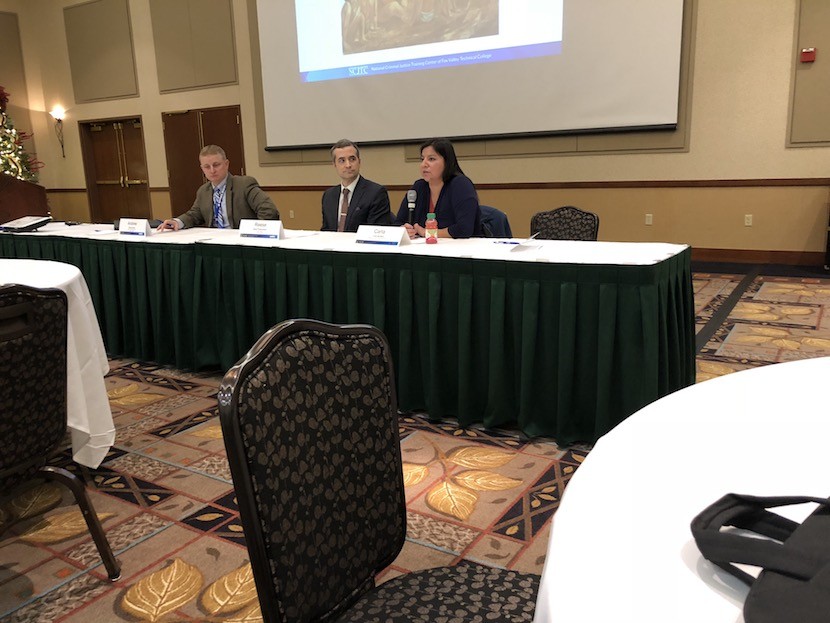 The Band joined forces with the National Criminal Justice Training Center (NCJTC) at Grand Casino Hinckley December 12 and 13 to offer training in multijurisdictional and collaborative law enforcement partnerships as a way of combating alcohol and substance abuse.
Lee Obizaan Staples gave an invocation to start the conference, and Timber Trails played a welcome song.
Obizaan said he was happy that the training was taking place. "A lot of the funerals we're doing are related to overdoses," he said. "It's time that we get together and address what needs to be done to help our people."
He said every Anishinaabe person has a unique spirit that needs to be nurtured. "A lot of us were told over the years to abandon our teachings, our language, our ceremonies, and the more we have lost, the more dysfunctional behaviors like drug use have happened," he said. "When we grow away from our teachings as Anishinaabe people, it's like we're missing something. You have that pain within, and you attempt to address it any way you can, like with drugs and alcohol."
Band member Carla Big Bear participated in a panel discussion about local successes in youth-based initiatives, sharing successes of Project RISE (see below).
Carla traveled to Georgetown University in Washington, D.C. in 2017 for training with other members of the Pine County Juvenile Justice Reform Team, including County Attorney Reese Frederickson and East Central Schools Superintendent Andrew Almos, who joined Carla on the panel.
Andrew said the initial results of the program show a dramatic improvement, with a decline in truancy and better relationships between the school and families.
Reese talked about the C5 restorative justice program, which led to RISE. Out of 43 graduates of the program, only one has re-offended.
Carla praised the improvement in the school's understanding of Native American issues — both in curriculum and in dealing with behavioral problems.
Echoing Obizaan's introductory remarks, Carla said Mille Lacs Band Elders emphasize the need for families and individuals to get back to their culture and traditions. "That's how we're going to heal," she said.
The NCJTC, located at Fox Valley Technical College in Wisconsin, is responsible for carrying out training programs funded through the Department of Justice. Current initiatives include AMBER Alert, Internet Crimes Against Children, Missing and Exploited Children, and Sex Offender Re-entry training and technical assistance programs.
Photo: Carla Big Bear joined East Central Schools Superintendent Andrew Almos and Pine County Attorney Reese Frederickson on December 12 on a panel titled "Local Successes in Youth-Based Initiatives."