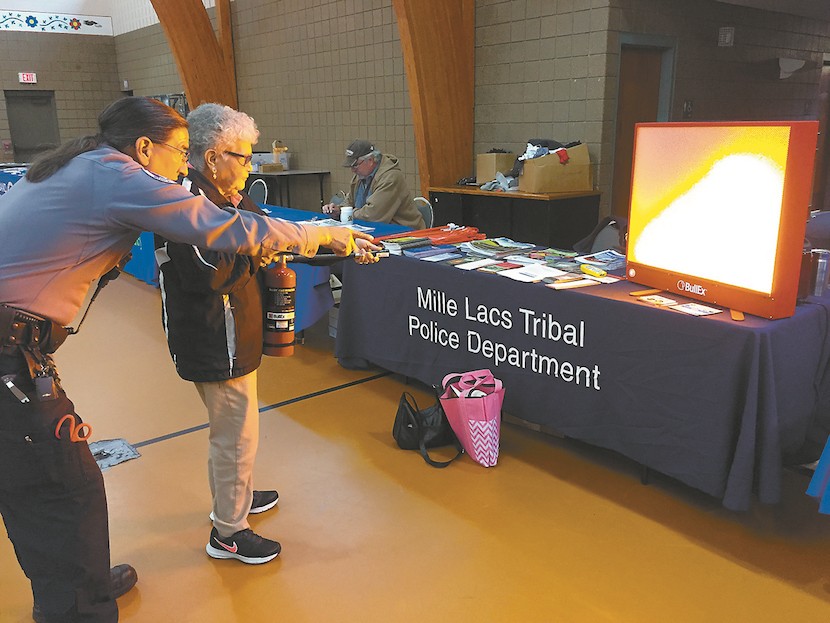 By Li Boyd Mille Lacs Band Member
On October 9, the Mille Lacs Band of Ojibwe Health Fair 2018 kicked off at Aazhoomog Community Center in District III. In the following days, it visited the District II East Lake Community Center, Grand Casino Mille Lacs Event Center, and District IIa Chiminising Community Center. The theme of this year's fair was Da Apiitendamang Gimino Ayaawininaan, As We Value Our Health. The fair was open to all community members, including non-Band members.
The fair hosted anywhere from 40 to 55 booths depending on the event location, and vendors came from all corners of the state with health information and free promotional products for fair attendees. Many of the booths were for Mille Lacs Band services and programs such as Aanji Bimaadizing (Department of Labor) and the Community Support Services program Wraparound, a process designed to help families define their goals and build themselves to their greatest potential.
Other booths included Circle of Health, Mille Lacs Band Department of Natural Resources, and non-Band services such as Essentia Health, Planned Parenthood, and Mille Lacs Area Partners for Prevention. Displays highlighting traditional cultural practices were also present, including a manoomin booth where Bill Schaaf provided samples of a hit wild rice dish.
The Emergency Management Service booth was a popular stop on the tour through the fair. Emergency Management Coordinator Monte Fronk gave visitors a crash course in firefighting before handing them an extinguisher and letting them fight a virtual fire with special simulation equipment. Participants learned how to pull the pin on an extinguisher, aim for the base of the fire, and sweep the extinguisher nozzle back and forth until the virtual flames on the screen went out.
The Department of Natural Resources hosted ethnobotanist and traditional plant medicine expert Linda Black Elk along with cultural teacher Chato Gonzalez. The pair made an all-purpose medicinal salve from medicines gathered within the District I area and offered them for free to Health Fair attendees. All that was asked in return was an offering of asemaa for the medicines gathered. Those who weren't carrying asemaa could often find others willing to share so that no one would leave empty-handed.
On debut was the lactation station, a collaboration between the Band's Public Health Department, WIC (Women Infants and Children), and SHIP (Statewide Health Improvement Program). This service is a new setup for events and includes a cozy private space for nursing mothers to breastfeed their infants or rest as needed. The station is equipped with soft lighting, reclining chairs, privacy walls, and blankets and supplies for mothers who need a break. Expect to see the lactation station in full service at future Band events.
The Health Fair was funded in large part by the Statewide Health Improvement Program. The Mille Lacs Area Partners for Prevention also supported the fair, specifically with donations of water for fairgoers. The custom bottles carried a message reminding people that most Onamia area youth don't misuse tobacco products, and it's important for adults to talk to kids about substance abuse. The fair was also sponsored by the Minnesota Department of Health.
Planning for this event typically begins in May. The team responsible for putting it together was pulled from various departments in the Mille Lacs Band Health and Human Services Department. It included Michelle Beaulieu, Rachel Boyd, Mark Bruske, Jolene Gansen, Cassie Hill, Colleen McKinney, Bob Mitchell, Jackie Pike, and Donna Sutton. The team reported getting a lot of positive feedback from the event and some very helpful suggestions for events in the future.
The Health Fair brought health information to all three districts, gave away prizes (some of which were donated by generous vendors), and even provided services like blood typing. Support and information were available for every stage of life and health — from the lactation station to Sober Squad and Natives Against Heroin — and all of it came with smiles and handy freebies.