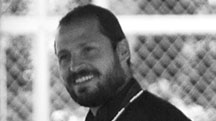 By Brett Larson, September 8, 2015
Community Support Services is one of five sub-departments of the Band's Health and Human Services Department. The others are Family Services, Medical Services, Public Health and Behavioral Health.
CSS is in turn divided into several programs, including Emergency Services (administered by Coleen Lueck), Elder Services (Denise Sargent), and Family Violence Prevention (Elaine Sam).
Kristian Theisz is the director of CSS. He hails from the Black Hills area and moved to Minnesota in 2001. After working with Indian tribes and programs in the Twin Cities, he came to Mille Lacs in 2013.
Kristian says that if Band members don't know where to turn for help, his department is always willing to take their phone calls and point them in the right direction. "No need is too big, and no need is too small," he said. "We can't solve everything, but we can make some suggestions and offer immediate help to get someone through a crisis."
CSS has a "strengths-based" philosophy that helps Band members take control of their situation. "Social work has often involved the worker doing the work or telling the client what needs to be done," said Kristian. "We want to hear the voice and choice of the family and see what they think is best for them."
To contact Community Support Services, use the following numbers:
Kristian Theisz, Director of Community Support Services: 320-532-7539
Bev Sutton, Administrative Assistant: 320-532-7494
Elder Services Program: Denise Sargent, Elder Services Coordinator: Toll-free: 800-709-6445, ext. 7854 Direct: 320-532-7854
Family Violence Prevention Program (FVPP): Elaine Sam/Medwegaanoonan, FVPP Administrator: 320-532-7793 (c), 320-630-2449
Emergency Services/Food Distribution/Food Shelf/FDPIR Nutrition Education/Greenhouse: Coleen Lueck, Interim Coordinator: 320-532-7880, ext. 223.