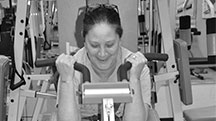 By Brett Larson, January 2, 2015
When most people think of "cardio," they imagine running, biking or working out on a treadmill or elliptical machine. But Jim Ingle's "Cardio Sampler" class at Anishinaabe College is more than just running: he'll get your heart rate up to its maximum in all kinds of ways, including a resistance training weight workout.
The results have been startling. One student started the class able to do 13 pushups and is now at 31. Her first mile took her over 15 minutes; now she's down to 11.
Ten years ago, while looking for workouts for diabetics, Jim came across a theory by a Japanese exercise physiologist named Tabata, claiming that an aerobic and an anaerobic (with oxygen/without oxygen) workout can be combined and is the best route to weight loss as well as overall health. The theory was the inspiration for the P-90X, Insanity and Crossfit workout programs and, according to Jim, it has been proven time and again.
It's that theory that inspires Jim's classes, as well as his own preparation for Senior Olympics competitions.
"Diabetes becomes a disease of circulation," Jim says. "The best thing you can do is to increase the whole body's efficiency in its use of oxygen." That means more than just running, but strengthening the core muscles with weights and other resistance training. He's had diabetic students decrease their insulin use by 30 percent in 30 days.
Jim's workouts are also effective for weight loss. By way of comparison, a 30-minute jog will burn about 300 calories; a 30 minute workout with Jim can burn up to 1,200 calories done with appropriate intensity – and as Jim states, "intensity counts!"
The Cardio Sampler begins with a mile warm-up run – 18 laps around the gym at the community center or a mile on one of the treadmills. After that, students make circuits around the weights, getting their heart rates up to the maximum for their age. At times, Jim will allow students to rest as they hear a little lecture on health-related topics.
For Chris Gahbow, the class is an impetus to get active again. Chris was an athlete in high school and wants to get back to his playing weight. "I learned how out of shape I was," Chris says.
Michelle Beaulieu says she wouldn't have time to work out if it weren't for the class. "I never knew fat could hurt so bad," she jokes, looking ahead to another night of class.
For Athena Sagataw, the class is just the start of a commitment to health. "Now that I've joined the cardio class I have more motivation to exercise," she says. "I've also learned how to stretch all the major muscles involved in cardio training."
The 15-week, one-credit Cardio Sampler class is only offered in the fall, so interested students will have to wait to take the class. However, Jim's office is in the District I Community Center, where he's always available to help anyone who wants to work out and get healthy.