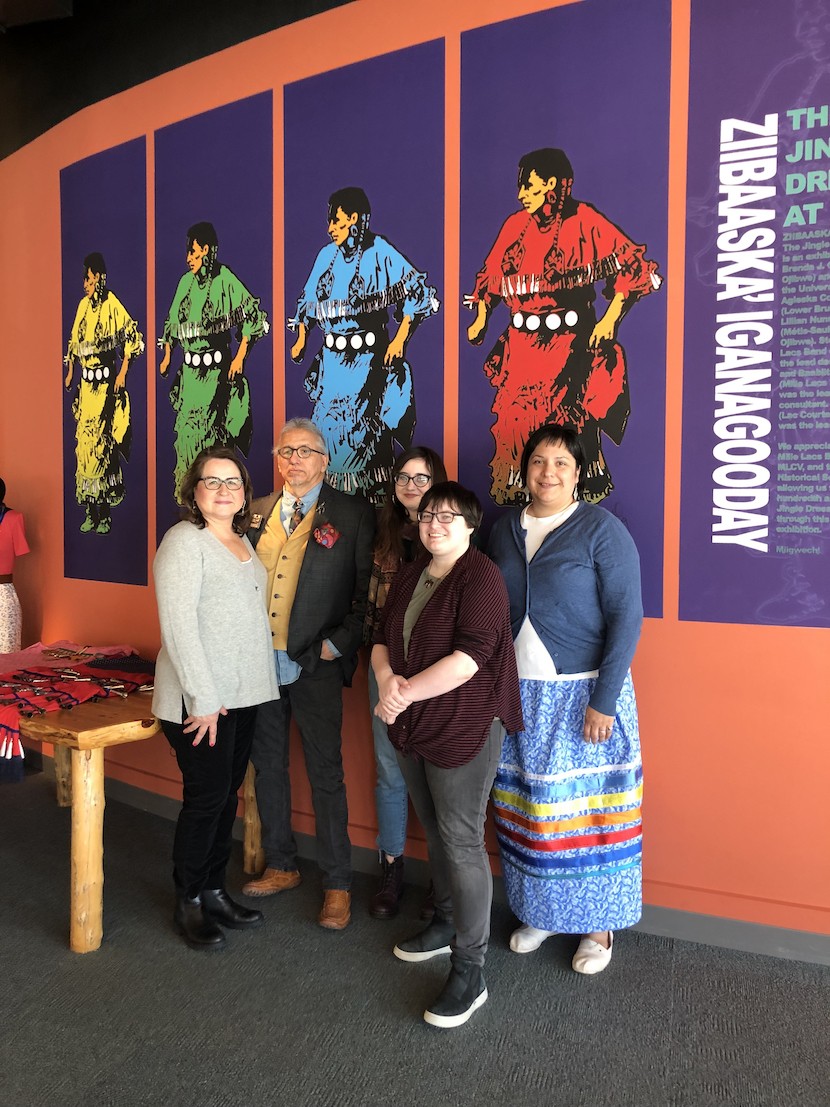 The story of the origin of the jingle dress is well known around Mille Lacs — especially after a film featuring the late Larry Amik Smallwood's retelling of the tale, The Jingle Dress Tradition, aired on public television stations.
However, a new twist on the tale has been added by historian Brenda Child, which has resulted in an impressive new exhibit at the Mille Lacs Indian Museum — Ziibaaska'iganagooday: The Jingle Dress at 100.
The story says the dress and the dance came to a Mille Lacs man in a dream as a way to heal his sick daughter.
The jingle dress and its healing properties spread quickly through Ojibwe country, and eventually to the Dakota and beyond.
A few years ago, Brenda wrote a book called My Grandfather's Knocking Sticks, exploring the themes of family and work on the Red Lake Reservation, where Brenda was born.
"I started to think about healing as a kind of labor," said Brenda. "We don't think of it as labor, but it is. And then I started thinking about the history of the jingle dress tradition."
Brenda researched photographs of jingle dresses and couldn't find a single photo taken before 1920. That got her wondering: What happened at that time that led to a whole new healing tradition?
The answer: The Spanish Flu pandemic of 1918-1920.
"People died in great numbers, thousands in the U.S. and Canada, and what was tragic was that young people were killed," said Brenda. Influenza is normally most fatal for the very young and very old, but the Spanish Flu targeted children and adults in the prime of life.
Despite the historic proportions of the tragedy, which killed more people than World War I, it doesn't get much attention among historians. "Maybe people wanted to forget about it, but there's no strong historical memory of the epidemic — except for Native Americans," Brenda said, referring to the jingle dress. "That's who has the strongest historical memory."
Not only did the jingle dress keep those memories alive; it also showed the central role of women as healers in Anishinaabe society, and it connected Indians in North America to the global community.
"It shows how people were part of the making of the modern world," said Brenda. "The global epidemic being experienced in Africa, France, and Mexico was happening in Indian Country, and this is how they responded."
Brenda, who has been a professor at the University of Minnesota for more than 20 years, taught a course on the jingle dress and recruited three students who helped her put together the Ziibaaska'iganagooday exhibit: Agleska Cohen-Rencountre (Lower Brule Lakota-Dakota), Lillian Nunno, and Kai Pyle (Metis-Sault Ste. Marie Ojibwe).
"It's really exciting for students to see something tangible that is the result of their work," said Brenda. "It's important for them to learn about community engagement — not just how to be a scholar but how to engage with the community in meaningful ways."
Mille Lacs Band member Steve Premo (who is married to Brenda) was also involved as lead designer and artist, and Baabiitaw Melissa Boyd was the lead community consultant. Lee Obizaan Staples and Chato Gonzalez were the lead translators of the bilingual exhibit.
The "soft opening" of the show was April 3 with a pancake breakfast attended by Brenda and her students, Steve, Baabiitaw, and dozens of Band members and others. The show will be on display through October 31, 2020.
A larger opening event is planned for Sunday, May 26, from 4 to 5 p.m. during the museum's annual Memorial Day weekend festivities.
A jingle dress symposium is scheduled for June 13-14, which will include a fashion show organized by District II community member Amber Buckanaga.
Photo above: The exhibit was curated by Brenda Child with artwork by Mille Lacs Band member Steve Premo. Assisting Brenda were students Lillian Nunno, Kai Pyle, and Agleska Cohen-Rencountre.