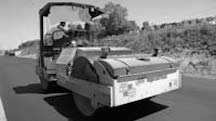 By Mille Lacs Band of Ojibwe, June 24, 2015
As of June 24, the Hwy. 169 Rum River bridge project is still on schedule to be completed this year, and construction activities are moving along well.
According to Robin Elstad of MnDOT, the Contractor started paving the temporary bypass on June 24. "We anticipate that traffic will be switched over from the existing roadway to the temporary bypass on Friday morning; however, please note that the work required to accommodate the traffic switch is weather dependent," Elstad said.
Demolition of the existing bridge is expected to begin next week, followed by the start of construction operations to build the new bridge. Highway 169 between Twilight Road and Vineland Road will be reduced intermittently to a single lane during non-rush hours. When lanes are closed, flaggers will control traffic through the work zone. These initial closures will occur through late-June while crews complete temporary lanes to carry traffic during the new bridge construction.
Motorists approaching the Highway 169 work zone in Vineland should slow down, be prepared to stop if necessary and watch for crews and heavy equipment.
In late-June, Highway 169 between Twilight Road and Vineland Road will be switched the temporary bypass lanes with narrow shoulders and a reduced speed limit.
The new bridge and all permanent lanes of Highway 169 will open by Oct. 29. When complete, the project will result in a longer bridge with wider shoulders, improved safety and smoother ride.
To learn more about how bridge and road projects are chosen and funded, visit Get Connected at www.mndot.gov/getconnected.
For real-time travel information anywhere in Minnesota, visit www.511mn.org.