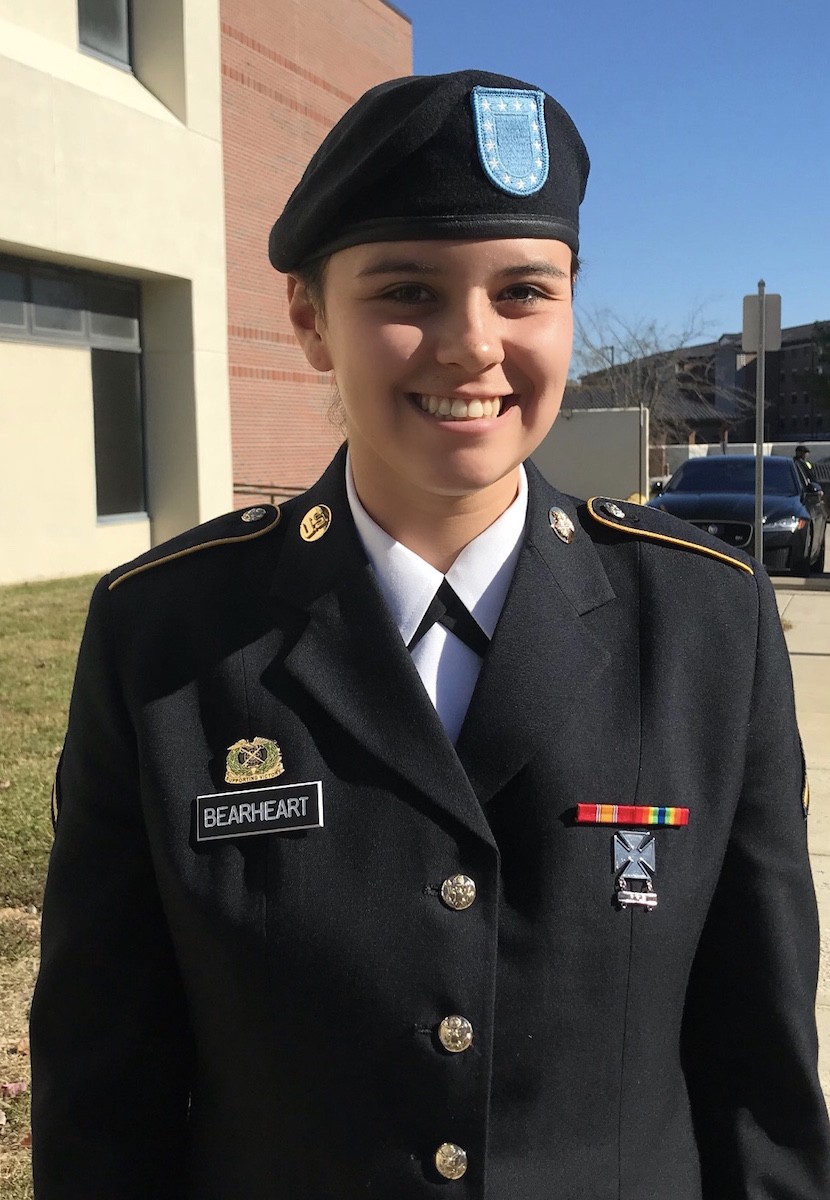 Band Youth Chooses Unique Path of Service
By Amikogaabawiikwe (Adrienne Benjamin) Mille Lacs Band Member
On July 3, 2018, Kayana Bearheart headed to Fort Jackson, South Carolina for 10 weeks of basic training for the United Stated Army National Guard. At a fresh 18 years old, this isn't a decision that many young women make, but Kayana wanted to break that mold.
"I wanted to branch off and do something different than everyone else," Kayana shared. "I wanted to push myself out of my comfort zone and meet different people from different parts of the world." Through her experiences, Kayana did just that.
During her time in basic training, Kayana faced many challenges, both physical and mental. "The hardest thing about basic training for me was adjusting to life without my family," Kayana recalled. "I went from seeing them every day to being without them for five months, so that made me feel really lonely at times."
The hard physical regimen and strict adherence to schedule and rules make things difficult for anyone going through basic training. "There were days when I wanted to give up for several reasons. I was homesick, and I didn't think that I was strong enough to overcome a lot of the challenges that I was faced with during that time.
Receiving letters and pictures from home helped immensely," Kayana lovingly remembered.
In a proud reflection of her time in basic training, Kayana had this to say: "One thing I learned about myself is that I am truly a lot stronger, both physically and mentally, than I ever thought possible. I did things that I never thought I could."
Kayana says that there is no specific rank that she is working toward in the Army National Guard. She is just looking forward to her time in service and to the adventures and opportunities that it will bring forth into her life.
The end of her stint in basic training wasn't without interesting occurrences, however. Due to Hurricane Florence and the evacuations that took place along the East Coast, her family was unable to physically attend her graduation ceremony.
Her mother, Georgia Bearheart, was severely disappointed. "We were all packed up and ready to go," Georgia said. "We even were already on the road when we got the news that her graduation ceremony would be canceled due to the weather evacuation. As a mother, I was absolutely crushed. Not only saddened that I wouldn't get to see her walk across the stage, but worried about her safety. I just kept my faith and knew that she would be okay and be home soon enough."
The formal graduation ceremony was only attended by the graduates and staff. Kayana's family watched the live stream proudly from their computers as Kayana marched ahead, becoming an honor graduate in the top 3 percent of her class at the U.S. Army Quartermaster School. She completed the Automated Logistical Specialist Course, 551-92A10 on November 21, 2018.
In February, Kayana will also be presented with an Army Special Service Award as recognition as an honor graduate and will be promoted to a Private First Class ranking.
Kayana is the daughter of Band Members Georgia Bearheart and the late Jeffrey Potter.