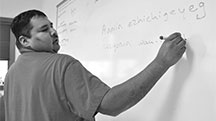 By Brett Larson, January 2, 2015
Like many Mille Lacs Band members, John Benjamin heard the Ojibwe language growing up and learned some vocabulary along the way. Also like many Band members, he didn't feel confident speaking the language.
"I heard it a lot when I was young, but I never really picked it up," he said. "I learned a bunch of words in high school, but I couldn't put a sentence together. I really started getting into it in college in 2000."
John enrolled at Fond du Lac Community and Tribal College and studied the Ojibwe language with instructor Dan Jones. During his second semester, he gave an introductory speech at a Wisdom Steps conference at Black Bear Casino. John was pulled aside by Amik (Larry Smallwood), who was impressed with John's ability and offered to help him with the Mille Lacs dialect.
John has been working hard at the language ever since and is now the District I Ojibwe Language Instructor at the community center. As he has learned the language from Amik, Lee Staples and others, he has also learned about the culture and spirituality of the Anishinaabe people, and he now does the pipe ceremony at Nay Ah Shing schools.
For John, language and spirituality go hand in hand. A friend of his once told him that offering tobacco and asking for help has resulted in progress with learning the Ojibwe language. "That really stuck with me," John said.
Today, John relies on the expertise of many people who answer his questions about the language. He visits with Elders like Susan Shingobe (his grandmother), Maggie Kegg (his aunt), Elfreda Sam, and Carol Nickaboine. He gets help from professors Anton Treuer and Brendan Fairbanks, or other experts like Chato Gonzalez and Adrian Liberty.
During the day when he doesn't have any Ojibwe speakers around, John talks to himself in Ojibwe to stay in practice. He also serves as an Ojibwemowin tutor for Dan Jones's Fond du Lac Tribal College's ITV classes through the Mille Lacs Band's Anishinaabe College.
When he's not learning, he's teaching at the Community Center. He recently started teaching a class for employees of the Health and Human Services Department, and he expects to start teaching young people in the Niigaan program soon. He said he's happy to help tutor individuals as well as teach larger classes.
For John, the biggest challenge of his job is helping students to get their brains to shift gears from English to Ojibwe. "I tell my students something Dan Jones says to his classes: 'You're stuck in English thinking. You're supposed to leave your English hat outside the door and put your Ojibwe hat on.'"
The most satisfying moments for John are when he sees the light bulb go on for his learners, when suddenly they are able to put a thought in Ojibwe.
John is one of several young Mille Lacs Band members who pursue learning the Ojibwe language as a lifelong project – and career choice. His only regret is that he didn't start sooner. He feels comfortable teaching beginner and intermediate learners, but he wishes he had the fluency and expertise to speak and teach at an advanced level. When he gives the prayer at Nay Ah Shing, he sounds like a fluent speaker, but he doesn't describe himself that way.
As his life shows, though, it's never too late. He's only 38, so by the time he's an Elder, he may reach his goal. It gives him a sense of satisfaction to be among those Band members who are helping to keep the language and culture alive and thriving.