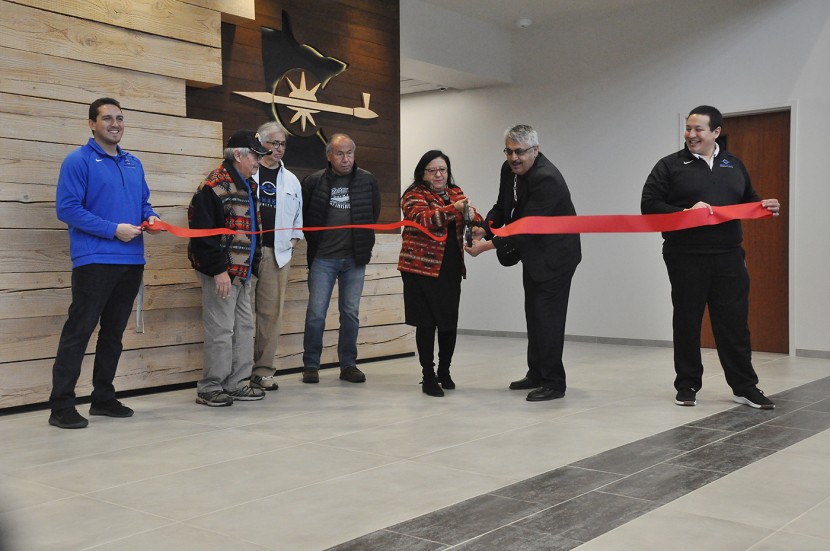 It was appropriate that Skip Churchill gave the invocation at the ribbon-cutting for the Meshakwad Community Center in Hinckley on December 21. Skip is the son of the late Meshakwad, Albert Churchill, for whom the center is named.
Meshakwad was instrumental in obtaining the land on which Grand Casino Hinckley stands today, but more importantly he was a Drumkeeper and community leader who helped the Band preserve its culture, language, and spirituality.
When District III members were considering names for the center, Skip suggested naming it for his father. He pointed out that it is uncommon to name buildings for people in Ojibwe communities, but he believes his father would be proud of the honor, especially given the beauty of the center and its community-oriented purpose.
After a song by Red Willow drum group, site manager Ryan O'Brien brought out the giant scissors, and District III Representative Wally St. John and Chief Executive Melanie Benjamin cut the ribbon, officially opening the center for business.
Breakfast was served to guests, and the facility was open to the public throughout the day. WCMP radio was on hand to interview Melanie, Skip, and others.
Although the center has been open for several months, it is now fully functional with daily hours, a membership program, co-ed volleyball on Tuesdays, co-ed basketball on Wednesdays, and a variety of community meetings and events.
*Above: Chief Executive Melanie Benjamin and District III Rep. Wally St. John did the honors at the grand opening of Meshakwad Community Center in Hinckley on December 21. They were joined by (left to right) front desk coordinator B.J. Livingston, Skip Churchill, Steve Premo, Secretary-Treasurer Sheldon Boyd, and site manager Ryan O'Brien.
Below: Meshakwad Community Center features a boxing ring, a commercial kitchen, saunas, an elevated running track, and a friendly staff, including B.J. Livingston, Ryan O'Brien, Shannon Garbow, and Ruby Benjamin. WCMP interviewed Skip Churchill, and Red Willow drum group kicked off the festivities at the open house and ribbon-cutting December 21. *