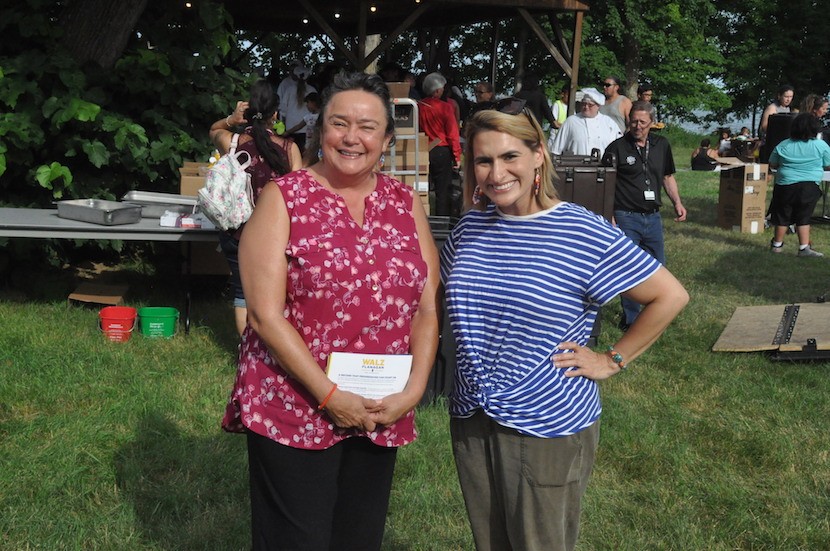 Peggy Flanagan, a White Earth Nation member who is running for Lieutenant Governor on Tim Walz's ticket, has already broken ground as one of only four Native Americans in the Minnesota Legislature.
But if Tim Walz wins the election for Minnesota governor in November, Peggy would break new ground as the first Native American to hold statewide office.
Walz and Flanagan are running in the Democratic-Farmer-Labor party's August 14 primary against the ticket of Erin Murphy and Erin Quade and the ticket of Lori Swanson and Rick Nolan.
The winner of the DFL primary will face the winner of the Republican primary in the November 6 general election.
Peggy is a longtime advocate for Minnesota's children and families. She has served in the Minnesota House of Representatives since 2015 representing the communities of St. Louis Park, Golden Valley, Plymouth, and Medicine Lake.
Peggy is a graduate of St. Louis Park Public Schools and the University of Minnesota, graduating in 2002 with a bachelor's degree in American Indian studies and child psychology.
The principle of Peggy's professional, political, and personal life is giving back, particularly to children, families, communities of color, American Indians, and low-income and working people. A noted community and political organizer, Peggy is a partner with The Management Center, an organization dedicated to helping leaders working for social change. She formerly served as the executive director of Children's Defense Fund-Minnesota (CDF), a non-profit child-advocacy organization working to level the playing field for all children in our region and state. While at CDF, Peggy co-chaired the Raise The Wage campaign, the successful fight to raise Minnesota's minimum wage for the first time in nearly a decade.
Before joining Children's Defense Fund, Peggy also worked for almost a decade at Wellstone Action, the organization founded to carry on the work of the late Senator Paul Wellstone, first as director and founder of the Native American Leadership Program, then as director of external affairs. As one of the original trainers of Wellstone Action's signature program Camp Wellstone, she has trained tens of thousands of progressive activists, community and campaign organizers, future candidates — including Tim Walz! — and progressive officeholders to make effective, sustainable, progressive change around the country.
Since her election in 2015, Peggy has continued building coalitions and working on behalf of children and families. Peggy serves as the DFL lead on the Subcommittee on Child Care Access and Affordability. She also serves on Health and Human Services Policy, State Government Finance and Rules committees. During the 2017 session she joined with other DFL legislators to form the POCI (People of Color and Indigenous) caucus. The caucus aims to improve the education, health, and economic opportunities of people of color and indigenous communities across the state.
A citizen of the White Earth Nation of Ojibwe, Peggy lives in the Bronx Park neighborhood of St. Louis Park with her 4-year-old daughter Siobhan and her dog Reuben.
Tim Walz served southern Minnesota in the U.S. House of Representatives from 2007 until this year. He is the highest-ranking enlisted service member ever to serve in Congress, an award-winning high-school teacher, and a champion football coach.
Among Walz and Flanagan's priorities are fair wages, fully funded public schools, affordable healthcare as a right, environmental protection, renewable energy, and maintenance of our roads, bridges, and transit across the state.
Other candidates
Although Murphy and Quade won the DFL endorsement, they do not have Peggy and Tim's close relationship with the Mille Lacs Band.
Lori Swanson, who left her post as Attorney General to run for Governor, has directly opposed Band interests by supporting her predecessor Mike Hatch's belief that the 1855 Reserva- tion was disestablished.
The continued existence of the Reservation was made clear in a 2015 M-Opinion by the Office of the Solicitor in the Department of the Interior.
In the Republican primary, the race is likely to come down to former Governor Tim Pawlenty and his running mate, Mi- chelle Fischbach, and Jeff Johnson and Donna Bergstrom.
When he was governor, Pawlenty sought to expand gambling through new metro casinos, with the state sharing rev- enue with tribes. Johnson is a fundamentalist Christian, an extreme conservative, and a supporter of President Trump and his policies.
**Above: District I Representative Sandi Blake invited Peggy Flanagan, right, to the District I community picnic July 18 to visit with Band members.
Below: Tim Walz and Peggy Flanagan are running in the August 14 Democratic gubernatorial primary, hoping to represent the party in the November 6 general election.**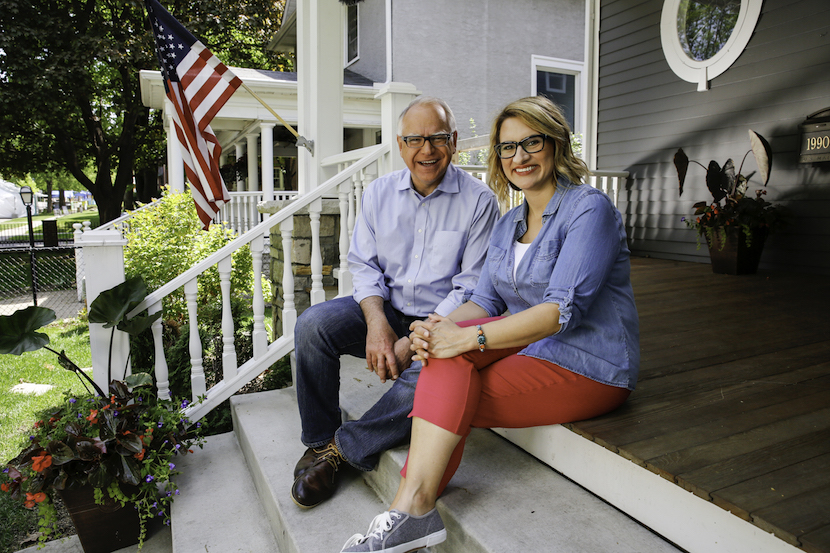 Paid and Prepared by Mah Mah Wi No Min Fund 1 #30348 100 Washington Avenue South, Suite 2200, Minneapolis, MN 55401