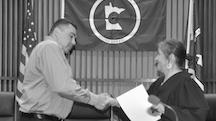 By Brett Larson, July 6, 2015
Percy Benjamin, Mille Lacs Band Commissioner of Community Development, was reappointed to a new term last week and sworn in Monday, July 6, at the Mille Lacs Band Government Center.
Secretary-Treasurer Carolyn Beaulieu initiated the proceedings, and Percy took the oath of office from Chief Justice Rayna Churchill.
Percy was originally appointed in November 2014 to complete the term of Katie Draper, who took a new position in the tribal government.
Percy was reappointed to serve a full term last month by Chief Executive Melanie Benjamin, and last Tuesday the Band Assembly ratified the appointment.
Melanie thanked Percy for his efforts during his term of service. Percy thanked Melanie for the reappointment and the Band Assembly for ratifying him. He gave credit to his staff and said he is honored to continue serving as commissioner.
A large crowd of well-wishers who witnessed the swearing-in lined up to congratulate Percy on his appointment. He said afterwards that meeting the housing needs of Band members, especially elders, will be at the top of his department's agenda in coming months.