Some people are born to teach. They find quiet ways to share a story or a few facts sprinkled throughout a casual conversation. Or, if they are like Mille Lacs Band member Christal Moose, Babi-wash-ikwe, they make teaching others part of their life's work.
"My personal goal is to unite people through understanding," said Christal, 47.
Christal, who does a lot of this through her work with Larry Yazzie and Native Pride Dancers, has been a teacher most of her life.
"I always loved school and was an 'A' student. I love learning and love people," said Christal, adding that she was extremely shy as a young girl and "didn't say a peep."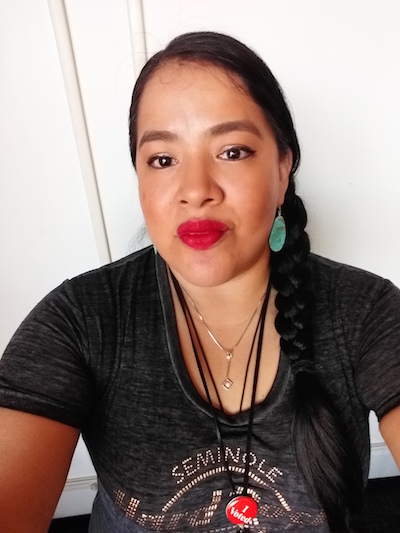 Eventually, music helped her overcome her shyness and helped her grow. So did her father, Mille Lacs Band member Leroy "Dennis" Moose Sr., who told her she could overcome anything she wanted to.
"Having someone who truly believed in me helped," said Christal, who grew up in Fond du Lac and attended Carlton Public Schools.
Though her mom, Laura (Shaugobay) Ashcroft, is also a Mille Lacs Band member, it was still difficult to grow up in another reservation community "because people don't let you forget that you're not a Band member."
Still, Christal persevered. She spent many summers in District I with relatives and was grounded in Ojibwe culture.
At Fond du Lac Tribal and Community College, Christal took American Indian history, literature, and language classes, and those courses helped her see beyond where she lived. She also found work at Black Bear Casino working in a variety of jobs for almost a decade.
Later, she worked for the Carlton School District in a few different roles ranging from paraprofessional to media specialist. She held high standards for all students — something that is proven to help improve student success — as she created a safe space for learning in the Media Center.
Native Pride
It was through her work at the school that she first experienced a Native Pride program and met Larry Yazzie.
"It helped the Native kids and it instilled pride in them about who they were," she said. "It changed the energy of the middle school and changed how the non-Native kids treated them."
Because the district was on the border of a city and the reservation, there is a lot of racism towards Native people, and it greatly impacted the students at times, she said.
After experiencing Native Pride's presentation at the school, Christal started volunteering and doing special projects for Native Pride.
Christal officially joined Native Pride in 2011. Since then, she has handled bookings and technical matters along with singing, moderating, and engaging in question-and-answer sessions with audiences around the world. She also helps with stage management and produces many shows in venues from school theaters to performing arts centers like the Ordway Center for Performing Arts in Saint Paul, MN, the Kennedy Performing Arts Center in Washington D.C., and as far away as the Republic of Moldova and the Kingdom of Jordan.
The work that happens through Native Pride is to "unite cultures together" while bringing education, history, contemporary issues, and understanding about Native Americans.
"It's how we operate. We show where we come from and where we're going," she said. "Our work is educating and uniting."
The group does about 200 shows per year, and they travel far and wide to share their artistry. Still, in spite of the beauty and majesty of the culture they have been met with ignorance in the most public of places — including the Macy's Thanksgiving Day Parade in New York City, with attendance of 3.5 million and a worldwide television audience of 50 million.
"People yelled, 'Indians, I thought you were extinct.'"
"There are a lot of people who don't know we're alive and that we are here, so we talk about where we've been and that we've been all over the world," she said. "It's most important to share our stories, our history, and that our people are still here."
For the past 17 years, the group has held audiences of thousands as they've performed at the Minnesota State Fair.
Christal, who is a vocalist, is a member of a women's hand drum group (Oshkii Giizhik), was a cultural advisor on a movie (No Blood of Mine) filmed in Duluth, and is an associate producer for another film, "Coyotaje," that's scheduled to come out in April 2019. She is a board member at the Metropolitan Regional Arts Council and is a Community Advisor for the Ordway Center for Performing Arts.
Christal relocated to the Twin Cities several years ago. She has five kids and five grandchildren.