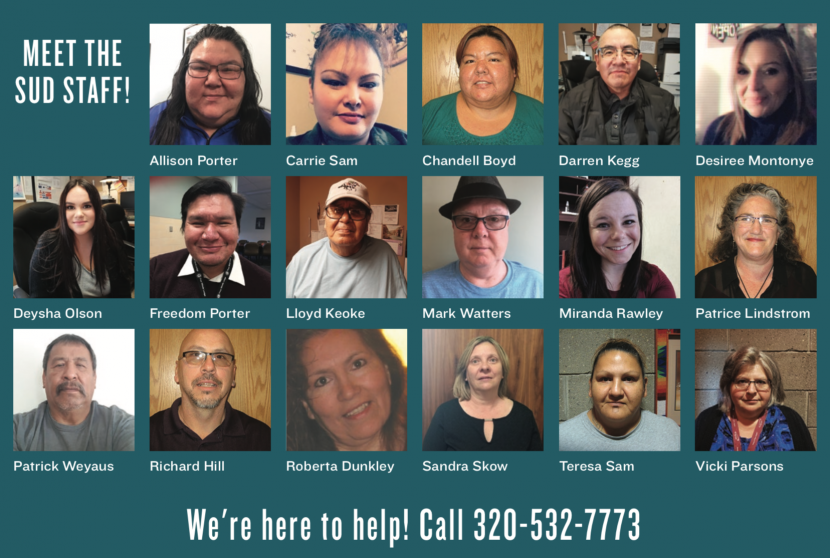 Changing with the times to meet clients where they're at
The Mille Lacs Band's services to members with substance use disorder (SUD) have evolved over the years with improvements in scientific understanding and more effective approaches to treatment.
The program's new name — Department of Substance Use Disorder (SUD) — reflects changes in the Band's response to what was formerly known as chemical dependency or substance abuse.
"This is an exciting time to be a part of the new SUD department and team," said SUD Clinical Supervisor Desiree Montonye. "We have made some positive changes in how we work with clients and the community to ensure each client is getting what they need. No more cookie-cutter approaches to treatment — every client has a unique path, and their road to recovery is just as unique."
The term "Substance Use Disorder" is used in the Diagnostic and Statistical Manual of Mental Disorders, so the department is staying up to date with the official terminology.
But the term is also important because it doesn't have the stigma of "chemical dependency" or "substance abuse." Substance use disorder is just that — a disorder that needs treatment.
The new name also reflects improvements in the way the SUD Department serves Band members. As the COVID-19 pandemic has caused the medical profession to embrace new technologies, the opportunity has arisen for more efficiency in services to those with SUD.
The department's vision for 2021 is "A New Way of Care for MLBO SUD Services," which includes the following improvements in record keeping, patient access, structure, communication, and training:
— Client contact, scheduling, case management, admissions, treatment planning, client progress, discharge planning, reentry referrals, and billing will all be documented in electronic health records.
— Comprehensive Assessments (Rule 25s) will be provided on a walk-in basis, in telehealth format, and in person to capture client motivation to engage in treatment services.
— Programs will adapt to all of the client's needs, instead of adapting clients to the program or provider needs.
— The department will conduct ongoing case reviews, ongoing clinical supervision, training, and peer input/support.
With a goal of improved operational efficiency, the department is emphasizing the following:
— Utilize the services of Peer Recovery Coaches and Case Managers to provide client contact and transportation to attend program services and appointments.
— Use the Mille Lacs Band's Health and Human Services programs as a first choice of service referrals.
— Highlight areas of client need with program admission staff and counselors to ensure that the services are provided.
Maintain client contact to ensure client needs are being met.
— Plan for solid aftercare reentry to provide ongoing support in all areas of the client's life.
— Work with other Band programs to aid with client service referrals.
— Seek additional grant resources to add additional programming.
SUD Director Mark Watters cites Elder Joe Nayquonabe Sr., who has said, "Culture and Spirituality are keys to stopping addiction. I'm a big believer in mind/body/spirit. To be healthy, you need to give attention to all three."
"We are here to assist community members," said Mark. "It's about offering all of the SUD support and services that the community needs."