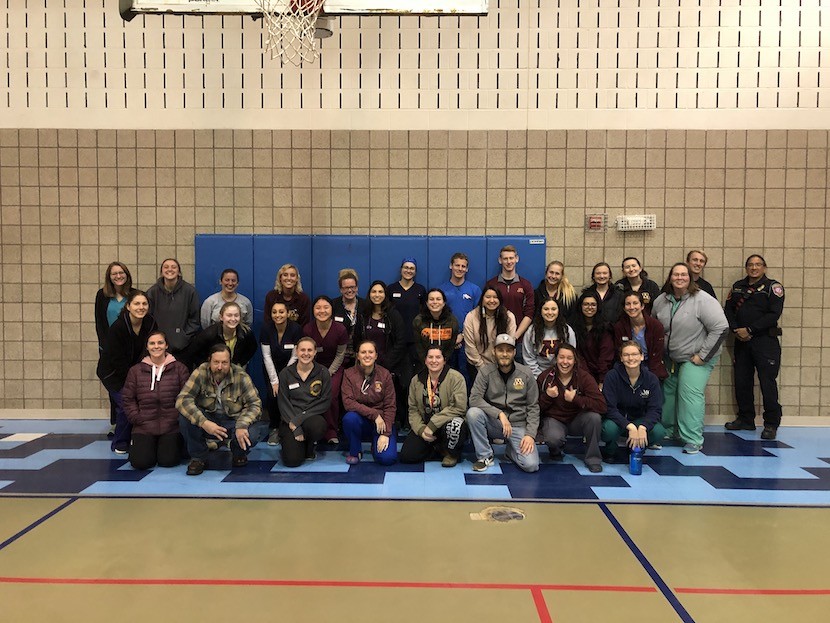 By Li Boyd Mille Lacs Band Member
As part of ongoing efforts in Community Risk Reduction, the 10th Annual Pet Wellness Clinic was held on November 9 and 10 at the District I Community Center. The clinic comes from a partnership between Mille Lacs Tribal Police Emergency Management and the University of Minnesota Student Initiative for Reservation Veterinary Services (SIRVS). This most recent clin- ic was the last of four held in Mille Lacs communities throughout the year. Districts II, IIA, and III saw visits earlier in the fall or in the spring, and current SIRVS student president Jonathan Elbaz along with Monte Fronk of Mille Lacs Band Emergency Management look forward to bringing services back again for an eleventh year in 2020.
Pet wellness can be a challenge in reservation communities, which classically represent underserved pet and owner populations. "Rez dogs" are a well-known feature of Indian Country and have influenced pop culture by showing up in children's books, movies, and the ultimate pop culture reference, the internet meme. All too often, though, real-life rez dogs struggle to have their basic needs met so they can stay healthy and happy.
This creates a difficult situation not only for the dogs but for the surrounding reservation community as well, including people and other pets. Dogs without access to veterinary care do not get standard vaccinations, which means they are more vulnerable to diseases such as rabies, distemper, and parvo. Parvovirus in particular is a seriously nasty infection that is often fatal to dogs, and once it is introduced to an area, it can live in the ground and on surfaces like floors and concrete for up to a year. The only household cleaner known to kill pa vovirus on surfaces is bleach. Just like kids, pets that live in the same communities share the same bugs. The best way to protect pets and animals against diseases like parvo is through immunization.
Pets without access to veterinary care are also much more likely to produce unwanted litters, which can quickly lead to animal overpopulation. Puppies and kittens from unwanted litters can become stray animals, overcrowded pets in overburdened homes, or victims in an overloaded dog shelter system. Stray animals are seldom trained and can pose safety and financial risks due to poor socialization, aggressive behavior that may result from hunger, potential injury resulting from encounters with vehicles, or property damage from animals seeking shelter or food.
This is what makes the work that SIRVS does so important. SIRVS provides wellness checks, vaccinations, and spay/neu- ter surgeries free of charge during the on-site clinics it brings to reservations around the state of Minnesota. SIRVS is entirely volunteer staffed, and the group of 40 veterinarians, veterinary students, and assistants began setup for the District I Mille Lacs event on Friday evening. Students slept in the Community Center gymnasium while doctors performing surgeries were accommodated in the Grand Casino Mille Lacs Hotel.
It was a good thing the doctors were assured a good night's sleep because surgeries started at 8 a.m. on Saturday and continued until 11 o'clock that night. Surgeries were scheduled ahead of time, but SIRVS staff also did everything they could to accommodate their waiting list and walk-in patients who arrived throughout the day on both Saturday and Sunday.
Sunday was the designated wellness check day with all services, still free, being offered first come, first served. The last patient left the Sunday clinic at 3 o'clock in the afternoon and helped set an official record of most animals served at a Mille Lacs Reservation SIRVS event: 120 pets received exams, treatment (including medications and vaccines), or surgical alteration at no cost to Band member families. The estimated value of these supplies, medications, and services is $45,800.
Next year's 2020 Pet Wellness Clinics have already been scheduled as follows: Chiminising (District IIA) on April 25 and 26, Minisinaakwaang (District II) on June 27 and 28, Aazhoomog (District III) on October 10 and 11, and Nay Ah Shing (District I) on November 14 and 15. Next year's services will be provided by both SIRVS and other organizations, including Second Hand Hounds.
Chi Miigwech to District I Representative Sandra Blake for providing the use of the District I Community Center for this event and for providing food for breakfast and lunch for the SIRVS volunteers. Miigwech also to Mille Lacs Corporate Ventures for providing dinner. These events wouldn't have been possible without the work of Pamela Eagle, the Community Center administrative assistant who took all the calls for pet surgery registration and fielded all Wellness Clinic questions, or without Monte Fronk of Mille Lacs Tribal Police Emergency Management for assisting with organizing the clinic and being on site to help the volunteers and staff in its efforts in Community Risk Reduction (CRR). The Mille Lacs Band, the community, and its four-legged relatives thank everyone for their effort and participation.