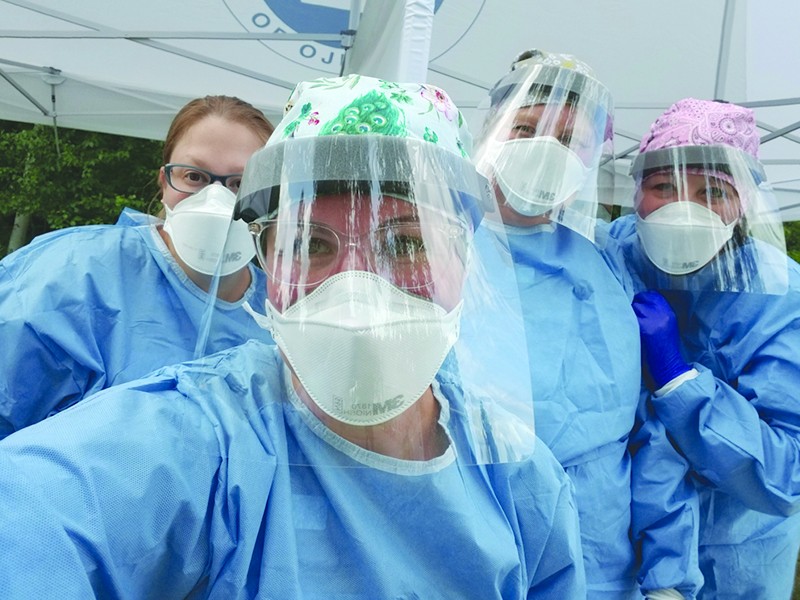 Jenna Kuduk came to Ne-Ia-Shing Clinic at a challenging time
Many Band members have come to know Jenna Kuduk — by name, face, and voice — since she joined Health and Human Services as Clinic Manager in December of 2019 — shortly before COVID-19 hit.
Jenna answers the COVID-19 triage line, and in that role she has fielded many calls each day to answer questions. Band members have come to know Jenna as someone who will always return calls and messages.
"I am very honored to work for the Mille Lacs Band of Ojibwe Health and Human Services," said Jenna. "The communities and lake have been a part of my youth and have given me great memories — memories I am now passing on to my two children as we return back to enjoy summer and winter activities on the lake. I enjoy the communities, the culture, and the stories and traditions that are so inspiring and powerful."
Nicole Anderson, Commissioner of Health and Human Services, wants Band members to know how much Jenna has given to the community in her brief but challenging time with the Band. "Jenna hit the ground running when she first joined Team HHS and has been such a great asset," said Nicole. "I am certain that when Jenna accepted her role with HHS, she never imagined she would soon be navigating through a global pandemic, but here we are, and we couldn't imagine doing this work without her."
As Clinic Manager at the Ne-Ia-Shing clinic, Jenna supervises the nursing team and lab staff at District I, II, and III clinics. She has also supervised the screen team beginning last fall.
"My role is diverse, and each day is different, which is something I really enjoy," said Jenna. "One of the highlights of my role is partnering with our public health team to plan and conduct Band-wide COVID-19 testing and vaccinations."
She has been impressed with the growth and teamwork the HHS staff have shown during the COVID-19 pandemic — everyone from the screen team at the front door to maintenance, scheduling, nursing (public health and clinic), lab, medical records, behavioral health, compliance, and pharmacy. "Everyone under our HHS umbrella has offered to help and support in some way and have always been there when a call for community work is needed. We live by the motto 'Team work makes the dream work.'"
Jenna was born and raised out in the country near Milaca, and her family spent many summers and winters on Mille Lacs Lake. "One of my favorite childhood memories was my futile attempt to swim to Spirit Island with friends," said Jenna. "Needless to say, we did not make it and were grateful for a rescue."
As she was growing up, her grandparents were her inspiration. They led by example, remaining true to their beliefs, which instilled in Jenna the values of perseverance and respect. "I started through nursing school as a single mother, and it definitely brought challenges and struggles, but in the end it was all worth it," Jenna said. "No matter the struggles and the obstacles, I knew that if I just kept pushing through, my grandparents would always be proud of me for my efforts."
Jenna's career path came as no surprise to those who knew her. "From a very young age, helping others was always something I enjoyed and did as second nature," she said. "My late grandmother always told me that my caring heart was going to lead me to do big things."
Her career in the field began at age 16, when she was hired as a nursing assistant at the nursing home in Princeton. "The 10 years I worked with the elderly taught me to see through their eyes," Jenna said. "I valued the stories I heard, the friendships I made, and the lessons I learned."
After completion of her LPN and then RN degrees at Central Lakes College, Jenna went to work in mental health, an area of nursing she is passionate about because it allows her to support families as they develop resiliency and skills to manage new life challenges.
Her first leadership position was as a supervisor in a mental health clinic in Minneapolis, where she managed staff and supported clinic operations and patient/client care. She is a strong advocate for care coordination, which supports patients/clients to ensure they are getting the services, education, and guidance they need.
"The inspiration of my grandparents is something I pay forward, encouraging individuals who have an interest in health care to consider nursing," Jenna said. "What is so awesome about a nursing career is you can take your career path many different directions, meet great people, and truly influence change in the life of others."
HHS Executive Director Jan Manary agrees that Jenna is a valued member of the staff and community. "Jenna is amazing," said Jan. "She is committed, she leads by example, she puts the patient/client/family in the center of all we do. We have had long days and not once have I seen Jenna not smile and offer help even when she knows she has more work than time at that moment. She has been on call more nights than not, and she when she answers the phone it is like that patient/family calling is the only thing she has to focus on, a true professional."