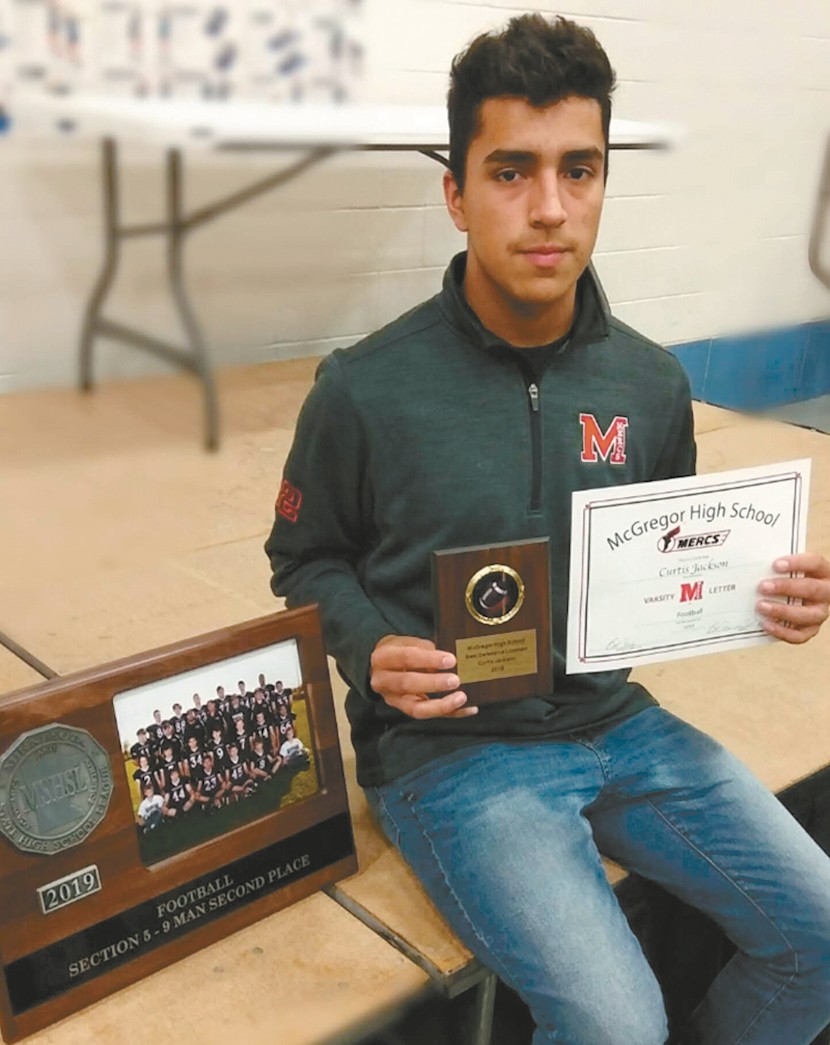 By Alyssa Enno Mille Lacs Band Member
Everyone knows if you want to do well, you have to set goals for yourself. In order to achieve your goals, you will need to make a plan, but the plan won't work unless you're committed. Finally, the only person who can make your plan come to life is yourself. McGregor High School sophomore and Mille Lacs Band member Curtis Jackson is seeing his hard work pay off — and he's not done just yet.
Between school, home, and sports, Curtis is always busy, but that doesn't stop him from reaching his goals and exceeding expectations. The school year is right at the halfway mark and already Curtis has made great strides this year.
During the fall, Curtis was accepted into his school's Minnesota Honor Society chapter. In order to become a Minnesota Honor Society member, an individual must demonstrate exceptional qualities in four areas: scholarship, service, leadership, and character. If you know Curtis, joining the Minnesota Honor Society was a natural next step for his academic career, and there was no doubt he would be accepted. Being in the Honor Society is a big commitment for a high school student. Fortunately, Curtis has a knack for challenges; he maintains a high grade point average and is dedicated to turning his goals into accomplishments.
Many Honor Society students participate in additional extracurricular activities during their high school career. Curtis is active in sports year-round. On the varsity football team, he is a defensive right tackle and offensive lineman. He's a power forward in basketball and a shotput and discus thrower in track. Additionally, Curtis plays the saxophone in McGregor High's band.
Curtis sets goals for himself at the start of each sports season. "When I first started football, I was smaller, so I would get hit hard a lot, and I didn't like that. So I started going to the weight room to lift weights to build up my strength. Now, I'm not getting hit anymore." For basketball, Curtis has a goal to average 10 points and a couple blocks. For track, Curtis' goal is simple: "I want to make it to sectionals."
Outside of school, Curtis is active in his community, proving to be a role model for other youth in the Minisinaakwaang district. The eldest of five kids, Curtis is helpful with his siblings, who look up to him — for good reason.
Curtis works with the Wiidoo program and at Big Sandy Lodge as a dishwasher, which he enjoys. Curtis recently made his first runway appearance showcasing Buckanaga Social Club's fashion line, but that's not his first modeling gig. Curtis also posed as a model in an ad campaign photographed by his uncle, Dino Downwind.
After his Grandpa Amik (Larry Smallwood) passed, Curtis joined his Uncle's drum and sat in his Grandpa's spot on the drum. This is not only a big step for Curtis but it made his mother Falon Jackson even more proud of her eldest child. Curtis shared that he's proud to join the drum and sees himself as a role model now. He understands this is a big responsibility, and that he has big shoes to fill.
Since he is a sophomore, two years of high school still remain, and Curtis looks forward to his future. He plans to maintain a good grade point average and hopes that universities take notice of his academic career and character. He's shared an interest in the University of Minnesota, noting their football reputation as well as their American Indian Studies program.
Curtis is the epitome of a dedicated student and leader. He knows how to make his dreams become reality. His early understanding of the value of hard work is sure to guide him in the years to come.