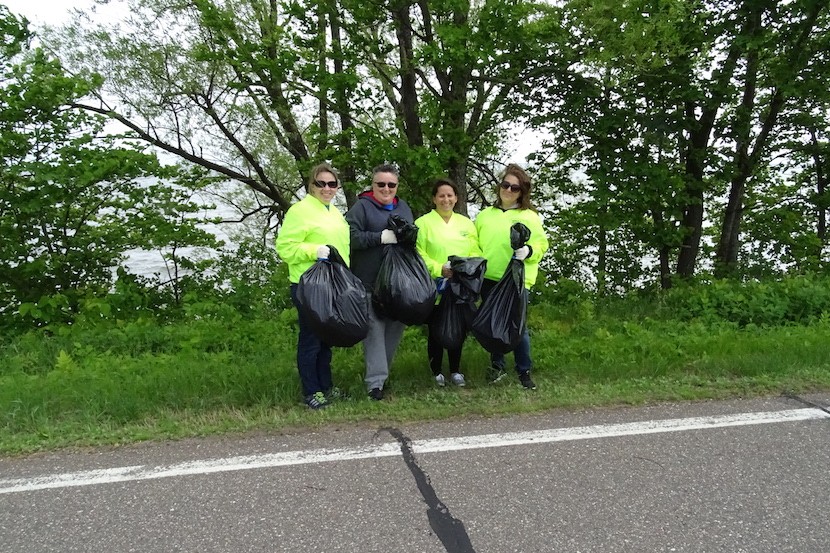 Eighty-four employees and local community members came together on the shores of Mille Lacs Lake for the sixth annual Adopt-a-Shoreline (AAS) clean-up effort on Friday, June 1. They collected more than 1,200 pounds of trash, including lumber, tires, and carpet in addition to the usual litter of food and drink containers.
Each spring after ice out a troubling amount of trash washes ashore after being left behind on the ice and in the lake by ice anglers. The AAS program began in 2012 as an effort to preserve the beauty of the Mille Lacs shoreline but most im- portantly to ensure that it remains healthy for wildlife, tourists, and residents to enjoy.
This year's AAS event was sponsored by the Mille Lacs Band of Ojibwe, Grand Casino Mille Lacs, and Mille Lacs Corporate Ventures.
Bradley Harrington, commissioner of the Mille Lacs Band Department of Natural Resources, said the lakeshore cleanup effort is an important way to show respect for one of the community's most important resources.
"The lake has a manidoo, a spirit within that cares for that ecosystem, and when people pollute it they disrespect that manidoo and the creatures that live in or near that particular manidoo takes care of," Harrington said. "Working together to clean up the lakeshore is a good way to show respect to those manidoog within the waters, and hopefully at the same time we can achieve a greater understanding of the need to avoid introducing pollution to our environment."
This year's AAS program was a success both in terms of the volume of trash collected and the amount of volunteer partici- pation. Two students from Nay Ah Shing, Cedric Bearheart and Jada Wind, also participated, enjoying the morning outside to do a little good and get their toes wet.
All participants received a pullover wind jacket, and the event concluded with a provided box lunch. Department of Natural Resources staff ensured that all trash was collected from drop off sites around the lake and properly disposed of.
Photos by Li Boyd: Band employees and community members collected over 1,200 pounds of trash around Mille Lacs on June 1.