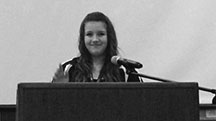 By Toya Stewart Downey, August 2, 2015
Mille Lacs Band youth and adults were among the hundreds of people who attended the first-ever White House Tribal Youth Gathering in Washington, D.C. last month.
The 12 attendees from Mille Lacs joined about 1,000 youth from 230 tribes representing 42 states. The event was held beginning on July 9 and held in conjunction with the United National Indian Tribal Youth (UNITY, Inc.) conference.
The gathering promises to build on President Barack Obama's Generation Indigenous (Gen-I) initiative and his commitment to improve the lives of Native American youth.
The President launched the Gen-I initiative at the December 2014 White House Tribal Nations Conference with a focus of improving the lives of Native youth through new investments and increased engagement. This initiative takes a comprehensive, culturally appropriate approach to ensure all young Native people can reach their full potential.
"Many of the students who attended the Tribal Youth Gathering have done certain levels of advocacy and community stewardship already," said Suzanne Wise, the Band's Commissioner of Education.
"We have students who are already activists against the pipeline, writers, public speakers, athletes, and youth who care for their communities and want the reservation to be a better, healthier place to live for all," she added.
Michelle Obama told the students not to give up and to continue to keep moving forward even through adversity. Her message was strong. She identified with the youth who have been maltreated because of the color of their skin, cultural differences and deep embedded family values. They enjoyed that. These cultural differences are very real to our students and they want to listen to messages that are meaningful and relevant to them.
At the gathering, the attendees had the opportunity to hear directly from First Lady Michelle Obama, Cabinet officials, the White House Council on Native American Affairs and others about issues including health, justice, education, climate change, economic opportunity, cultural protection and language revitalization.
During her keynote address, the First Lady told the youth attendees that they were precious and sacred members of society.
"Each of you was put on this Earth for a reason," she said. "Each of you has something that you're destined to do, whether that's raising a beautiful family, whether that's succeeding in a profession or leading your community into a better future."
"You all have a role to play and we need you," the First Lady said, adding that she believed in them and the story of their generation.
She said the story of the Gen-I generation is about the youth investing in themselves and "rising up as leaders in your nations and in the world."
Suzanne shares the same perspective.
"Our students who work through the Band's Niigaan department have a strong base to work from," said Suzanne. "The gathering gave them the needed push to continue the good work they have already started."
One of the adults who attended with the Mille Lacs youth was District I Niigaan director Bugs Haskin, who said Mrs. Obama took a "page out of the book of my life for her talk."
"She reiterated everything I've been saying to the kids for years," said Bugs. "The best part was when she told the kids 'to take two things from this conference, no four things, take four things with you from this conference and don't just take it, but put it to use.'"
The students who attended were: Clayton Benjamin, Jr., Austin Stobb, Algin GoodSky, Bianca Roseland, Daja Barnes, Sherraine White, Megan Merrill, Kassandra Merrill, Candace Killspotted and Kali Sam.
During the event, the White House announced several commitments that are designed to help native youth and Indian Country thrive.