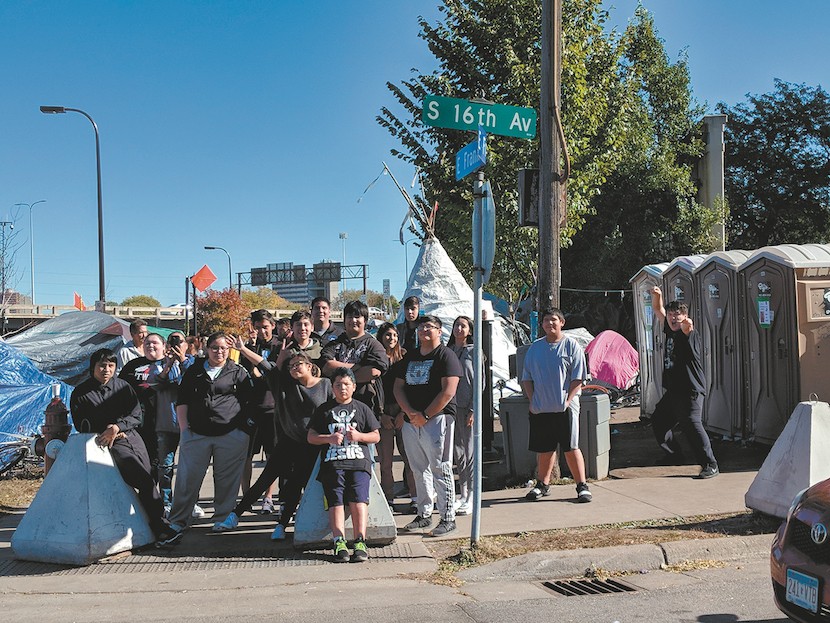 The Wiidanokiindiwag (They work with each other) Youth Pro- gram, part of Aanji-bimaadizing (formerly Department of Labor) helps youth to embrace a traditions-based lifestyle free of chemicals, anti-social or risky behavior, promiscuity, and dependency. The Wiidanokiindiwag Program targets activities that assist youth in generating job readiness skills.
This fall the youth undertook a community service project in all districts to help build their organizational, communication, and leadership skills while helping community members overcome hardships.
According to Youth Program Manager Naomi Long, when the news broke of the "Wall of Forgotten Natives" in Minneapolis, they decided to collect donations to help residents of the homeless camp.
They contacted Natives Against Heroin to see what residents were most in need of. They were told to focus on hats, gloves, and blankets.
From October 9-17, they collected donations in each district, and on October 18 they delivered the supplies to the camp.
Although there is a donation table already set up at the camp location, the youth instead walked down the sidewalk along the tents to pass out the donations and to connect with people one-on-one, Naomi said. They also helped clean up trash around the fire pit and donation tables.
As a reward, those who didn't have any unexcused absences, tardies, detentions, or suspensions along with working the program, took a trip to the Dead End Hayride on October 25.
"When I think about this community service project, I automatically identify the youths' actions to our seven Anishinaabe values: Love, Courage, Wisdom, Humility, Truth, Respect, Honesty," said Naomi. "These values are important to creating healthy communities and relationships. These values help build our foundations so that we can help each other and uplift each other."