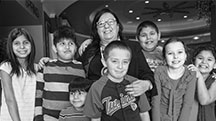 By Toya Stewart Downey, March 4, 2015
If all goes according to plan come next fall the Band's Pine Grove Leadership Academy will open its doors again and become a satellite of the Nay Ah Shing School system.
First established in 2007 as a Band-operated charter school, Pine Grove served about 25 students in the Lake Lena community and provided quality educational opportunities that were grounded in the Anishinaabe culture.
Though it was a small student body at the kindergarten through 8th grade campus, the school was a welcome alternative for families who were looking for an educational setting that was close to their homes on the eastern edge of the reservation.
The school had to change its course in mid-2012 when Pine Grove's authorizing sponsor was unable to continue with the partnership due to budget cuts, which meant that Pine Grove was no longer able to serve as a charter school. According to state law charter schools must have an authorizing sponsor in order to operate.
Currently, the Pine Grove campus, serves as a setting for some students who are homeschooled. If the proposal to make the school a satellite of Nay Ah Shing is successful then the enrollment is likely to increase substantially and will save some families from making the 77-mile trek to Nay Ah Shing campus in Onamia. The Bureau of Indian Education helps fund the Band-operated school.
Band leaders say in order to make the effort successful, "we have to make sure this is done well." They have also said that this could serve as a pilot project that could go nationwide and could benefit other tribal schools.