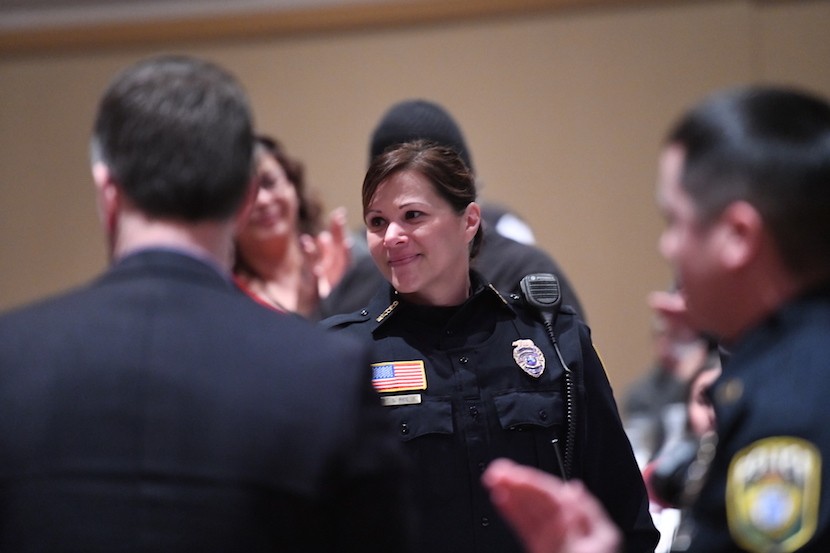 Mille Lacs Band Chief Executive Melanie Benjamin announced at the 2018 State of the Band Address January 9 that Binesiikwe Sara Rice has been appointed Chief of the Mille Lacs Tribal Police Department. Benjamin also announced that the Governor had just appointed Rice to the Minnesota Board of Peace Officer Standards and Training (POST).
"Sara Rice has been an outstanding leader of our police force during a time of great stress and uncertainty," Chief Executive Benjamin said, referring to Mille Lacs County revoking its cooperative law enforcement agreement with the Band in 2016 and the escalating opioid crisis that has followed. "She has the full support and confidence of the officers she leads."
The announcements were met with a standing ovation.
Rice said she is humbled and honored by the appointment. "I am grateful to Chief Executive Benjamin for putting her faith in me and look forward to serving my fellow Band members in this role."
Rice is an enrolled member of the Mille Lacs Band and has spent her entire life on the reservation. She attended Onamia High School, received her law enforcement degree from Central Lakes College, and earned a bachelor of arts degree in organizational behavior from the College of St. Scholastica.
She joined the Mille Lacs Tribal Police in 2001 and has served the Band ever since as a Police Officer and Conservation Officer prior to being named Interim Chief in 2016.
She acknowledged Band member officers who preceded her and served as role models, as well as cultural mentors who helped her develop her Anishinaabe identity, which gave her the strength to take a leadership role.
"I want to help set the tone for structure and stability, especially at a time and place of so much volatility around us," she said.
In 2016, Mille Lacs County revoked a law enforcement agreement with the Band, which has taken away Tribal officers' authority to enforce Minnesota law in the midst of a drug crisis.
"We knew Sara was an excellent officer," Chief Executive
Benjamin said in her address, "but I've learned she is also a natural born leader and warrior for the rights of the Band."
Rice has been actively involved in the Band's negotiations with the County over a new agreement, in successfully strengthening the Band's law enforcement agreement with Pine County, and in securing federal and state law enforcement support on the Mille Lacs Reservation.
In November, Rice escorted U.S. Secretary of the Interior Ryan Zinke on a ride-along during the Secretary's visit to the Mille Lacs Reservation.
POST board appointment Governor Mark Dayton appointed Sara to the Minnesota POST Board, making her the first tribal police chief to serve in that role. "Chief Rice will bring an invaluable perspective to the POST Board, as it works to provide law enforcement officers throughout Minnesota with the additional training and support they need to better protect and serve their communities," Dayton said.
"I would like to thank Governor Mark Dayton for appointing me to the Minnesota POST Board," Rice said. "It's an honor to have the opportunity to serve the law enforcement community in this capacity."
POST is responsible for licensing more than 10,500 active peace officers and more than 250 active part-time peace officers. The POST Board has the legislative authority to adopt administrative rules that have the force and effect of law, rules that enable the board to establish policies and standards to which all licensees must adhere.
PHOTO STEVE KOHLS/BRAINERD DISPATCH
Tribal Police Chief Sara Rice received a standing ovation during the State of the Band address.